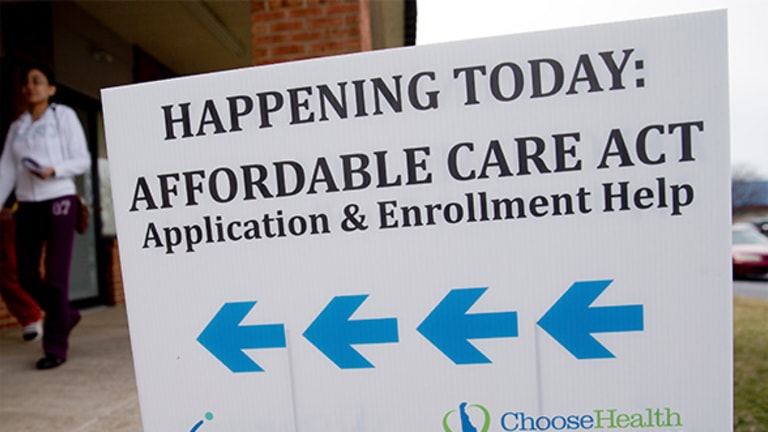 If You Are in Obamacare, Here's What a Trump Presidency Means
20 million are covered under Obamacare. What will their options be under Trump, who has vowed to repeat Obamacare on Day 1?
Editors' pick: Originally published Nov. 9.
President-elect Donald Trump may have flip-flopped on many issues during his candidacy, but on one issue he has been plain and consistent: he wants to end the Affordable Care Act (aka Obamacare), and the impacts on the roughly 20 million people who are covered may come quickly and dramatically. What do they need to do now?
About Obamacare, Trump's website declares: "On day one of the Trump Administration, we will ask Congress to immediately deliver a full repeal of Obamacare."
Trump goes on: "We will work with Congress to make sure we have a series of reforms ready for implementation that follow free market principles and that will restore economic freedom and certainty to everyone in this country. By following free market principles and working together to create sound public policy that will broaden health care access, make health care more affordable and improve the quality of the care available to all Americans."
Experts are quick with advice for present enrollees. The big advice, from multiple experts: don't panic if you are currently covered under the Affordable Care Act.
"It's time for watchful waiting," said Robert Field, a professor at Drexel University's Dornsife School of Public Health and Kline School of Law.
Jeff Smedsrud, co-founder of Heathcare.com, urged current enrollees to stay in Obamacare. He explained: "Individuals should still enroll in Obamacare plans for this open enrollment period. Although it is likely that once Donald Trump becomes president, Republicans will pass legislation to replace parts of Obamacare (and probably call it something else), no one knows what a new law will include."
John Seltzer, who heads an employee benefits advisory firm in Pittsburgh, agreed with the advice to not panic. He said: "I don't anticipate much change immediately to ACA, in spite of all the rhetoric. I think will be harder to repeal than many realize. Many individuals and businesses have benefited from the tax credits and guaranteed issue coverage with no pre-existing conditions limitations. This will make it very difficult to repeal until a replacement is offered. The insurance companies have also invested millions and don't want to see it repealed but they want changes."
Justin Sydnor, a professor in the business school at the University of Wisconsin in Madison, is not quite so sanguine about Obamacare's near-term future. "Many insurers had put provisions into their contracts for offering ACA-exchange plans  that they could exit the market during the plan year if the federal government stops payments for 'cost-sharing reductions,'" he said. "Because President Trump will have the authority through executive action to end those payments, he could cause an abrupt pullout and cancellation of ACA policies even in January next year. In light of that, what I would say is that there is some real risk of those who buy ACA plans of not being able to get through 2017 without a serious disruption."
Nonetheless, the consensus of most experts is that for most in ACA, the smart move is to stay put. At least for now, especially, because it's unclear what the alternative is.
But Seltzer offered a twist. Maybe 15% of ACA enrollees get no federal subsidy and no tax credit. For them, especially the ones in relatively good health, Seltzer advised: "I believe anyone who does not qualify for tax credits or cost sharing should be purchasing their coverage off exchange. There is no downside to doing this and sometimes more options are available off exchange than on exchange. If you were insured on exchange for 2016 there is no problem switching to off exchange for 2017."
Exactly what modifications might Trump propose to Obamacare? Nobody knows. 
But Sydnor noted that "[m]any features of Obamacare have roots in Republican policies. Certain features of Obamacare may remain. Almost all of the basic framework is very similar to Romneycare [mandated health coverage in Massachusetts]." His point: there probably is much in Obamacare many Republicans will want to preserve.
His other point: it just isn't easy to take away health coverage from many millions and not give them an alternative. "If they want to go that route they will have to wrestle with the consequences."
"Nobody has come up with an alternative to ACA that will cover the very sick," said Field. He added: "If you are in an exchange plan and you are sick you should be concerned."
"In the end, the Trump administration will feel the pressures to have some kind of plan that insures a lot of people," said Kosali Simon, a professor at Indiana University.  But, she quickly added, right now we have no idea what that plan will look like.
Bottomline: Very probably this issue will continue to evolve. But, right now, sage counsel is don't panic - and if you currently get a federal subsidy, go forward with 2017 Obamacare enrollment. If you have a chronic illness, do start thinking about 2018 coverage.