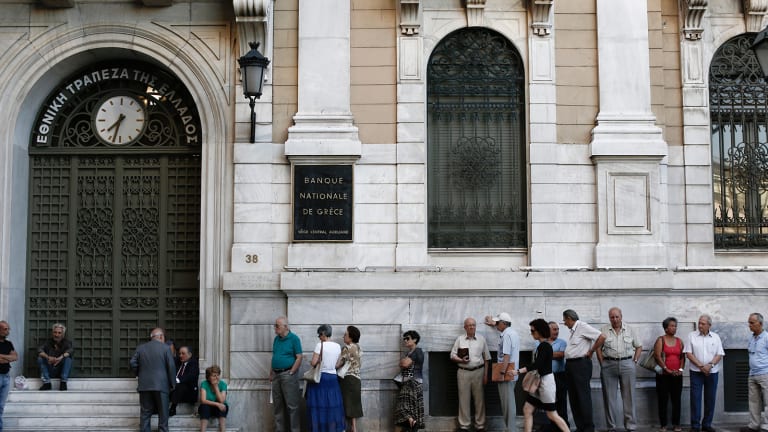 NEW YORK (MainStreet) — While sailing from one Greek island to another in pursuit of authentic Greek life, a traveler can easily locate the stunning architecture, pristine beaches and charming cliff-top communities that attract countless tourists every year. Yet finding examples of the massive economic crisis plaguing one of the world's most popular vacation destinations is a somewhat more elusive task.
I discovered as much during my recent ten-day romp around Greece.
From Mykonos, where the winding streets are still crammed with cash-flush fashionistas eager to shop and squeeze into the many nightclubs, to quiet, picturesque Syros, where tourism is not the primary source of income, and Santorini, the glamorous and still bustling Mecca for the international jet set -- life hardly appears to be coming to any sort of standstill in Greece.
At least not on the islands, far removed from the political turmoil in Athens.
For months, Greece's financial crisis has been the stuff of international headlines, with protests, bank closures and a potential Grexit all part of the ongoing spectacle as the nation struggles to address its enormous debt and develop some sort of bailout agreement with the the European Commission (EC), the International Monetary Fund (IMF) and the European Central Bank (ECB).

Viewing the drama from afar has left many Americans with an uncertain opinion of the country.
Tell someone you're visiting Greece these days and the responses range from "Stay safe!" to "Bring lots of cash with you." Some even question your sanity when you admit your plans.
But the reality on the ground in this popular tourist destination is a far cry from the turmoil projected in news reports. At least at first glance.
There are no lines outside banks or in front of ATMs in Athens or anywhere in the country for that matter. Most stores, restaurants and other businesses are operating normally. And the Greek people, while expressing exhaustion and frustration with the economic uncertainty of life, are doing their best to help each other get by until better days arrive.
"If you're just sitting at home watching the news in the United States, you think the whole country is falling apart, but that's not the case at all," says Nicholas Filippidis, director of product development in North America for Celestyal Cruises, a company that specializes in providing an authentic Greek experience by offering voyages to off-the-beaten-path destinations throughout the country.
Far from falling apart, or coming to a standstill, the country and its people are perhaps working overtime to maintain some semblance of normalcy, while also preserving Greece's largest industry: tourism.
There are indeed cracks in this façade, but they show up in ways that tourists on vacation, busily shuttling between the Parthenon and the islands, are not likely notice. The evidence can be seen in the all too quiet shipyards where workers, no longer being paid, have stopped showing up. Or trouble's evident in the struggle of average Greeks to make ends meet amid strict banking limitations. Some locals will tell you that those who are able to, particularly the younger generations, have left the country in search of opportunity elsewhere, such as Germany, the U.S. and Canada.
But even amid such upheaval and frustrations, the outward demeanor of most Greeks continues to be optimistic, upbeat and hard at work catering to tourists still flocking to the country.
On Mykonos, the streets, cafes, restaurants and nightclubs are all jammed with twenty- and thirtysomethings happily preening before their selfie sticks. The Armani and Bulgari shops are doing business all day and night. And at sunset, there's not a seat to be had anywhere in the island's picturesque, waterfront Little Venice neighborhood. As evening descends, the music of nightclubs takes over the party island and the festivities continue until early morning.
Antonis Pothitos, a licensed tour guide on Mykonos, says many people are now visiting as a show of support for the country, while others, not at all put off by the economic issues, have maintained previously scheduled vacation plans.
But there are some impacts even here. Many of Pothitos's countrymen, unable to find employment in whatever career they trained for, are now competing for work in Greece's most reliable business - tourism.
"Everybody wants to do the same job I'm doing, but they're not qualified and have no license," he says with obvious frustration, urging tourists to make sure that, when hiring a guide, he possesses a valid license.
On the island of Syros, one of the smallest islands in the Cyclades, life also seems remarkably undisturbed - but in a much different way than Mykonos. Here tourists can wander the streets of the elegant Vaporia district in Ermoupoli, admiring historic, colorful mansions of ship owners, practically alone. It is almost eerily quiet, a great find amid the country's busy tourist season.
Syros is a rare example of an island where tourism is not the number one industry. That's because during the 19th century, the island grew to be the commercial, naval and cultural center of Greece, and while that dominance has faded, Syros is still home to many shipyards and textile manufacturers.
"The major problem caused by the economic crisis is there are less jobs," says Daniela Winkler, a longtime resident of the island. "But Syros is less impacted, because people here own a lot of land, they can go fishing, families have two or three incomes, so there is always one person with a job. And many families share a car amongst two or three people, so they make ends meet and don't feel the crisis as much."
Some on Syros, however, may have a slightly different opinion of how the island is faring, Winkler says. That's because about 80% of the tourist revenue on Syros comes from Greek citizens on vacation, not international tourists. And locals are not traveling much while they're cash strapped, meaning even this island is not altogether immune to the country's economic woes. Syros's many shipyards are also at a standstill, as workers remain home while not being paid.
Many large Greek companies tied to the tourist industry have managed to insulate themselves from the crisis and as a result continue business as usual.
Filippidis, the director of product development for Celestyal Cruises, says his company's banking is all done outside of Greece, ensuring its cash flow is not hampered by the limit on withdrawals from Greek banks.
What's more, business for the company, which offers travelers authentically rich experiences by exposing them to exclusive local food, wine and cultural offerings, has actually been better than projected.
"This was going to be a year with a 25% increase for us," Filippidis said. "Now it looks like it's going to be even more than that." 
Still, there are some important tips to keep in mind when visiting the country now. To begin with - yes, it is important to have cash. Not because ATMs and banks aren't functioning, but because many Greeks -- having been cash starved by the 60-euro withdrawal limit being enforced by banks -- prefer doing business in cash. Shopkeepers, particularly in Athens, are often not accepting credit cards.
On the plus side, traveling to Greece now can be a bargain, say industry insiders who note that accommodation prices in many places are down. Homestay.com for instance, is advertising villas in Kounoupas, Mykonos for as little as $134 a night and a detached house in Karidiandika, near Potamos starting at just $100 per night.
Meanwhile, the good news is that Greek banks reopened earlier this week, and a deal between Greece and its creditors is moving forward. It's hard to predict how much improvement this development will bring in the immediate future. One Greek cab driver grumbled upon hearing the news that the only difference now, with banks open, is that people will be able to go inside to get their 60 euros, rather then wait at an ATM.
Still others seemed to breath a collective sigh of relief with the latest development in the Greek economic calamity. In the Mikrolimano neighborhood of Athens last Friday night, not long after the news of a deal was announced, the mood of the trendy waterfront community populated mostly by locals appeared considerably upbeat and hopeful. It was a balmy night, and the streets and bars were bustling with people happily chatting and impeccably dressed for a night out. One restaurant after another along the harbor front Koumoundourou Street was packed with crowds of people who all appeared eager to simply have a carefree night.
As fireworks filled the sky over the harbor, Filippidis pointed out that while there is a variety of opinion about the debt agreement Greece is entering into, by many estimates, it is a step forward.
"It's a positive development," says Filippidis. "Of course a small percentage of people feel it would have been better to go bankrupt or to go back to the [Greek] drachma, but that would have been a disaster."
"Greeks are hopeful people, thinking positively," he adds. "Unfortunately we are not great savers. We live and love and don't think about down the road."
With that blithe outlook, life, it seems, will go on for the Greeks and for its booming tourist industry.