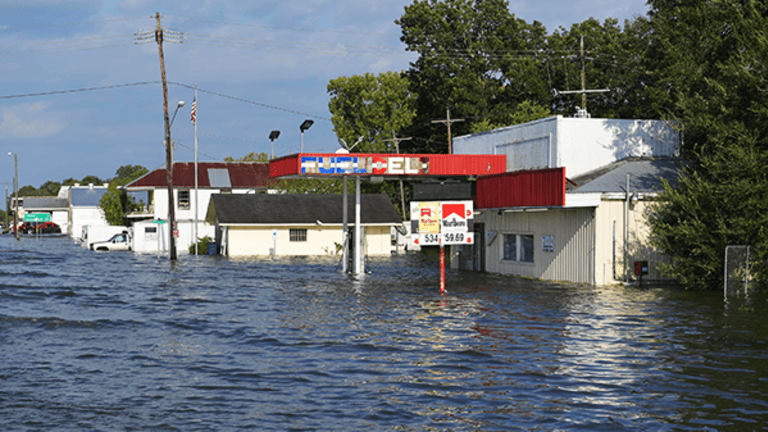 The deluge last week following Hurricane Harvey hit the home of Yazmin Garcia in Port Arthur, Texas quickly and took the 32-year-old mother of two and her husband, a foreman at Indorama Ventures Olefins, by surprise.
Garcia and her neighbors were caught off-guard as they were inundated by the torrential downpour which besieged the city of 55,000 residents, and the barrage of rain soon overtook their home, with rising water reaching three feet rapidly.
Her family, which includes their eight-year-old daughter and a ten-year-old son, only narrowly escaped the floodwaters of Harvey as the hurricane made landfall in south Texas on August 25 and made its way as a tropical storm to Houston and moved eastward to Port Arthur last Wednesday, dubbed the "city by the sea" in an electronic welcome sign.
"It amazes me how one day it is all flooded and the next day the water is all gone with no trace," she told TheStreet as she continued to muck out her house of ten years. "We lost everything and don't have flood insurance."
Luckily, her husband's boss, Eric Arellano, did not wait for help to arrive during the unprecedented downpour Garcia said. He quickly gathered Garcia's family and other neighbors in his dually truck, which can clear high water. He also came to the aid of strangers and over the course of several hours brought 30 to 40 individuals to higher ground -- some waited on the roof of their houses until daylight.
"He's an angel and he put his own life in danger," she said as her two children played with some of the toys which were salvaged."
Less than a mile from the street, the houses there escaped the destruction of Harvey's floodwaters, but Garcia was grateful that her family and both of her parents escaped otherwise unharmed. The relentless rains of the tropical storm besieged Texas cities and during a period of six days bombarded millions of people with 27 trillion gallons of water. Despite having to cope with two flooded cars and an unlivable house, Garcia is grateful for the generosity and adaptability of her neighbors, who are no longer mere acquaintances, but are now becoming friends as they engage more and touch base daily.
"We will get through this," she said. "It hurts to see this, but people are driving up and down the street bringing water and cleaning supplies like bleach. We are more united than ever and President Trump can not separate us. This is bringing us more together."
Roy Arroyos, who lives in a duplex, was watching TV with his neighbors when the rain started and flooded the house within 30 minutes and rose to his hips.
"Most of it is ruined except we put the electronics in the attic as the water was rising," said the 17-year-old who works at CB&I in Sulpher, La.
An oil town, Port Arthur is home to three massive refiners which together process 1.163 million barrels of oil a day. Many residents work for the local refineries or for other petrochemical or industrial companies in Louisiana, which is 23 miles away and 102 miles from downtown Houston.
When the tropical storm hit this town, it was quickly outmatched by Harvey and turned to Twitter for help, stating, "Individuals with boats are needed in Port Arthur for rescues."
Social media has helped the city tell their story as attention shifted from Houston to the Port Arthur and Beaumont, Port Arthur Mayor Derrick Freeman told TheStreet on Monday.
"We're excited that people are starting to take notice of Port Arthur," he said.
The close proximity to Houston meant that any extra donations has been shared rapidly by Houston's Mayor Sylvester Turner.
"As they get a surplus of items, he's been sending them our way, too," Freeman said. "Although we may be overlooked in some places, we have some of the bigger cities like Mayor Turner who has been looking out for Port Arthur and the same way with Beaumont."
Signs of normalcy returned on Tuesday, as the city began delivering mail and picking up trash again, according to the city's Twitter account.
As we patrolled the area, we snapped shots of the wreckage. These photos share a rare glimpse of what Port Arthur residents are facing in their road to recovery.
CLICK HERE FOR ALL OF THESTREET'S COVERAGE OF HURRICANE IRMA
More Storm Coverage on TheStreet:
You Might Want to Consider Getting Flood Insurance
While the majority of floodwaters have receded, some areas still have waist-high water.
Residents waited patiently in their cars and pickup trucks to collect boxes of MREs (meals ready to eat) and cases of water from the National Guard.
The National Guard units from El Paso, Texas started providing supplies on Sunday. 
Each box of MREs contains 14 meals consisting of 1,000 calories each with seven options of meats, vegetarian pasta and even a small dessert which can be heated with a small amount of water. Individuals need to consume only two daily, said Staff Sgt. Danielle Galarza.    
Floodwaters surround Valero's (VLO) - Get Valero Energy Corporation Report refinery which is operating.
Heavy rainfall took Port Arthur by surprise last week, and some areas have seen the water recede slowly. 
Port Arthur is home to three massive refineries.
The tropical storm caused massive damage to homeowners as the majority of residents are not covered by flood insurance. 
An electronic sign proclaims Port Arthur as the "city by the sea."
Port Arthur Mayor Derrick Freeman visits New Hope Ministries Baptist Church, which has emerged as a temporary distribution center for people to obtain a wide range of items from baby items to cleaning supplies.
One room at the church contains diapers and baby food.
Residents waited patiently in the heat and humidity to obtain cleaning supplies and baby items. Others sought out Mayor Freeman to ask him questions about how to seek resources.
Mayor Freeman assists a homeowner with a box of cleaning supplies.
Port Arthur set up several smaller areas for residents to pick up water, diapers or cleaning supplies. The items are stored in this large distribution facility to be sorted.
National Guard members take a quick break in between their duties.
Another area offered residents barbeque smoked by several people, including Stephen Jackson, a former NBA player and Port Arthur native who has been friends with Mayor Freeman for many years.
Some homes remain under several feet of water several days after the heavy rainfall.
This driver attempted to drive through high water, but realized his truck would not make it safely to his intended destination.
A disgruntled homeowner asked Mayor Freeman why the city's pumps failed to protect his home in this neighborhood. The 26 inches of rainfall were too much for any municipality's system to handle, and Port Arthur is a "bowl," said Freeman. Even one of the shelters for the evacuees, the Bowers Civic Center, flooded.  
The driver and his passenger got out of the high water safely.
This man surveyed the street which was still flooded after the torrential rainfall occurred last Wednesday.