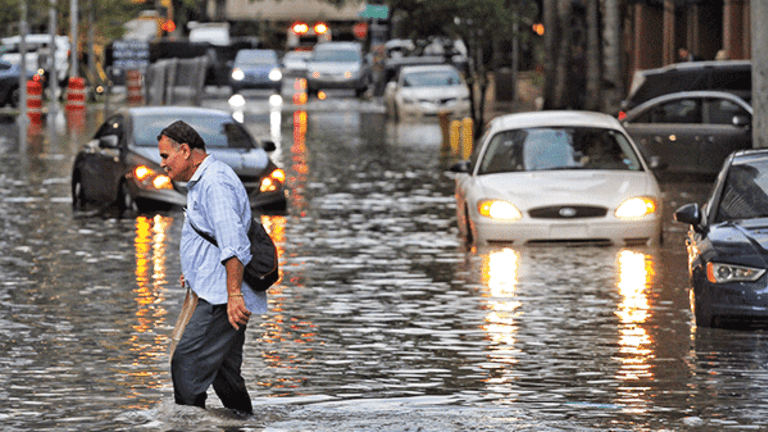 Publish date:
Hurricane Irma Reveals the Huge Dangers and Costs of Destroyed Infrastructure
In the wake of storms like Hurricane Harvey and Hurricane Irma it is the damage to infrastructure which creates the most danger and damage. Are we looking at $300 billion in damage in Miami?
In the wake of storms like Hurricane Harvey and Hurricane Irma it is the damage to infrastructure which creates the most danger and damage. Are we looking at $300 billion in damage in Miami?
On the heels of Hurricane Harvey, Hurricane Irma will soon hit the southern United States again. Forecasters have long feared the impact a hurricane of this magnitude would have on Miami and other coastal cities in Florida, but assessing and quantifying the potential level of damage presents a challenge.
"The bigger risk is really in Florida, and particularly Miami," said Paul Walsh while discussing conditions in Houston during Tropical Storm Harvey. "That South Miami Beach area, that's where there's really a concern."
Walsh, director of weather strategy with IBM Global Business Services, explained that meteorologists have long worried about the heavy construction and population influx in this region. Given that it has been over a decade since Florida's last major hurricane, many new residents in south Florida have experience no with these natural disasters.
Meteorologists predict that this period of relative calm will come to an end on Sunday. In light of this, perhaps the most important thing that residents need to prepare for is the damage to local infrastructure.
Hurricanes, and more importantly the resulting flooding, can cause what experts refer to as a cascade failure among vital services. As water wipes out individual sections of local infrastructure the load gets redistributed, putting more stress on the entire network. This makes each surviving component at once more fragile and more critical, at a time when usage often spikes as people attempt to respond to or flee from a storm.
And there's no good way to prepare for it.
"There is the way that a plan is established, 'If X happens we will do this,'" said Thom Ricket, vice president with Trident Public Risk Solutions. "You have secondary and sometimes tertiary backup systems."
CLICK HERE FOR ALL OF THESTREET'S COVERAGE OF HURRICANE IRMA
"[But] the systems, the infrastructure piece -- if it's overwhelmed, if a bridge collapses -- there's not really a backup plan other than rerouting traffic," he added. "And then if you do, then you're creating congestion and a chokepoint in an area that may not have been designed to handle interstate traffic."
More than individual properties, natural disaster events like Irma and Harvey disable local infrastructure, because they're built on interconnected networks. Flooding in one part of town might leave the homes and businesses alone in another section, but it can still take out power and plumbing.
Although a hurricane strikes at infrastructure in different ways, flooding and wind damage can destabilize virtually every basic service. Power lines blow down, collapsing under hundred-mile-an-hour winds. Water damage erodes and undermines roadways, creating channels that destroy the foundations of asphalt and bridges.
Plumbing and water supplies flood, with the contaminated runoff pouring into reservoirs and water systems.
Stay Updated with TheStreet's Latest Hurricane Coverage:
In the long term, infrastructure disruption means huge costs for communities following a hurricane. One estimate published in August by the Insurance Journal suggested that a major hurricane in Miami alone might cause losses between $100 billion and $300 billion.
This isn't just cleanup. Many pieces of vital infrastructure have to be entirely rebuilt at vast cost, with that rebuilding effort hampered by crippled access to the very services that workers depend on. Those costs will come at a time when communities even as large as Miami struggle with raising funds due to an evacuated population and a crippled tax base. (Not to mention that this comes at a time when some pundits suggest that the tax bases of communities like Texas and Florida require hinging recovery funds on a loan.)
In the short term, however, infrastructure damage is one of the key factors behind the human misery that Hurricane Irma will cause.
"It starts with something as simple as a power line going down," Rickert said. "Then there's that cascading effect across all of these systems."
"You don't think about what happens if it floods," he continued. "You think about what are the consequence of flooding? You have to ask, 'If it floods and my electrical grid goes out, what do I do?' It's that consequence vs. the event, and your plans have to think around if/then in that consequence tree that erupts from that [event]."
Infrastructure damage acts as a force multiplier for the direct impact of winds and water. With roads flooded over or destroyed, rescuers struggle to reach victims who may be isolated in flood zones as America saw with Hurricane Katrina. Electrical shortages compromise entire systems which depend on stable power supplies, from health care in hospitals to coolant engines such as at the chemical plant which exploded outside of Houston. Even the standing water that collects when drainage systems overload can breed disease.
Meanwhile individuals, cut off from their homes and communities, will have to fend for themselves. With most people lacking comprehensive flood coverage ancillary expenses will mount as they're forced to pay for lodging, food, fresh clothing and other necessities in a region where supplies are at a premium.
These access issues only compound the damage done by a storm. Water soaks further into homes and businesses, shorting out wires and soaking into insulation while owners spend time trapped on the other side of a flood.
Rebuilding infrastructure takes time and enormous expense, all compounded by lack of access to basic services.
"You've got to get everything else back online. You've got to get supplies that will be in short supply," Ricket said. "When you have such widespread damage everything else is compromised."