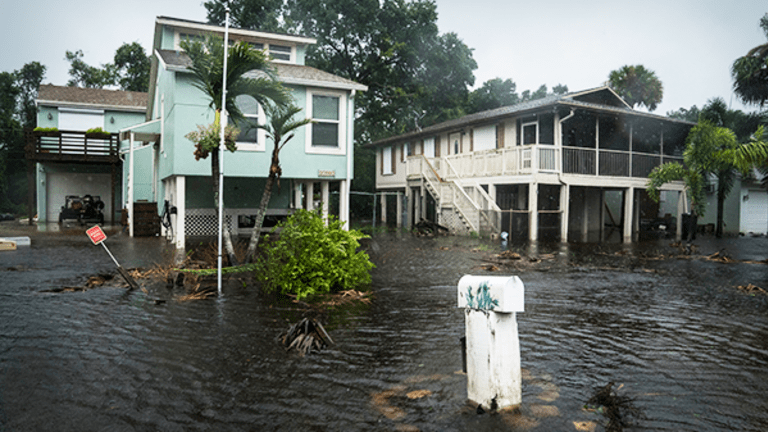 U.S. Flood-Insurance Program Funds Squeezed by $8 Billion Irma Hit
The 49-year-old National Flood Insurance Program, a part of the Federal Emergency Management Agency, already was $25 billion in debt due because of a failure to charge adequately high premiums.
Flood-insurance claims from Hurricane Irma could total $5 billion to $8 billion, rivaling those from Hurricane Harvey and putting the U.S. government program that provides most coverage in danger of exhausting its funds.
The new estimate from catastrophe-modeling firm CoreLogic Inc. (CLGX) , published Tuesday in a statement, adds to the estimated $6 billion to $9 billion in losses for the National Flood Insurance Program due to Hurricane Harvey.
The combined losses of $11 billion to $17 billion from the two storms would exhaust the government program's $7.5 billion in cash and available credit. The 49-year-old program, which provides about 98% of residential flood insurance, is already about $25 billion in debt to the U.S. Treasury Department and would need Congressional authorization for additional funds.
Although President Donald Trump signed a law on Sept. 8 allocating $15.25 billion in additional disaster-relief funds to storm victims and affected areas, the measure didn't include any additional money for the flood-insurance program. The claims could rise further now that Hurricane Maria is menacing Puerto Rico and the U.S. Virgin Islands.
CoreLogic said in Tuesday's statement that total residential flood losses from Hurricane Irma could total $25 billion to $38 billion, with roughly 80% of the damages not covered by any insurance. The hardest-hit states included Florida, Alabama, Georgia, North Carolina and South Carolina.
Such damages would be roughly on par with the estimated $25 billion to $37 billion in total flood losses from Hurricane Harvey, mostly in Texas and Louisiana. In the case of Harvey, about 70% of the damages were uninsured.
More of What's Trending on TheStreet: