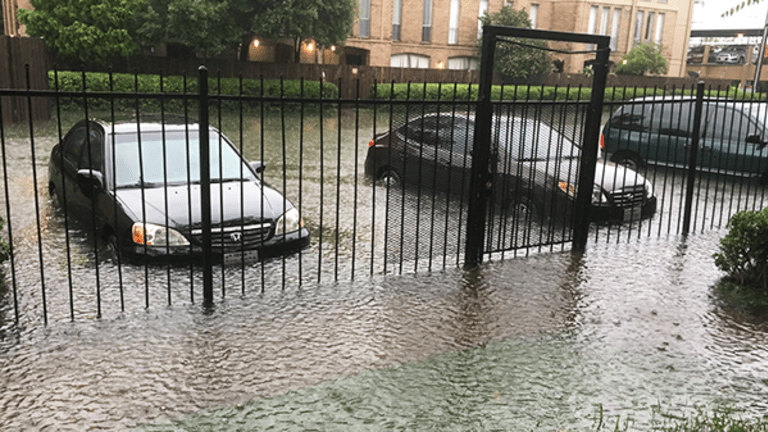 Hurricane Harvey Scammers Are Out in Full Force Targeting Helpless Victims
Fraudsters are targeting the victims of Harvey earnestly with a wide variety of scams.
Fraudsters are targeting the victims of Harvey earnestly with a wide variety of scams such as posing as FEMA employees or creating fake websites to masquerade as contractors who pocket an initial payment and never appear again.
The aftermath of Hurricane Harvey, which was downgraded to Tropical Storm Harvey, caused massive devastation to Texans from Houston to southeastern cities such as Corpus Christi and Port Arthur as thousands evacuated and others were rescued by volunteers or first responders with boats. Others who were able to return home have found water in their homes and cars.
The criminals are targeting innocent victims who are weary from living in temporary quarters such as shelters and homes of friends or relatives and are desperate for a sense of normalcy and want to avoid massive damages to their homes. The scams are rampant, and it's incumbent upon those who have been affected by Harvey to be extra vigilant when taking steps to get their lives back together.
Fraudulent Robocalls
The Federal Trade Commission (FTC) advises consumers to be wary of calls that are allegedly from the Federal Emergency Management Agency (FEMA). Homeowners and renters told FEMA they are receiving robocalls telling them that their flood premiums are past due. The fraudsters claim that to have coverage for Harvey, people must a payment immediately.
Instead, consumers should call their insurance agent, who actually handles flood insurance policies, wrote Colleen Tressler, a consumer education specialist for the FTC, in a blog post.
"If your agent can't help you, contact your insurance company," she wrote. "If you have a policy with the National Flood Insurance Program (NFIP Direct), call 1-800-638-6620."
Homeowners who suspect fraud should call the FEMA Disaster Fraud Hotline toll free at 1-866-720-5721 and report cases to the FTC so that law enforcement agencies can try to stop the scam artists.
Contractor Schemes
Eager to repair and rebuild, unsuspecting homeowners can fall prey to contractors who are dishonest and seeking to make a quick buck. Contractors who go door-to-door in neighborhoods that have sustained damage after a disaster are often not reputable, said the National Insurance Crime Bureau (NCIB).
The dishonest ones offer to remove water, mold or mildew or to repair sheetrock and flooring, but they are only seeking financial gain and have concocted schemes to defraud desperate homeowners by asking for a down payment. But they pull a fast one: they either never appear or fail to complete a job. Others use inferior materials or conduct electrical or plumbing work that they are not licensed or qualified to handle.
"The ones who claim they can do it all are problematic, and a good contractor will never agree to meeting short deadlines," said James Schlankey, a general contractor in Dallas.
Nearly all of these schemes start when a contractor randomly appears in the neighborhood of the flood victims.
The first step homeowners should take is to call their insurance company. Before homeowners agree to hire a contractor, they should obtain several estimates in writing, including the costs, repairs, schedules, guarantees and payment schedules. They should also seek references, ask to see the salesperson's driver's license and write down the license number and their vehicle's license plate number and never pay a contractor in full or sign a completion certificate until the work is finished, the NCIB said.
Some contractors will pressure people into hiring them, attempt to interpret the insurance policy language or discourage homeowners from contacting their insurance company. Avoid contractors who aren't licensed and insured or who cannot provide proof of their credentials.
Contractors who ask for a deposit and claim that they can collect the remainder of the bill from the insurance company are fraudulent, said Peter Duncanson, director of operations and safety with ServiceMaster Restore, a Memphis-based disaster restoration companies.
"Do your due diligence, and only rely on trusted, professional companies," he said.
Homeowners should never give the contractor any personal information such as their Social Security number or bank account pin number, said Bruce McClary, spokesperson for the National Foundation for Credit Counseling, a Washington, D.C-based non-profit organization.
"If you're paying by credit card, don't sign anything that gives the contractor the ability to make charges beyond the projected cost without your consent," he said. "It helps to check the reputation of a contractor with a service like the Better Business Bureau."
Vehicle Scams
Reselling cars or SUVs which have been flooded remains one of the largest scams as fraudsters can easily obtain the title from an undamaged car and swap them or use the VIN from another car, said Corporal Nate Bradley of the Missouri State Highway Patrol.
Criminals have become more adept at tampering with titles and cloning VINs and consumers purchasing a used car must conduct in-depth research nowadays because thousands of vehicles are likely cloned each month in the U.S., he said.
"Nobody wins because the victims lose the car and the finance and insurance companies also lose their money," Bradley said. "We all end up paying for these frauds through increased insurance premiums. Criminals will always be a step ahead of law enforcement."
The number of cases of thieves cloning VINs and using them on stolen cars is rising, since it is lucrative. Victims are often left without a vehicle, because law enforcement must seize the car as evidence, but are still responsible for any unpaid auto loans, losing an average of $25,000 to $30,000, said Chris Basso, a used car expert for Carfax, the Centreville, Va.-based company which provides vehicle history reports. 
"A VIN is like your car's Social Security number and cloning it is one of the fastest growing used car scams," he said. "With technology improving fast and furiously, the means for criminals to clone a vehicle has become a lot easier and quicker to do."
The NICB's VINCheck gives consumer free access to vehicle salvage records.
Online Scams
Cyber criminals have developed many schemes to exploit disasters for personal gain, said Jason Kent, CTO of AsTech, a San Francisco-based security consulting company. Phishing campaigns aimed at people living in cities affected by Harvey look very legitimate, because they can easily obtain information from tax record, property value or real estate websites.
"It's possible to pose as an agent and make claims such as 'you have a $2,000 deductible, please give me a credit card number so we can speed up payment' or 'we have been authorized to collect $500 so we can send a bulk debris collection vehicle to your neighborhood,' he said.
When someone initiates contact with you, the email or phone call about your repairing your home is a scam, said Kent.
The frauds include official looking appeals which actually go to unfamiliar places or web addresses that are a few letters off, said Dan Lohrmann, chief security officer at Security Mentor, a Pacific Grove, Calif.-based provider of security awareness training.
"With events like Hurricane Harvey, phishing is typically the easiest path for bad guys to get the sensitive data they want without being detected," he said. "If they can become you, they can slowly steal the data over time and cover their tracks. We fall for the phishing bait because the phishers are masters of disguise. The bad guys play on our emotions and desires and appear to be from trusted sources."
The information gleaned by the "bad guys" can be used to submit false claims for government or non-profit services and used for identity theft and even for looting, Lohrmann said.
Some useful hurricane terms to know. 
More of What's Trending on TheStreet: