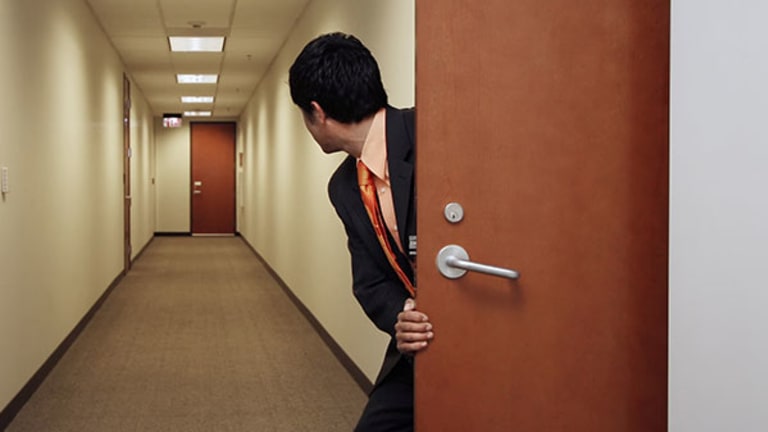 How You're Ruining Your Reputation at Work
Why let a few mistakes ruin your reputation at the office?
Why let a few mistakes ruin your reputation at the office?
NEW YORK (TheStreet) -- It can take years to establish a track record as a trustworthy, dependable employee, and it takes only a few minutes to destroy your reputation at the office. Thankfully, you don't have to let a few mistakes erase the credibility you've worked so hard to establish. Experts weigh in on the top six most common ways people ruin their reputation at work.
1. Lying
Big lies aren't the only ones that have the potential to destroy your reputation, says Eric Schiffer, chairman of ReputationManagementConsultants.com. Even little white lies -- or lies you get caught up in by saying one thing to one person and a different thing to someone else -- chip away at how others perceive your character.
"You don't want to get known as a chameleon," Schiffer says. "Don't tell one thing to one co-worker and then an entirely different thing to your boss. Word gets around faster than you might think that you're not being aboveboard."
If your managers and colleagues learn you can't be trusted -- or that there is usually more to the story than what you're telling them -- pretty soon you just won't be included as part of the conversation.
"Credibility is king within the corporate world. It's your platform for power and success, and the moment you give that up, either directly or indirectly, you're drowning," he says.
2. Promising something you don't deliver
If you say you're going to do something, do it, Schiffer says. When you promise something you don't deliver, your co-workers and managers lose faith in your word.
"You lose the respect of everyone who was counting on you to deliver," he says. "And that's the best-case scenario. In some situations, people have made serious commitments based on what you promised to deliver. Not only are going to disappoint co-workers, you may be impacting your livelihood."
It all comes back to credibility. People need to be able to take your word seriously, and when they can't, your reputation is shot, Schiffer says.
Also see: Those Workplace Conflicts May Be Your Fault>>
3. Failing to treat everyone with respect
Even if you consider yourself to be a good co-worker, if you don't treat others with respect you're going to gain a reputation as someone who's grouchy or self-important, Schiffer says.
"People burn bridges every day just by being snippy, terse or brutally short," he says. "Remember that business isn't just about numbers. It's mostly about people, and you've got to treat everyone with respect."
Even though this may sound like a lesson you learned in elementary school, Schiffer says it's amazing how many people forget the basics of polite interaction when the stresses of a 9-to-5 job are present.
"Being kind goes a long way toward building greater relationships that can serve you for years to come. People notice when they see you treating the interns with the same respect that you treat the CEO. Remember that respect isn't just reserved for your boss," he says.
4. Showing you're not a team player
You don't have to be best friends with everyone, but you do need to be seen as friendly and as part of the team, says Julie Hochheiser Ilkovich, career expert and co-founder of Masthead Media.
It's not about whether you do or don't go to happy hour. It's about showing a genuine interest in the success of your team and the lives of your team members, she says.
"You've got to show you are effective at getting things accomplished for your team and that you are interested in the people you work with," she says. "Don't force friendships, but if you see that the social aspect of your team is important to your boss, then yes, you need to participate occasionally at birthday parties and team events."
5. Throwing people under the bus
When something goes wrong, there are some people who like to make sure everyone knows who's responsible, Hochheiser Ilkovich says.
Also see: 5 Ways to Keep Spring Fever From Killing Your Job>>
"Blaming other people at the drop of a hat is one of the quickest ways to get a bad reputation," she explains. "Realize that everyone you work with is a potential reference -- or someone who could be your boss one day."
When you're quick to point the finger at others, it makes you look like you're not only separate from the team, you're actually working against the team. This can lead to resentment from colleagues and may mean that people no longer want to work with you on any major project, she says.
When a mistake is made that's not entirely yours, take ownership, even if it hurts to do so, says Tom Gimbel, president and CEO at LaSalle Network, a Chicago-based staffing firm.
"Whether a co-worker had a typo in a project you spearheaded, or there was a mistake in a presentation a colleague proofed, take accountability. No one wants to be thrown under the bus," he says.
6. Calling in sick or taking vacation during something important
While you should absolutely take and enjoy the vacation days you're given and take sick days when you need them, don't use your days as a "get out of jail free" card, Hochheiser Ilkovich says.
"If you call in sick the week a big project is due, or if you take vacation during the busiest month of the year, you're going to look like a person who isn't there and doesn't care," she says. "You have to make an effort to control your absences during key times for your business."
If you're genuinely sick or have a family commitment you just can't miss, try to stay engaged with your team by working from home, adjusting your hours or attending important meetings via teleconference.
"It's disrespectful, not only to the leaders of the organization, but also to the colleagues who are putting their blood, sweat and tears into the company. No one wants to work with someone who is lazy or an underachiever," Gimbel says, adding that the healthiest relationships in the workplace are based on contributions and performance.
"No one wants a colleague who only thinks about what is good for them," he says.