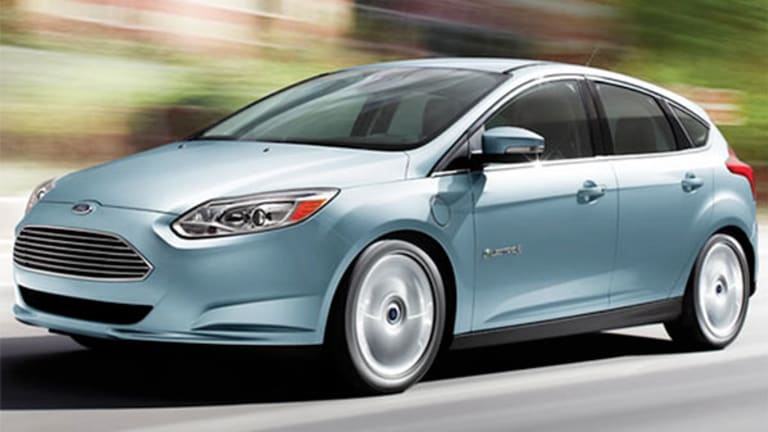 How You Can Get a Great Deal on an Auto Lease, Even for Luxury
While monthly lease offers under $200 are common enough, experts say it is surprising to see the high quality of vehicles available now with such aggressive deals.
While monthly lease offers under $200 are common enough, experts say it is surprising to see the high quality of vehicles available now with such aggressive deals.
NEW YORK (TheStreet) — With so many Americans battening down the budget hatches, getting a great deal on an auto lease right now has its attractions. Goodness knows, there are plenty of value deals out there. Swapalease.com, based in Cincinnati, is reporting 16 lease deals that clock in under $200 on its Wantalease.com online marketplace hub for leased vehicles.
Here are some examples, listed from lowest monthly payment to highest, all for under $200 per month, for 24-, 36- or 39-month lease durations.
Volkswagen Jetta S: $139 per month.
Chevrolet Cruze LT: $147 per month.
Chrysler 200 Limited: $149 per month.
Chevrolet Equinox 2WD LT truck: $189 (for 39 months)
Ford Escape FWD S truck: at $199 (for 24 months) 
Lease amounts seem to be falling fast on some new models.
The Chrysler 300 RWD, for example, fell 27.8% in price in June, with an offer of $200 per month, from $283.31 for the same vehicle in May, Swapalease reports. Even some luxury vehicles are plummeting in price. The Acura ILX can be had for $229 per month, and you can land a new Audi A3 1.8 Premium lease for $319 per month.
Clearly, these are good times for lease-lovers.
"It's not uncommon to see many monthly lease offers under $200 … it is surprising to see the high quality of vehicles seeing such aggressive deals currently," says Scot Hall, executive vice president of Wantalease.com. "There continues to be a nice mix of cars and trucks, as well as luxury makes with deals that are attractive to virtually all budgets."
As usual, there are some caveats, with the biggest one being that the clock is ticking on auto lease bargains. "Nowadays, there are a lot of good lease deals on cars and trucks for under $200 a month," says Jordan Perch, an auto industry blogger with DMV.com, an auto services site that helps drivers navigate their state's registry of motor vehicles process. "Some of the most popular leases include vehicles built by Ford, GM, Toyota, Mazda, Honda and Hyundai. That said, they are mainly promotional leases that are only available for a limited time."
Perch likes the Chevrolet Equinox for a current lease value deal. "It's a small crossover SUV that's available for $199 a month, for 24 months, and $2,492 at signing, an amount that includes a down payment, the first month's payment and taxes," he adds. "It's a nice, practical SUV with a roomy interior that is perfect for daily commutes to work, as well as for soccer moms. It also has a decent fuel economy rating for an SUV, consuming 22 miles per gallon in the city and 32 mpg on the highway."
Another favorite from Perch is the Ford Focus. "The Focus is one of the most popular compact cars in the world. And it's a good choice for a lease because it's a very fuel-efficient vehicle and it's equipped with a wide array of advanced safety and infotainment features," he says. It's powered by a 1.0-liter EcoBoost engine, with a fuel economy rated at 26 mpg/city, and 38 mpg/highway. It can be leased for $159 per month, for a 36-month lease, with $2,169 due at signing.
Perch also likes the Honda Accord (at $199 per month) and the Nissan Leaf (also $199 per month) for 36-month lease deals. Mike Rabkin, owner of From Car to Finish, a national new-car negotiating service and information provider, advises deal-minded consumers to negotiate the lease selling price (known as "the capitalized cost" in lease lingo) as low as you would for a purchase. "Lease advertisements assume the capitalized cost is at Manufacturer's Suggested Retail Price," Rabkin says. "You wouldn't buy a car for MSRP, so why would you be OK basing a lease on it?"
Also, make sure the dealer isn't marking up the interest rate (known as "the money factor" to auto leasing professionals). "Multiplying the money factor by 2,400 will let you know what the interest rate really is," he adds. "While the interest rate you qualify for is based on your credit history, sometimes manufacturers allow dealers the opportunity to mark it up to make a little money." Instead, ask for the "buy rate," a term auto dealers use for the unmarked-up rate, which should be cheaper.