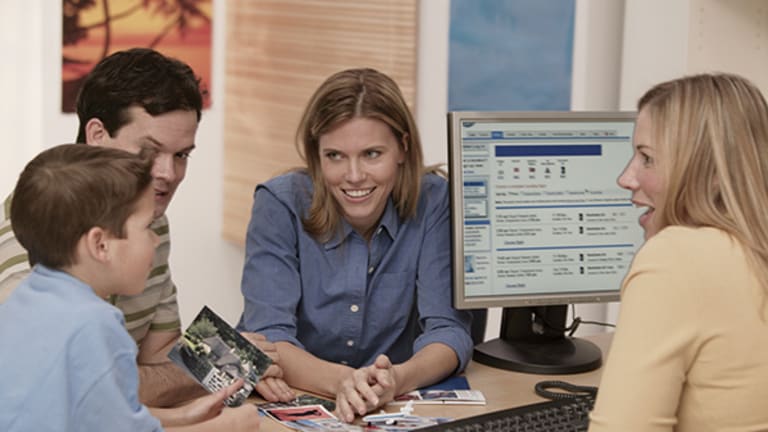 How Travel Agents Are Winning Back Customers By Delivering Valuable Expertise
Here's why Millennials are flocking to travel agents
NEW YORK (MainStreet) — Maybe it is time to bring back floppy disks, typewriters, even adding machines. That's because - long ago filed in the dead-as-a-doornail category - travel agents are making a kind of return, at least for savvy, time-sensitive travelers, especially ones with complicated and/or expensive itineraries.
It's a fact: there are instances where you should probably book with a travel agent rather than going the DIY route with Expedia, Hotels.com, or any of the other big online travel agencies (OTAs).
Who uses travel agents? Here's the surprise. According to research by travel marketing company MMGY Global, 28% of Millennials surveyed in February 2014 had used a travel agent in the prior year, compared to 15% of Gen X, 13% of Baby Boomers and 21% of what MMGY calls matures. MMGY said that, looking forward, Millennials will be even more likely to use travel agents. 30% of them will use a travel agent in the next two years compared to 19% of Gen X-ers, 16% of Boomers, and 27% of matures.
Why? According to MMGY, Millennials said they used travel agents to tap into their expertise. They are onto something.
Try this: Put together a two week itinerary in India that includes only clean and safe budget hotels and second class train from Delhi to Jaipur to Rishikesh to Goa. You probably cannot do it, certainly not using the typical online resources, because a lot of the essential information is not readily accessible on the web, and you also will see discouraging notations such as "No current booking - heavy waitlist." Much the same can be said about travels in just about all developing nations - but there are travel agents who specialize in these itineraries and are happy to do the work for you.
Or try this: decide on the perfect July cruise vacation for you and your partner and understand a few things: much, but not all, of the Caribbean is under hurricane threat in that season, and if you prefer the Greek isles (great choice!) some are so overrun with tourists that month you'd have a more authentic Greek experience in Astoria, Queens.
Your best pick? Call a travel agent first -- and in fact 90% of cruise vacations are booked through travel agents according to Cruise Lines International Association (CLIA). David Yeskel, aka the Travel Guru, added this about cruises: "There are very distinct differences between the cruise lines and their respective onboard features, service, cuisine and atmosphere that a consumer wouldn't normally be aware of. Nor, for that matter, would an order-taker at an OTA's call center. But with a few key questions, a full-service travel agent that is also a cruise specialist can guide a client towards a cruise that would be the right fit."
Know this too: call a travel agent and ask him to book you a cross-country coach flight next month from JFK to SFO, and many will just decline. That's because there is very, very little commission money in that booking for them. Said travel agent Joseph Sobin: "I do not process stand-alone airline tickets, as commissions are nil, and it literally costs me money to do so."
That's also why many agencies charge a service fee - anywhere from $0 (on many cruise bookings where commissions are rich) to $100 to perhaps more for that hypothetical India vacation above where an agent needs strong knowledge and contacts to put it together.
There may be still other benefits to using a smart agent. Russell Hannon, who blogs at BreakTheTravelBarrier, said: "When I realized I was going to miss a flight on two different occasions, I called the agent who quickly changed by flight for a nominal fee."
Other travelers said likewise: when things go wrong, having a travel agent on your team can erase a lot of stress and turn a vacation nightmare back into a dream trip. Agent Sobin, for instance, pointed to the complete disruption of air travel in or out of northern Europe for up to a week in 2010 as a volcano in Iceland spouted ash. Many travelers were stuck in Europe. Not Sobin's clients: "as a travel agent, I am able to re-route a client, for example to avoid the Iceland volcano out of Paris, fly the client towards Africa or Asia and then connect to the United States. Yes a round-about routing but beats being stuck at De Gaulle Airport [in Paris] for days on end waiting for a trans-Atlantic nonstop."
The typical traveler wouldn't think to do that, and even if he did, probably doesn't have the knowhow to push it through an airline's reservations system.
Even the fees paid may be cancelled out. That's because travel agents often can get a guest VIP treatment at hotels, because the hotel values not the guest, whom they may have never seen before, but the agent. Said Jenifour Jones at Go Get It Events & Travel: "Travel agents can typically get you free perks and upgrades, especially at the nicer hotels and resorts. Free perks include free breakfast, resort or spa credit, free excursions, complimentary bottle of wine upon arrival."
Yes, if this is your fifth trip to Berlin in the last decade, go ahead, book it yourself. Simple itineraries to known places are ideal for DIY, and many travelers like the sense of control. But when the unknown beckons - or you fear complications may arise - don't be too quick to rule out travel agents. They just may save your trip.
—Written by Robert McGarvey for MainStreet
This article is commentary by an independent contributor. At the time of publication, the author held TK positions in the stocks mentioned.