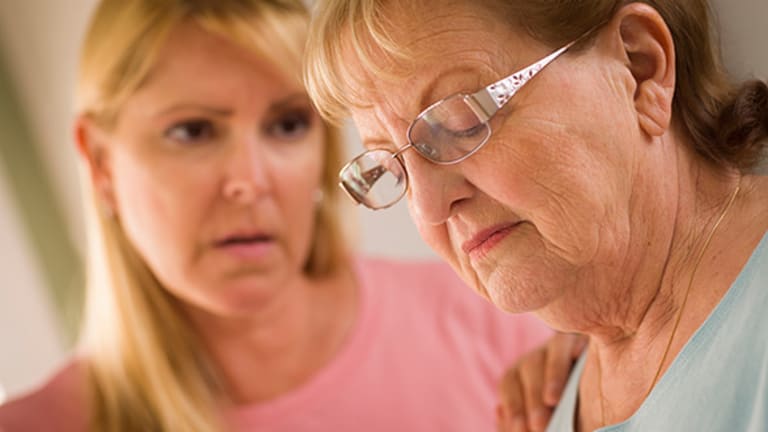 How to Stop Your Elderly Loved Ones From Being Victimized by Financial Fraud
For the elderly, being a victim of financial fraud or abuse can be emotionally devastating, especially when when the perpetrator is a friend or a member of their own family.
For the elderly, being a victim of financial fraud or abuse can be emotionally devastating, especially when when the perpetrator is a friend or a member of their own family.
NEW YORK (TheStreet) — One of the most nefarious forms of financial fraud – stealing from elderly people – is back in the news, and the news isn't good. An AICPA PFP Trends Survey released Tuesday shows that "financial fraud against the elderly is on the rise," with 47% of U.S. financial planners surveyed saying they "have seen an increase in elder fraud or abuse in the last five years."
The emotional toll of being victimized really takes a toll on senior citizens, AICPA says, with 37% of the 266 financial professionals it surveyed saying they saw a "substantial" emotional impact on the elderly fraud victims they advised. Maybe that's because 72% of elderly fraud or abuse victims felt taken advantage of by family members (although phone and email scams were most prevalent, at 79%).
"For elderly individuals, being a victim of financial fraud or abuse can be emotionally devastating," says Ted Sarenski, a certified public accountant and an AICPA member. "The impact is compounded when the perpetrator is a member of their own family or a friend."
"One of the unique challenges for CPA financial planners working with elderly clients is balancing their desire to help their family members financially with the need to ensure that they have the means to continue to meet their own expenses," Sarenski says.
Erik J. Broel, an attorney at Broel Law Group, in Marietta, Ga., has experience with the victims as well. "Unfortunately, not everyone who preys on an senior is outside the family," Broel says. "In the course of helping families through settling their loved one's estate, it's really not uncommon for us to find a family member who was supposed to be helping the senior with their finances abused that position of trust and used the senior's money for their own purposes."
Family-based fraud happens most when the perpetrator has a power of attorney or joint access to the senior's bank account, Broel says. One way to mitigate that threat, the AICPA report says, is to ensure estate planning "team" members are formally authorized to communicate with one another. "This helps provide checks and balances."
If that doesn't work and the elderly family member just can't say "no" to a chiseling relative or demonstrates weak decision-making for health reasons, AICPA advises stashing their assets in a revocable living trust and assigning a co-trustee. "Ensure that all checks – or checks over a certain dollar amount – require two signatures," the group says. "This can reduce any chance of an elderly client giving to unscrupulous people."
Some family members are getting especially creative about protecting older loved ones against financial fraudsters. "My parents have been the victims of various scams, and my sister and I have found some innovative techniques to fight back," says Dan Nainan, a New York City-based entertainer and advertising voice-over professional. "For example, we have their phone forwarded to Google Voice so we can screen their calls and avoid scam artists. Also, they had people who are ostensibly friends coming to borrow money from them, so we had to check that too."
Banks are developing some good fraud-fighting techniques that help elderly Americans. At Boston Private Bank & Trust, officials created a financial training program for seniors called "Smart Money" that helps participants avoid financial scams, and so far 300 older customers have attended, says Paul Behan, leader of the bank's program.
One staple Behan pushes is for elderly consumers to use a credit card rather than a debit card. "More and more retailers are suffering security breaches that expose card information to those that may take advantage of a breach," he says. "A credit card will not impact your checking account like the breach of debit card. It's better to have the bank's money tied up rather than yours while charges are being disputed."
Also, if older family members have questions about being asked to wire money or sending money to a questionable party, don't be afraid to ask your bank manager or local banker to take a look at the circumstances, Behan says. "Most banks have strong training programs to help their bankers identify financial scams," he adds.