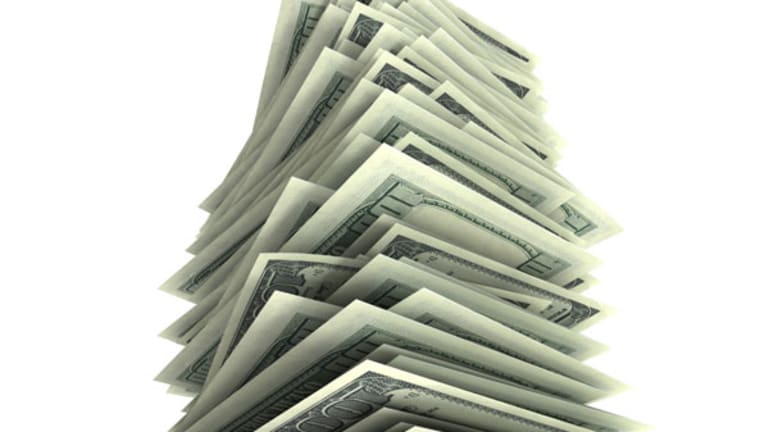 How to Say You Can't Afford to Be in the Wedding
If attending your friend's wedding isn't in your budget, you're going to have to level with the happy couple eventually.
NEW YORK (TheStreet) -- If you've been asked to attend or be part of a friend's wedding, you know how expensive it can get. From the cost of the dress or tuxedo rental to the flight or hotel rooms, it can turn into a $2,000 weekend before you know it. If money is tight and you just can't swing the cost, there are ways to break it to the bride and groom while keeping the relationship intact.
Clarify what's expected of you
Don't say "no" without asking if there are ways you can make it work, says Cathleya Schroeckenstein, editor in chief of WeddingBee.com.
"Ask the bride what her honest expectations are of you, and sit down together to look at the numbers," she says.
For example, you may find out that it's possible for you to attend the wedding by sharing a hotel room, or that the bride and groom are hiring a bus to take everyone to the wedding venue. If you discover you're going to need a plane ticket or a hotel room for several nights, though, it's easier for you to explain that that the money simply isn't in your budget.
"No one wants someone grumpy at their wedding, moping around all weekend because they spent too much money," says Meg Keene, founder and editor in chief of website A Practical Wedding and author of a book by the same name. "Take a look at how much it's going to cost. The worst thing that can happen is that you go into debt trying to make it work."
A weekend for a couple attending a wedding that involves travel and hotel stays can easily exceed $2,000, Keene cautions. Especially if you're asked to be in the bridal party, you'll need to find out what added costs you may incur.
"The dress, travel, hair, makeup, nails, bachelorette parties, bridal showers, etc., all add up over time and should be considered in the overall cost of participating," warns Jessica Lehry Bishop, founder and editor of The Budget Savvy Bride.
Choose your words carefully
Don't make the couple feel like their wedding is an imposition, Keene cautions.
Also see: How to Plan Your Wedding Without Messing Up Your Work>>
"You are a grown-up and it's your responsibility to say 'yes' or 'no' to this kind of invitation," she says. "You want to be frank, be nice and in no way put the blame on the couple or make them feel like their wedding is causing you problems."
Don't say things like, "I would love to be a bridesmaid, but that dress you picked out is just too expensive," or "I would love to come, but the location you picked is just too far away," Keene says.
Instead, let the couple know that even though you'd love to be there, you just can't afford it at this time.
Be honest -- in person and quickly
If you can't afford to be part of a friend's wedding, honesty is always best, says Suzanna de Baca, vice president of wealth strategies at Ameriprise.
"It may be tempting to try to come up with an excuse rather than admit you're financially strapped, but your friend will likely appreciate your candidness," she says.
If you've been asked to be a bridesmaid or groomsman, let the bride or groom know as soon as possible that you won't be there so they can choose a replacement, Lehry Bishop says.
"It's always a good idea to have this conversation in person, if possible. It will allow you to talk things out more personally. If this is a close friend whose relationship you value, it's important to smooth things over in order to preserve the friendship," she explains.
Even though the truth can be painful, lying to yourself about your financial situation is worse, says Christina Friedrichsen, owner of IntimateWeddings.com.
"If you can't afford it, you should not feel obligated to put yourself out to attend the wedding -- even if it is a dear friend."
Give specifics about your situation
Give context to why you can't afford to be in the wedding, Schroeckenstein says.
Also see: How to Party Without Asking Your Guests for Too Much>>
"While by no means do you owe anyone a peek into your financial situation, a clear explanation is always helpful and avoids any assumptions or silent resentment," she says.
Don't be afraid to get specific: "We're currently saving to buy a house, and I'm on a strict spending plan this year."
Or offer up a few details on how your financial situation might be hindrance: "I want you to be able to do things exactly how you want to do them and not worry about me penny pinching or asking constantly if we can possibly get a better deal on X, Y and Z. I want you to have the exact wedding you want!"
Everyone understands rejection better when you explain how it affects them, rather than only you, Schroeckenstein says.
Offer to celebrate with them in other ways
Consider offering to play a less-expensive part in the happy couple's special day, de Baca suggests.
"Assisting with a bachelorette party or helping to address invitations are supportive things that soon-to be married couples will appreciate that won't put a financial strain on you," she says.
Indeed, there are other ways to celebrate someone's union without attending the wedding, Schroeckenstein offers.
"Invite the couple over to your house for an engagement party, take them out for drinks or offer your helping hand in planning a separate party."
No matter what, express to the couple that their wedding is very important to you and you will definitely be there in spirit, Keene says.
"After you break the hard news that you won't be there in person, tell them that you love them, that you're excited for them and you want to be a part of everything else you're able to attend," she says.