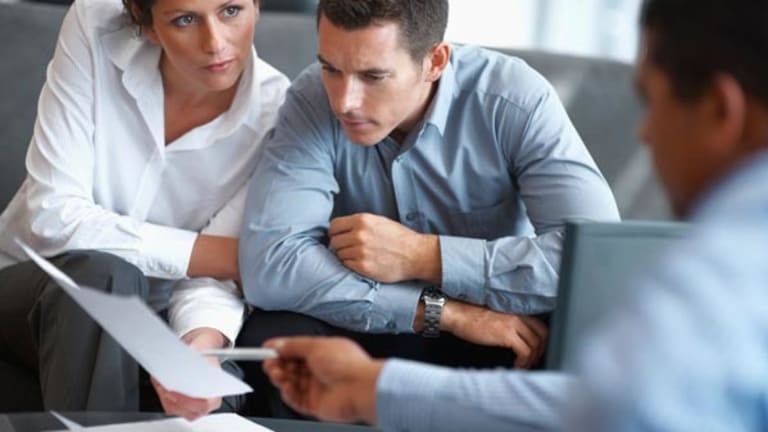 How to Save on Your Midlife Crisis
Midlife crises may be important for your emotional health, but they shouldn't come at the expense of your financial well-being.
NEW YORK (
) -- Ask people how much their mental health is worth and most will tell you that you can't put a price tag on sanity. Ask someone who's recently gone through a midlife crisis, though, and you might get a different answer entirely.
Regret is a hard pill to swallow at any age, but when an expensive decision is designed to make life better for the 40-something American who's lost his or her sense of youth and vigor, the bitter aftertaste can put a person's entire retirement in jeopardy.
Kimberly Foss, a wealth adviser for high net-worth individuals (people worth $1 million or more, generally) with 29 years of experience, has seen plenty of clients of a certain age come to her wanting to make big purchases and trying to convince themselves that they are entirely rational decisions.
It may seem like a simple procedure, but the cost of looking younger can easily last to old age.
"Most of these people's interest in such things is short-lived," Foss says, "so if a client of mine wants to make a purchase that is clearly over the top and will cause financial distress, I would show them the ramifications but I try to give them a piece of it."
While some people simply won't be satisfied by just a "piece" of a midlife crisis, Foss remembers clients like the guy who bought a Ferrari and drove it only about 2,500 miles in the 10 years it sat in his garage.
"They always say 'I'll never get rid of it', but it's always important to have an exit strategy," she says. With that in mind, here is how to get that midlife crisis satisfaction without completely breaking the bank:
Crisis: Realizing You Never Travel
No matter how many ways there are to escape one's humdrum reality, restless middle-aged Americans often choose to get out of their ruts by, literally, getting out of their ruts. Whether it's a
luxury cruise
or a long vacation on land, midlifers' impulsive arrangements sometimes land them in financial trouble.
"Women come to me looking for relaxing trips to comfortable places," Foss says, "but guys do it differently; they often want to get back to their youth with travel like hunting expeditions, so they come to me to help plan how to pay for it."
Anyone willing to do a little bit of the legwork can follow Foss's general tips to avoid package deals and find ways to plan a trip by seeking out deals in an a-la-carte way for every aspect of their adventure. Being flexible with some of the arrangements can also go a long way. Foss uses travel websites to find the best deals, focusing specifically on red-eye flights that avoid peak fares, books coach class seats instead of first class, and finds nice hotels that don't come with five stars and the five-star price tag.
"It's the experience of being there that matters, and you're not going to remember how you got there or got back," Foss says. "If you can shave 30% off the cost of travel then you can spend it more wisely later when you get back, or even on the experience itself."
Of course, for anyone who's committed to finding their solace on the open seas, there are also
ways to save
on cruises, particularly by avoiding the peak times of year (summer) and by cruising to less-common destinations than the standard Caribbean adventure.
Crisis: Looking Older
The most overt aspect of aging is, of course, aging. Americans' increasing concern with sagging body parts fueled a 5% increase in cosmetic surgical procedures in 2011, with eyelid surgery and facelifts fueling the trend, according to the latest statistics from the American Society of Plastic Surgeons.
"We are seeing notable increases in surgical procedures, such as facelifts, that reflect the demands of an aging boomer population," ASPS President Malcolm Z. Roth, MD, said in a
press release
.
In 2010 Americans spent more than $10 billion on cosmetic surgery, and with procedures like tummy tucks or nose jobs routinely costing
$4,000 to $5,000
, it's no wonder that Foss has found some ways to do it on the cheap.
"One client I had in San Diego wanted to lose some weight with a newer procedure that involves folding the stomach on itself, and after looking into it we found that that same procedure was 40% cheaper on the other side of the border," she says. "It all went perfectly and it was literally only 20 miles from San Diego."
While some might flinch at the combination of "surgery" and "Mexico", enough research helped Foss find the right doctor, who operated a practice in the U.S. as well as in Mexico, and arrange for a driver and accommodations for the recovery that made the experience as smooth as it would have been anywhere, at a huge cost savings.
Crisis: Not Living Large Enough
While most Americans these days will probably be content with just owning a home and being able to make payments on it, it's no secret that the later stage of life sometimes leads homeowners to take a second look at their digs and decide they are not the castles they had hoped to retire in.
Buying a house in these days of low home prices and even lower interest rates may be tempting, but the difficulty buyers will have selling their current homes is enough to make home improvement projects a better option.
"Some people come to me wanting to do a huge home remodeling project, but don't realize the financial difficulty it will put them in," Foss says. "So instead of doing it all at once I suggest they do it one piece at a time, like one thing per quarter, and pay cash as they go."
Instead of adding an extra wing to their place or embark on a major tear-down project, middle-aged folks looking to improve their surroundings could focus first on the projects that will yield the best benefit when it comes time to resell the home, like creating an attic bedroom, replacing a garage door or replacing exterior siding, all of which recoup more than
of the cost down the road
Crisis: Losing Your Sense of Adventure
Midlife crises present themselves stereotypically with a fast new convertible (among men at least), and while Foss has seen what can happen when those cars become impulse buys, that doesn't mean she won't help her clients achieve their dream of turning heads on the highway.
"Usually it's a car that they want to restore or one that has already been restored, or one that goes really fast," Foss says. "If it's a Porsche I tell them to go used. Do a little homework and you see that there are cars that are 1 to 3 years old; you can get a great car probably with very little mileage for a much better price."
Of course, there's more to a Porsche than the sticker price. Insurance will cost an average of more than $2,000 a year, depending on where you live, and gas could easily top $3,000 a year depending on how much it's driven. Add to that maintenance and repair costs and you've got an indulgence that can cost upwards of $15,000 extra after five years, as with
of a used 2009 Porsche 911.
Plenty of midlifers save on some of those costs and still regain their sense of adventure with a cheaper and more fuel-efficient
Harley
(HOG) - Get Report
or a
Tesla (TSLA) - Get Report Roadster
, but Foss says the Porsche is still in pole position.
"I don't get as much interest in Harleys as I used to," Foss says. "I don't know if it's just out of fashion or what, but I still get the Porsches. There's just no interest in electric cars or hybrids for these kinds of clients."
With
Lexus
(TM) - Get Report
,
BMW
,
Mercedes
(DAI)
and, yes, Porsche all getting in on the luxury hybrid game though, brand-conscious midlifers may indeed find themselves with some cheaper options to buy new.
Crisis: Realizing You're Unsatisfied With Your Job
You don't need to be middle-aged to be frustrated with your job, but people who are a few decades into a career might feel less able than younger folks to change their situations. Instead of just quitting in a moment of
and suffering the economic consequences of not even being able to collect unemployment aid, there are cheaper ways to go about making work a better place.
You can
or convince your boss that you can be productive when
, for example.
Of course, it is possible you're stuck in a
. If so, you can always quit
and start that business you've been thinking about for years. There are plenty of tools in today's connected world to help get your idea off the ground.
With a good idea and a decent mock-up of the thing, you can follow in the footsteps of thousands of entrepreneurs before you and try your luck on Kickstarter, the community-funding website that leverages micro-donations to finance aspiring entrepreneurs' big ideas. Among the site's notable successes are the more than $3 million pledged to produce a
, $65,000 to produce a
and $250,000 raised to develop a "
" home gardening kit, proving that a simple idea can sometimes launch a significant revenue stream.
--
Written by Greg Emerson in New York
>To contact the writer of this article, click here:
.
>To follow the writer on Twitter, go to
.
>To submit a news tip, email:
.
RELATED STORIES:
>>8 Questions to Ask Yourself Before Retiring
>>7 Travel Spots That Avoid Spring Break
Follow
TheStreet
on
and become a fan on