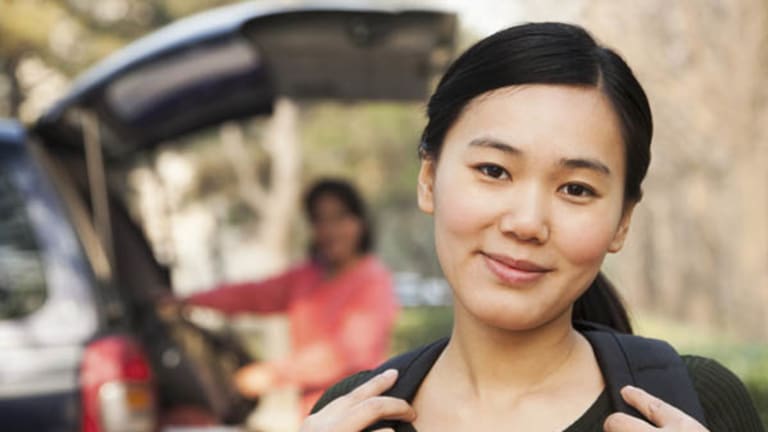 How to Prepare Your Kid for College Culture Shock
One in three college freshmen won't be back for their sophomore year, but a little preparation can make first-year problems manageable.
NEW YORK (TheStreet) -- Even though America's best and brightest high school seniors are moving on to college, there is no guarantee they'll make it through four years of college.
According to U.S. News & World Report, one in three U.S. college freshmen won't return for their sophomore year. "The reasons run the gamut from family problems and loneliness to academic struggles and a lack of money," the magazine says.
While parents should look at how a school fares in terms of retention rates (ask your college admissions office, U.S. News advises), they should also go beyond the numbers and get their child "emotionally ready" for four years of college -- and maybe more.

"It's vitally important for parents to help prepare their kids in as many ways for the culture change on campus so that they aren't overwhelmed by the totality of new experiences that can leave them adrift, feeling overwhelmed and lost," says nurse practitioner Barb Dehn, a health expert and award-winning author.
Also see: 5 Ways to Save on Some of Your Baby's $312,000 in College Debt>>

The earlier you start preparing, the easier the transition will be, Dehn says. That means having conversations with your college freshman about eating correctly, getting enough sleep, practicing good study habits and staying active as well as talking with them about attending parties that come with drugs and alcohol.
Below the surface, though, Dehn says there's even more work to do to ease the lifestyle change facing your college-aged child:
Visit the school's health care facility. Chances are, Dehn says, the first time your son or daughter visits the emergency room on campus will be the first time they've visited an emergency room without mom or dad. They'll also need help filling prescriptions, completing health care paperwork and asking the right questions of their physician. A visit to the college's health care center should provide some reassurance that, in the event of a health issue, your son or daughter knows where to go and what to do.
Arrange for self-defense classes. If a college is near a high crime area or may be susceptible to on-campus crimes, a self-defense class may be the most important summer enrichment class a student will ever take. "It is unfortunate, but the number of sexual assaults on both girls and boys on college campuses has increased dramatically," Dehn says.
Also see: 4 Top Money Mistakes of Young Adults>>

Plan for public transportation. Not every college freshman is used to taking the train or bus. "Teaching them to safely navigate through their new college town by bus and/or train can really help them make for a smoother, less stressful transition to campus life," Dehn says.
Emphasize communications skills. An 18-year-old knows how to talk, but being their own advocate miles from home is a different story. Parents should stress the importance of good communications toward roommates, professors, administrators and friends they'll meet on campus. "Living in close quarters with a roommate or in a crowded dorm provides ample opportunities for students to discover themselves." Dehn says. "Learning how to negotiate with roommates, friends and professors will benefit them greatly during their college years."