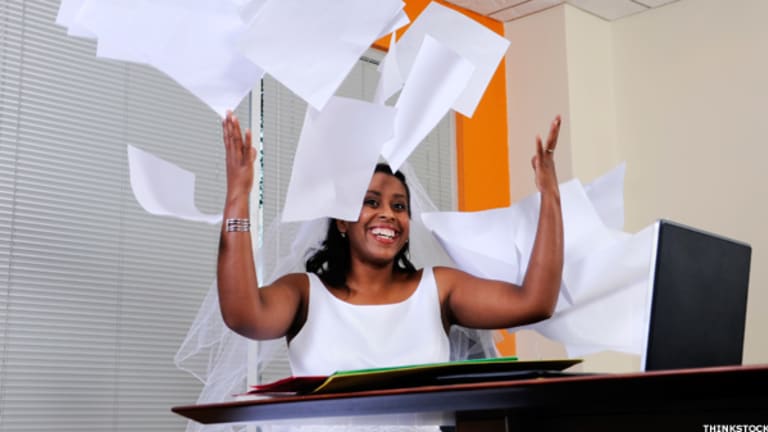 How to Plan Your Wedding Without Messing Up Your Work
Most young professionals are working and wedding planning at the same time, and that can be hard.
Most young professionals are working and wedding planning at the same time, and that can be hard.
NEW YORK (
) -- It's no secret that planning a wedding and honeymoon can be stressful, especially when the happy couple is just as focused on their career as they are their nuptials. For young professionals getting married, it's not always easy to take time off to meet photographers and caterers -- even leaving the office for the ceremony and honeymoon can cause serious professional stress.
Your wedding is meant to be one of the happiest days of your life, and experts say that worrying about work is the last thing you need to be doing when you walk down the aisle. Thankfully, there are a few ways to manage prenuptial stresses to ensure that you, your bosses and your co-workers are all happy to raise a glass in your honor once saying "I do" is done.
As excited as you may be about your wedding, Nancy Mobley, chief executive of human resources consultancy
Insight Performance
says that work responsibilities should come first. "Otherwise you risk getting a bad rap with management and colleagues which could ruin your long-term career goals," she says.
Ideally, when a couple is planning a wedding, they will plan as much as possible during non-work hours, in the evenings and on weekends. If you have deadlines that only you can meet, Mobley suggests working alternative hours in the weeks and months leading up to the wedding to avoid saddling others with your workload or letting it fall by the wayside.
"The bride and groom should not expect coworkers to automatically pick up the slack during their absence. This should be discussed prior to taking this time off," she says. "If others do pick up the slack during this time, reciprocate when you return by taking some work off the person's desk who helped you."
With that said, putting any amount of extra work on a co-worker's desk is risky, says Chris Ruisi, executive coach and author of
Step Up And Play Big: Unlock Your Potential to Be Exceptional in 8 Simple Steps
.
"Don't let too many things go till the last minute and fall on the laps of other people. When you do that, you're punishing a coworker, and they're going to get resentful. I think in most cases, they want you to be happy, but if you are constantly asking, 'Oh, can you do this, I have to meet the photographer,' or 'Oh, can you do this, I have to go look at reception venues,' that's going to get old in a hurry," Ruisi says.
Also see: Small Business Burnout: How to Keep Employees Happy and Engaged>>
When a co-worker does end up pinch-hitting for you, plan to bring them bagels and coffee the next day, offer a big smile and say, "Thank you for your patience and for helping me out. I really appreciate it," Ruisi suggests.
"Don't underestimate the power of food," he says. "You may be caught up in the excitement of the wedding, but you can't lose sight of the fact that you've got to get along with people at work and smooth out any bumps that might turn into problems down the line."
Keeping an official calendar of all your wedding meetings and events is the best thing you can do to make sure things go smoothly at the office, Ruisi says.
"If you are a manager, give your team a heads up when you're going to be off. If you're not a manager, give your boss a copy of your schedule well in advance so they know what to expect. The more notification you can give, the better your department is going to be able to work around your absence," he says.
Also, keep in mind that when talking about the wedding, less is more.
"Don't go into a lot of personal details. No one wants to know the intimate details of your wedding or what's going on with your family. Don't go into details about your dress or your cake, but tell your co-workers enough so that they can plan for your absence," he says.
It's also important to keep in mind your "emotional bank account," Ruisi suggests. Take a look at how many times you've asked for a sick day or asked a colleague for help.
Also see: 5 Signs It's Time to Quit Your Job>>
"You know employees who are always asking for time off or taking sick days. Those people are always making withdrawals from the emotional bank account at work, and they never make deposits," he says. "You've got to put some back in on occasion by volunteering to help a coworker, take on an extra project or work late on a Friday to help your team. In other words, you've got to make sure you're good at giving back."
When you're good at giving back to your office, Ruisi says that most bosses won't begrudge you the time off.
"If you have been a consistent performer and a team player, most bosses will look the other way if you need an extra day or two. If they know they can depend on you when they need it, then more than likely they will not have a problem with the days you're taking for your wedding," he says.
If you work in an office where schedules are very tight and there's no wiggle room, Carol Gronlund, vice president of human resources at
Zocalo Group
, says that you've got to be prepared to use up all your days -- and then some -- on "the big day."
"Getting married is an exceptional life event, so approach it as such. Ask for a one-time exemption to flex the company's paid time-off policies," Gronlund says. "Maybe you can 'borrow' some time from next year's allocation with a signed promise to pay it back if you should leave before actually being entitled to use it. Or maybe you can convert personal and sick time to cover the wedding and honeymoon."
Keep in mind that you'll see many of your family members at your wedding, so you may have to sacrifice that annual trip home for the holidays, Gronlund says.
If you already know that wedding planning is going to take too much out of you and involve too much time away from the office, Amanda Augustine, job search expert for
TheLadders
, says don't sweat it. No wedding is worth losing your job, and it may just be time to hire a professional -- or rely more heavily on family and friends.
"If you can fit it into your budget, I highly recommend hiring a wedding planner. Not only can they save you a lot of grief and time, but planners are often well-connected in the industry and might be able to negotiate better prices than you could secure on your own," Augustine says. "If a wedding planner isn't feasible, lean on your support system. Don't be afraid to ask for help. That's what your bridesmaids are for! Whether it's creating ceremony programs or tying bows on your party favors, multiple hands will make the work go faster."