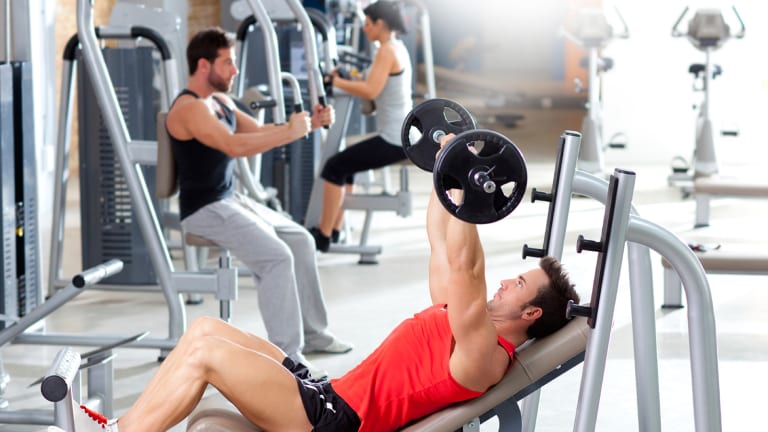 How to Pick the Right Fitness Center for Your Wallet and Lifestyle
Summer's nearly here, and it's past time to get serious about choosing the best gym to shed those winter pounds without lightening your wallet too much.
New York (MainStreet) — If you're still wondering how to get rid of those extra pounds in time for the summer, there is good news: First, despite the arrival of Memorial Day and the unofficial start of summer, there is still time before summer is official; second, there are many choices when it comes to finding the right place to work out, which means you can be a smart consumer as well as a healthy one.
The real trick is finding the facility that is not only the best fit for you financially, but that will keep you coming back day after day, experts say.
Smart spending
Here's how to make sure you're spending wisely on a gym that works for you.
"The most important factor to consider is proximity. If having to commute to the gym becomes inconvenient, it is one more reason not to go," says Mike Urti, vice president of personal training operations at Retro Fitness.
Sarah Schott, certified fitness instructor at Planet Fitness, also stressed location, but adds that such items as membership fees, overall environment, training options and hours of operations are important factors to consider.
One of the main reason people stop attending a gym is its overall feel. The customer has to be comfortable with the staff and facility.
"You need to feel welcome. The staff has to be helpful and knowledgeable," says Debbie Newell Antler, general manager of New York Health & Racquet Club's Whitehall location.
Another aspect of this is not feeling out of place among all the other people working out. If a person is self-conscious about their appearance, they may not want to return to a place full of ripped bodies. Urti suggests joining with a friend; Retro Fitness locations even have movie theaters filled with cardio gear where people can work out in the dark.
Another reason people decide not to join is cost. The trick is to check all of the facilities in your community to find the one that fits your wallet.
Retro Fitness — $19.99 per month plus $99 initiation fee.
Planet Fitness — $10 to $19.99 per month.
LA Fitness — $99 initiation fee, $39.99 per month although the monthly fee varies by location.
New York Health & Racquet Club — $99 to $145 per month depending upon the package.
Golds — Varies Greatly by plan, but a basic package has a $25 initiation fee and $25 per month fee.
24 Hour Fitness — Varies by location, but a general starting price is $29.99 initiation fee and $29.99 per month.
Soul Cycle — $34 per class, with a discount for buying several classes at once.
Equinox — An all-access membership has a $200 initiation fee and costs $225 per month.
"With a properly designed diet and exercise program a person can lose two pounds per week and certainly be ready for the beach," Urti says.
He suggested starting with cardio work on the treadmill, elliptical or bike and supplement that with stability exercises and core training.
For members who are either new to the gym experience or simply unsure where to start, it's best to ask a trainer. Almost every gym has some on staff, and most offer a free consultation to get a newbie off on the right track.
"If you don't know which exercises to start with, don't be afraid to ask an instructor at the gym for help. Because Planet Fitness memberships always include unlimited fitness training, we encourage members to speak with a trainer to help get them started," Schott says.
Good health
While getting in shape for summer may be the immediate goal, Newell-Antler noted that setting up a long-term strategy is key to living a healthy life.
"Our philosophy is to see the bigger picture. We want to educate our members for creating a healthy lifestyle. It is important to realistically define what is 'in shape,' and we are here to support all levels of fitness," Newell-Antler says.
There are also other somewhat nontraditional fitness programs that stress lifestyle change and have a more personal approach.
Linda Homer, owner and instructor at Downeast Pilates of Southwest Harbor, Maine, says studios such as Downeast will offer a more individual experience, and the focus is less on burning calories and more on form.
"When it comes to the clientele that I want to attract, I am looking for people who want to make a change for the better. I am not as interested in people who want to do Pilates because it's the newest fad or because they are trying to look better. I am trying to make them stronger in mind and body," she says.
Schott points out that a person does not have to lose weight to slim down.
"In terms of weight loss, focus more on the inches you are losing and how you feel, rather than the number on the scale. Muscle is much more dense than fat, so as you lose fat and gain muscle, you may not see the scale budge as much; however, your clothes will be fitting much better," she says.
Once a newcomer is working out steadily, there are still some pitfalls to avoid — first and foremost, doing the same activity repeatedly. If a person just uses the treadmill or bike, eventually their ability to lose weight will plateau. So it is important to mix it up.
Another important issue is staying motivated.
Planet Fitness' Schott says It's important to set realistic goals and celebrate achievements along the way.
The last point to remember is diet. Urti says it makes no sense to burn off calories at the gym if a person just goes homes and puts them right back into their body.
— Written by Doug Olenick for MainStreet
This article is commentary by an independent contributor. At the time of publication, the author held TK positions in the stocks mentioned.