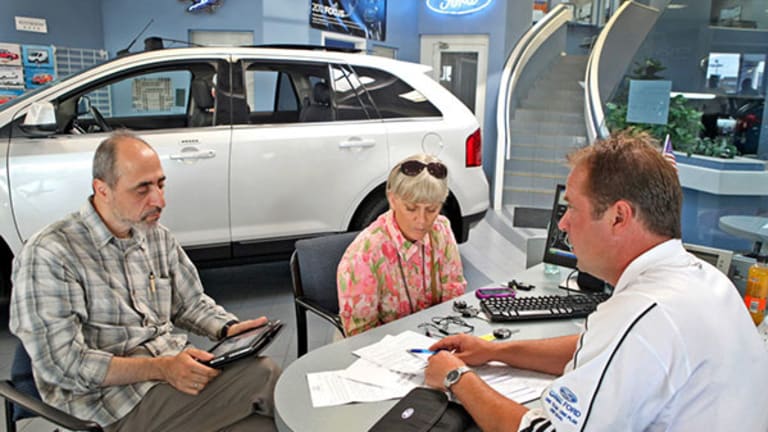 How to Out-Negotiate an Auto Dealership Salesperson And Win Every Time
You have more leverage than you think when shopping for a new car.
President's Day isn't too far off, on February 15, 2016.
No offense to Presidents Washington and Lincoln on their big day, but to car lovers, the holiday might be best used as an opportunity to get a great deal on a new vehicle.
"Presidents' Day is one of the best holidays to shop for a new car," says RealCarTips.com, a consumer auto advisory website. "It occurs during the third Monday of February, when sales are slow and inventory should be plentiful."
This year should be especially active. So far, winter has been placid in most of the U.S., with a few snow storms notwithstanding. Better weather means more customers prowling auto dealerships, kicking tires and looking for great deals.
No doubt, dealership managers will be looking to accommodate those buyers, but only to a point. The more money they give away in purchase discounts and perks, the less they keep in their own back pockets.
Consequently, the tug of war between new auto buyers and auto dealership sales staffs has been going on for well over a century. In 1898, Fred Koller opened what is believed to be the first automobile dealership in the U.S., in Reading, Pa., selling Winton automobiles manufactured in Cleveland.
But the negotiating tactics haven't changed all that much, and this Presidents' Day, or whatever day you find yourself at an auto dealer, you'll need your own road map to beat the dealer in getting the best price on a new car, SUV or truck.
For Matt Jones, a former car salesman, and the current retail experience editor at Santa Monica, Ca.-based Edmunds.com, making a good first impression is vital in "winning over" an auto dealer salesperson and paving the way for a great auto purchase experience.
"Those first several minutes can determine the flow of a deal and either get the salesperson on your side or relegate him to the role of a guy who's merely trying to sell you a car," says Jones. "Knowing the right things to say - especially at the beginning of the sales process - can help make your car buying process easier, faster and a little less stressful."
Jones offers car buyers a few tips to make that great first impression. For example, let a salesperson know right away that you're ready to buy - right now. "If you are upfront about being ready to buy now, you go from being an average sales lead to a hot prospect," he says. "A hot prospect is attractive to salespeople, who will get you faster, more enthusiastic service and better deal offers."
Also, if you have a fixed price in mind that you'll pay for a new vehicle that day, let the salesperson know. "This can eliminate negotiations and saves both you and the dealer some serious time," Jones says. "Very few things capture the attention of salespeople more than knowing they're in front of buyers who are ready to do immediate business. The simple buy-right-now statement can make you a priority customer in the eyes of management."
For auto consumers, another big goal is to know what tools are in your negotiating arsenal, and then using them when appropriate. "Leverage will convince the seller to come down on his asking price," notes William Bauer, managing director of Royce Leather Gifts in New York City, who recently negotiated a new auto deal with Land Rover. "When Land Rover asked me if I was looking for any other vehicles to buy, instead of just saying, 'Yes,' I replied, "What you do right now could lead to more business for you. That made the current deal into an audition for future business together, and that's what I mean by leverage." 
Other auto buyers (who deal with dealers on a regular basis) advise settling on a price before you test drive a vehicle - research shows you will be more likely to stick to your negotiation price by doing this. "Then you want to separate the transactions of your trade and the new car price," says Louis Altman, president of Globafone in Portsmouth, N.H. "Agree on one, then move to the other; simpler is better. Understand what is a fair price for the new vehicle and your trade. The dealer has the right to make money, but not to take advantage of you."
If the salesperson won't budge, just walk away - but at a measured pace. "Most car dealerships have a 'no walkouts' policy, meaning the salesperson is supposed to catch up with you before you drive off, and convince you to continue negotiations," says Joni Holderman, founder of Thrive! Resumes, who works with auto dealer salespeople on a regular basis.
For a variation of this technique, put several items on the salesperson's desk, like a cell phone, check book, car keys. "Anytime you're not hearing what you want to, begin to put those items back in your pocket or purse," Holderman adds.

Also, walk into the dealership ready to buy on one of the last three days of the month, and bargain hard, Holderman advises. "Salespeople are desperate to make a deal before the end of the month, because if they reach a certain sales target -- like 25 cars -- they are paid a higher commission on every car they sold that month. It's in the best interests of the salesperson and the sales manager to sell you that car, even at a loss. On the first day of the month, that incentive disappears."
There is a school of thought that says don't even try to out negotiate a car salesman. "They are experts at it and you aren't, so they are probably going to win," says Andy Prescott, author at the personal budgeting web site, Artofbeingcheap.com. "If you're buying a new car, you want to make the car dealerships compete against each other, not against you. Figure out which car you want and ask all the dealerships in your area for a quote."
"If you still can't get the price you want, show some of the dealerships the lowest quote and ask if they can beat it," Prescott says.
Going toe-to-toe with an auto dealer sales specialist is no picnic, especially with hundreds, or even thousands, of dollars on the line. So tread carefully, but be ready to go on the offensive when the situation calls for it.