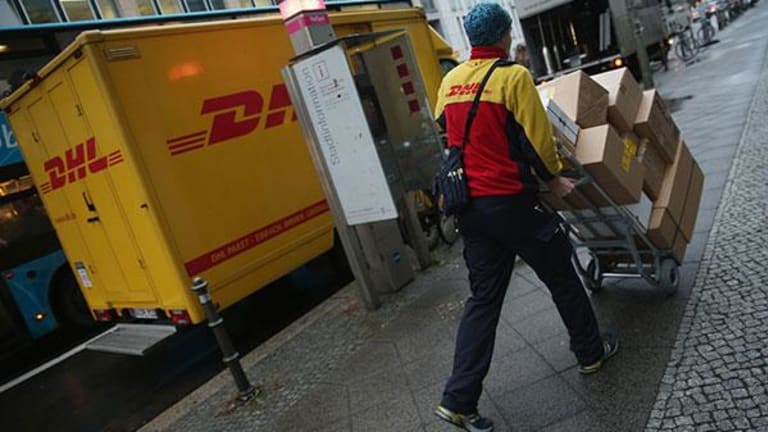 How to Master the Difficult Art of Holiday Gift Delivery
It seems fairly simple, but as Amazon and UPS made clear last year, there's nothing simple about getting holiday gifts delivered on time or intact.
NEW YORK (MainStreet) – Veteran holiday shoppers are already watching the corrugated cardboard packages pile up on the porch or in the hallway and fluctuating the value of their courier's holiday tip based on their arrival and condition. 
The National Retail Federation found that 56% of the consumers it surveyed will shop online for gifts in 2014, the highest percentage in their Holiday Consumer Spending Survey's history. The average person will complete about 44% of their shopping on retail and other company websites, also the highest amount in the survey's history. The NRF is forecasting that online holiday sales will grow between 8% and 12%, to as much as $105 billion. Meanwhile, online shoppers expect to spend an average $931.75 on gifts, decorations and food this holiday season, compared with an average $767 among all holiday shoppers.
More than 40% of online shoppers started checking off those holiday gift lists in October or earlier, with two-thirds doing so to spread out their budget. Another half want to avoid the stress of last-minute shopping and late-season crowds.
This would all be great if online shopping had turned shipping into a flawless system. But an increase in shipping sent nearly 8 million packages through UPS's  (UPS) system last year, which proved disastrous when a 37% jump in orders placed the last weekend before Christmas and a spate of bad weather pretty much turned UPS' promise of "just in time" delivery for orders filed as late as 11 p.m. on December 23 into a holiday myth. Amazon (AMZN) was forced to offer refunds and gift cards to partially offset ruined Christmases and consumers were forced to realize that no amount of logistics or online efficiency will help them if they've waited until the last few days before Christmas to shop.
As online customer service site StellaService found out, however, not only did 12% of the holiday orders the site placed miss their holiday deadline, but nearly a third of large retailers failed to deliver at least some of their shipments in time for Christmas. That's not great, considering that only 11% of shoppers told StellaService they would go back to an online store if it missed its holiday shipping deadline. Even worse, only 5% of the consumers it surveyed would visit an online retailer again if it provided poor service during the holiday season.
For those looking to avoid holiday disaster this year while saving money along the way, we offer the following tips, courtesy of various retail research groups:
Always get it delivered free
Why wouldn't you hold out for free shipping if it was regularly available?
Retailers including Amazon, Macy's  (M) , Home Depot  (HD) , Lowe's  (LOW) and JC Penney  (JCP) will throw it your way when you hit certain spending thresholds, but Best Buy  (BBY) , Blue Nile  (NILE) , Nordstrom  (JWN) , Saks Fifth Avenue (SKS) , Neiman Marcus and L.L.Bean will ship for free no matter what you spend. It tends to work out for them, too, as 19% off all shoppers tell FreeShipping.org they're willing to spend full price on an item if it comes with free shipping.
NRF online partner Shop.org found that 42.3% of online customers consider free shipping or other shipping promotions essential when choosing where to do their holiday shopping. Market research group ComScore  (SCOR) found that 78% of all online shoppers will go with the cheapest shipping option. A full 75% of them are willing to add items to their cart just to get free shipping. Yes, they'll spend more just to get "free" shipping.
Retailers are finally starting to get it. A whopping 92.3% of all retailers told Shop.org they offer free shipping at some point during the holiday season, up from just 35% who said the same last year. Roughly 16% who offer holiday-specific free shipping started doing so before then end of October, while 27% will offer it just because the economy isn't growing fast enough for their liking.
Even if your retailer of choice still falls into that maximum-density category of shops that just absolutely refuse to send packages for free, don't worry: They'll usually take part in Free Shipping Day on Dec. 18 and have that present on your doorstep by Christmas Day.
Stop waiting around
Last year's fiasco should have been a clear sign that promises of two-day shipping mean absolutely nothing a week before the holiday.
That's made a whole lot of retailers shy about making similar promises this year. According to Shop.org's holiday survey, 78.8% of retailers say their standard shipping deadlines for guaranteed Christmas delivery will fall a week before the holiday, compared with 73.7% who said so last holiday season.
That leaves only 21.2% who'll promise Christmas delivery for packages ordered Dec. 19 or later, compared with 26.3% last year. That's terrible news for procrastinators, whose choices will be limited to only 20.6% of retailers if they wait around until Dec. 23 to take advantage of free or upgraded shipping. Just 14.7% would consider extending those promotions through December 22, with the same percentage ending their free expedited shipping promotions December 21.
What about two-day shippers such as Amazon, you ask? Well, 56.6% are setting that deadline for Dec. 21, while the rest will cut off guaranteed two-day shipping on December 22.
"Possibly having learned from their procrastination last holiday season and with another shortened holiday calendar ahead of us, shoppers could start looking for those shipping offers sooner rather than later this year," " said Pam Goodfellow, principal analyst for Shop.org's survey partner Prosper Insights & Analytics.
Chose your shipper wisely
An online retailer is only as good as its shipping partners.
Amazon has tried using third-party fulfillment companies such as Lasership and has toyed with using drones for delivery, but it's obviously still dependent on delivery partners. That means UPS, Fedex (FDX) or the U.S. Postal Service.
So which one keeps your holiday gifts safest? Popular Mechanics answered this question four years ago when it took packages, stuffed them with a three-axis accelerometer, thermometer and a data logger to measure movement, g-force, temperature, orientation and other factors. If the packages they shipped were flipped, jostled, flung, overheated or frozen, they were going to know about it.
There wasn't a whole lot of comfort in their findings. If your item is going to be particularly sensitive to flipping, don't give it to the postal service, which flipped packages 12.5 times during a three-day trip. FedEx was somewhat better with seven flips per trip, but UPS needed to move packages only an average four times during their journey.
Unfortunately, UPS is much less gentle with packages when they depart or arrive. The packages registered an average of two acceleration spikes of 6 g's or greater per trip. That's the equivalent of dropping it 2.5 feet each time it's loaded on and each time it comes off the truck. FedEx is similarly rough, tossing packages 3.1 times per trip. The USPS shows a bit more restraint by keeping the drops to 0.5 for each package.
Meanwhile, if your present is sensitive to temperature, FedEx is your best bet. It kept the average temperature swing for packages at 26.1 degrees, while climates in UPS trucks and facilities varied by 29.8 degrees and USPS went through hot and cold flashes that varied by 32 degrees.
All three shipping companies had one very important feature in common, though: If they got packages labeled "Fragile" or "This Side Up," they just treated them even more roughly. You may as well just label them with a photo of your middle finger.
Lock it up
As online shopping and gift shipping becomes the norm, so do disappearing packages and outright theft.
Amazon has tried helping homeowners and apartment dwellers by renting out lockers in 7-Eleven outlets to those tired of having presents stolen out of their lobby. Packages are delivered right to a locker instead of a home address, and customers are emailed a pickup code that gives them access to their locker. While Amazon lockers aren't everywhere, they're a decent, free option for shoppers who've lost faith in their neighbors and humanity in general.
If you'd rather not schlep down to a convenience store to get your packages and have some porch space to spare, the folks at Landport have designed a package locker that uses an access code to allow couriers and customers to get inside while keeping everyone else out. UPS, USPS and FedEx all allow customers to customize their orders and relay access codes to delivery people, who can leave packages behind without worrying about return trips or theft. They don't even have to ring the doorbell.
— By Jason Notte for MainStreet
>To contact the writer of this article, click here: Jason Notte.
>To follow the writer on Twitter, go to http://twitter.com/notteham.
>To submit a news tip, send an email to: tips@thestreet.com.
RELATED STORIES:

>>Halloween Novelty Tunes Don't Wear Off
>>10 Best Christmas Movies Not About Christmas
>>Some Christmas Traditions Just Need To Die