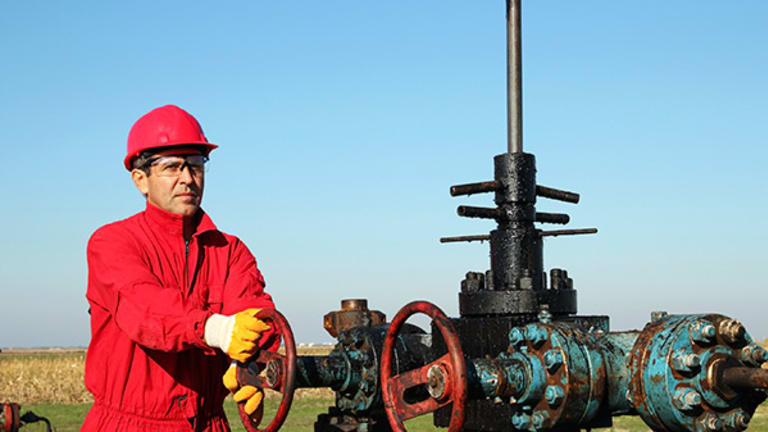 How to Make Short-Term Bets on the Oil Sector
Massive wildfires ripping through Canada's oil sands and a new report showing a drop in U.S. crude inventory sent crude prices and stocks soaring. But don't expect it to last.
Massive wildfires in Canada's oil sands area, an unexpected drop in U.S. crude oil inventory and geopolitical issues in Nigeria and Libya sent crude oil prices surging this week. But don't expect it to last.
Experts say all of this will likely translate into higher prices at the gas pump and gains in oil-related stocks - but only in the short-term. It's unlikely these events will make a permanent - and significant - dent in the world's massive oil supply glut that's caused oil prices to plunge since 2014. 
"They probably won't be hugely material unless the outages last a lot longer," said Tony Starkey, a manager of energy analysis at S&P Global Platts.
For this reason, investors might want to plunk their cash into short-term bets in the oil sector, with leveraged ETFs, such as VelocityShares 3x Long Crude Oil ETN (UWTI), offering the biggest potential bang for the buck in the near-term.
Canada's wildfires generated the most riveting headlines in the oil sector over the past week. Alberta's oil sands hold the third-largest oil reserves in the world, behind Saudi Arabia and Venezuela. Canada is also the top oil supplier to the U.S. economy. So it's little surprise that the eyes of the world's oil gurus have been fixated on the raging fires, with experts wondering if the tragedy would help cut the industry's colossal oil surplus.
The wildfires, which started on May 1, disrupted Alberta's oil operations, causing production to drop by as much as 1 million barrels a day, said Starkey.
At the same time, unrest in Libya and Nigeria have caused production cuts in those regions. Also, the U.S. Energy Department's latest Energy Information Administration report, released Wednesday, showed an unexpected drop in U.S. Crude oil stockpiles. All juicy news for oil buffs looking for signs of a rebound. 
Anytime there's talk of a dropoff in supply - whether it's related to a fire or industry data - oil prices tend to surge in the short-term. Investors weren't disappointed: U.S. crude futures soared during trading on Wednesday, pushing oil prices near 2016 highs. On the New York Mercantile Exchange, West Texas Intermediate (WTI) crude for June delivery rose 3.5% to settle at $46.23 a barrel - the highest level since last November. On the Intercontinental Exchange, Brent crude oil for July delivery was also up more than 3%.
But experts see the fires and other issues as offering only temporary benefits. The longer - more permanent - impact on the world's oil glut is another story.
"All of these are potentially short-term in nature and could start to correct themselves in the next couple of weeks," said Starkey. Consumers should expect to see gas prices tick up at the pumps in the next few weeks, but don't expect them to stay there necessarily. 
For example, there's tremendous uncertainty over how much the Alberta wildfires will affect Canada's oil production - and for how long. 
"Early indications are most of the [oil production] facilities themselves were not damaged," said Starkey. If this remains the case, the biggest wild card will be how long it takes before full production resumes.
"You have to get people back in to do the work, which is complicated, because most of the people live in Fort McMurray and their lives have been upended," he said. Indeed, about 2,400 homes and buildings in the Fort McMurray area were ravaged in the fires, and the city's 88,000 residents were evacuated. The city's fire chief said he hoped to allow residents back within two weeks, but there are no guarantees.
"That's the biggest unknown right now," said Starkey. 
Still, when the smoke clears, experts believe it's unlikely the wildfire will take a significant bite out of the world's oil supply. "It's been overestimated," said Dylan White, an oil storage analyst at Genscape. "The effects will be more short-term than long-term." 
Starkey estimates Alberta's oil operations would need to be down at least a month to seriously reduce the global oil glut. 
When it comes to oil-related stocks and ETFs, investors might be wise to make short-term, rather than long-term bets. "It's kind of speculation-driven at the moment because no one can say with any certainty how these things are going to play out," said Starkey. 
On Wednesday, U.S. Oil (USO) rose 3.2%, U.S. Brent Oil (BNO) climbed 3.9% and iPath S&P GSCI Crude Oil ETN (OIL) ticked up 3.9%. But some of the leveraged ETFs saw much bigger gains: ProShares Ultra Bloomberg Crude Oil (UCO) surged 6.3% while VelocityShares 3x Long Crude Oil ETN (UWTI) rose 9.4%. In general, seasoned investors in leveraged oil ETFs tend to trade in and out of them quickly, usually holding them for only a few days or a week at most - which makes them attractive in this volatile oil environment.
This article is commentary by an independent contributor. At the time of publication, the author held TK positions in the stocks mentioned.