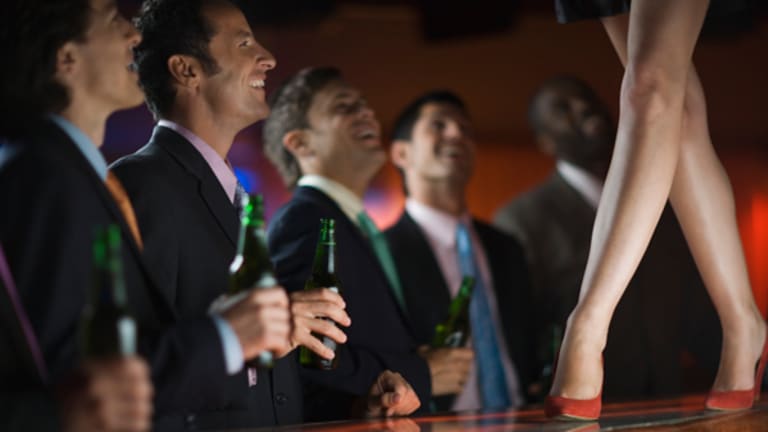 How to Keep the Work Party From Getting Too Crazy
Business colleagues should never lose their camaraderie, but they should celebrate successes the right way.
NEW YORK (
) -- At many small businesses, bosses may seem more like friends, subordinates may seem more like fraternity brothers and cutting loose is part of the company culture. While that's usually a good thing, it can be easy to spend too much time and money partying and end up overstepping HR guidelines. Experts weigh in on the best ways small businesses can reward and celebrate their team without crossing any boundaries.
There's a happy medium between rewarding employees with a catered lunch at the office and going all out with a celebratory booze fest, says Richard Cohen, a labor and employment attorney with
Fox Rothschild
.
"You don't have to have just a plain old lunch. There are lots of different types of events you can have with alcohol and lots of ways that you can be smart about it," Cohen says.
For example, if you're having the party at your office or at an event space, make sure there is a professional bartender on site, he says. Bartenders are trained not to serve intoxicated people, and they can be helpful as just one more "adult" on-site, making sure that things don't get too rowdy. You can also have a conversation with your bartender before the party starts and let them know your policy -- if you have a two- or three-drink maximum, and so on.
A great way to enforce the drink maximum is by using drink tickets, says Traci Bild, CEO of executive coaching and recruiting firm
Bild & Co.
Each employee can get two drink tickets to use for the evening, and once they're gone, the party is over. This is also an excellent way to cut costs associated with an open bar.
Also see: Small Business Burnout: How to Keep Employees Happy and Engaged>>
"I believe if you have a great team, they know better than to order drink after drink," Bild says. "But you can also tell the restaurant or bar that no more than two drinks per person are allowed because this is a company event. Bartenders will halt any attempts to drink more."
The truth is, it's important to have parties, and there is no reason to eliminate alcohol, even if you are trying to save money, Cohen says.
"Having a limited amount of drink vouchers is a great strategy, because you know exactly how much people will be allowed to drink, and exactly how much you'll be spending."
Employers can even send out an email before the party to avoid awkward moments when it comes to ordering, says Ryan Alovis, CEO and founder of
ArkNet Media
and founder of several online startups.
"To avoid awkward moments when it comes to ordering, maybe send a company email with explicit instructions on where we're going and what we can order. Don't leave anything up to chance," Alovis says.
Apart from restricting the number of drinks, there are a few "little rules of reason" that can help your parties go smoothly, Cohen says. Invite family members, wives, husbands and children, and you'll see that the party takes on more of a professional and less of a rowdy atmosphere, he says. This will also ensure you have food on offer "to sop up the alcohol," he says.
Also see: 5 Steps to Getting Your Workers Eating Healthy Snacks>>
Although some employers will always say no to alcohol at any cost, Cohen says that may be throwing the baby out with the bathwater. While it's true some employees may need a reminder that there is a no-tolerance policy when it comes to harassment, or may need to be told not to wear provocative clothing, most people can handle a drink or two.
"If the employer is smart and reasonable, they don't eliminate alcohol," Cohen says. "They don't have to be stodgy about it, but they need to take some precautions, like making sure there is a car service available for people who may consume too much."
The truth is that employees want to get together on occasion for a drink on the company dime, Bild says.
"People perform better and are more loyal when you invest in them. At times it needs to be just plain fun -- no work," she says, adding that everyone needs to be told "thank you" on occasion, whether that's with a spa day, a dinner out or a night of laser tag. What counts is that the sentiment is there.
"The office should not just be a breeding ground for professionalism and innovation, but a place where people can feel comfortable," Alovis says. "There is a fine line between celebrating victories and celebrating like it's the last night on earth."