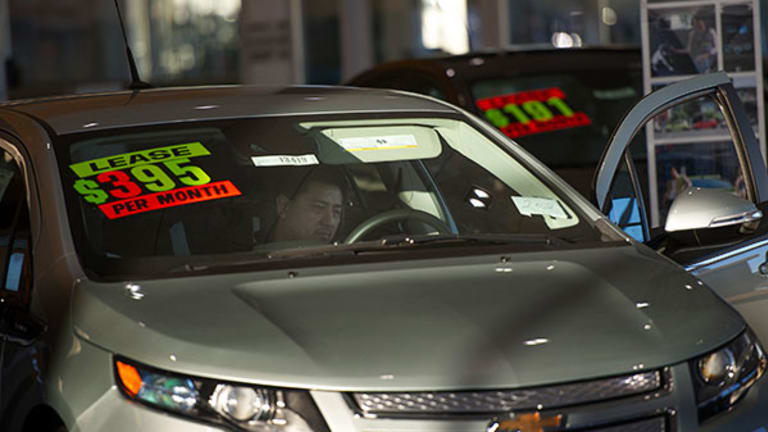 How to Keep a Clear Head When That Car Lease Looks So Good
Even some luxury models can be had for under than $300 a month with modest down payments. Tempting.
NEW YORK (
) -- On a purely financial basis,
isn't the best option. But today's lease deals are pretty darn good -- certainly worth considering if you just ache for a brand-new or high-end vehicle.
Dealers, for instance, are bending over backward to offer rock-bottom payments on luxury models, helping to explain an extraordinary 31.5% jump in luxury car sales in August over July, nearly double the impressive 17% gain for autos overall.
BMW
sales were up 45.7%, while
Cadillac
(GM)
gained 37.8% and
Lexus
(TM)
22.9%, according to Autodata.
Leases on luxury cars often run $600 to $700 a month, but dealers are trying to reach buyers keeping it to $500 or less. Some luxury models can be had for under than $300 a month with modest down payments.
Read: 3 Milestones to Look Out For in Used Car Values
Leasing is popular with non-luxury vehicles, too. In fact, in the second quarter leasing for all types of vehicles together hit a record 27.6% of all new vehicles that were financed, up from 17.7% three years ago, according to
Experian Automotive
.
Why are dealers pushing leases so hard? In part to attract buyers who might otherwise be discouraged by today's high prices. The average new car or truck now costs more than $31,000, a record.
Of course, leases give carmakers another benefit: Once a lease ends, the driver is likely to lease another vehicle, and may never stop making payments. People who buy rather than lease have the option of
keeping the vehicle for many years
after the payments end.
Clearly, that means that the driver who leases all the time pays more to drive than one who buys and keeps each car for the long term. That's why buying makes better financial sense, even though payments to buy are usually higher than payments to lease.
Read: How to Make Sure Your Next Used Car Wasn't Sabotaged by Sandy
Leasing is attractive for buyers who
prefer to drive newer vehicles
, who want to never be off warranty and who don't want the dings can scrapes that build up over a long ownership.
Still, potential leasers should beware the pitfalls. One is the deal that provides low payments by extending the number of months in the lease term, so you'll eventually be stuck with a vehicle older than you want.
Leasers should also look at the number of annual miles they get and the charges they will face for going over. All the apparent savings can be lost if you agree to 12,000 miles a year and drive 18,000.
As with all big financial issues, study the fine print. How will you be charged for damage considered beyond normal wear and tear? How much will you have to pay if you choose to buy the vehicle at the end of the lease?