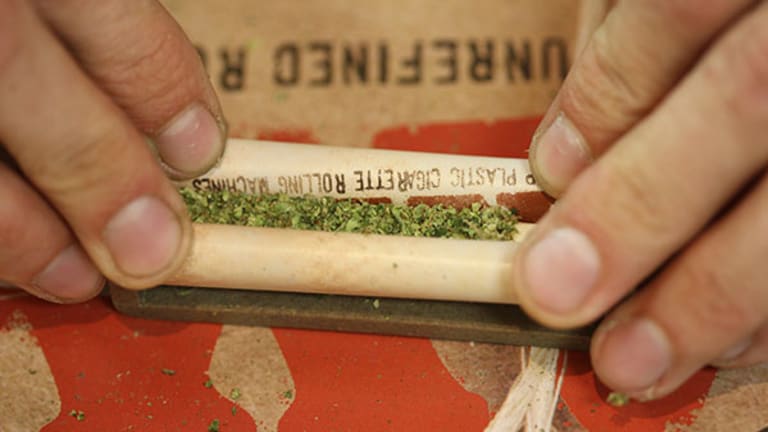 How to Invest in Nasdaq-Traded Marijuana Stocks and Private Pot Companies
Companies are seeking options for mainstream investors to get high gains. Americans can invest in multiple businesses traded publicly on the Nasdaq or take a private investment approach.
Companies are seeking options for mainstream investors to get high gains. Americans can invest in multiple businesses traded publicly on the Nasdaq or take a private investment approach.
Thinly-traded OTC companies are no longer one of the main options for investors as opportunities to invest in the growing cannabis industry.
The legal marijuana markets are currently generating $5.7 billion in revenue in 2015, an increase from $4.6 billion in 2014 in revenue and are estimated to reach $22 billion by 2020, according to The ArcView Group, a cannabis investment and research firm based in San Francisco.

Companies are seeking alternative options for mainstream investors to participate in the budding sector ranging from listing on the Nasdaq where companies undergo greater scrutiny by shareholders and regulators to crowdsourcing where nominal investments can be made.
How To Invest in Cannabis Companies
The current options for investors are limited to a handful of companies listed on the Nasdaq, including GW Pharmaceuticals (GWPH) - Get Report , a U.K.-based biotech company with a cannabis-based epilepsy drug; Insys Therapeutics (INSY) , a Phoenix company known for its cancer pain management drug but is developing a cannabis-based drug for the treatment of epilepsy; Cara Therapeutics (CARA) - Get Report , a Shelton, Conn.-based clinical state biopharmaceutical company that develops and commercializes pain relief drugs; and Zynerba Pharmaceuticals (ZYNE) - Get Report , a Devon, Pa.-based company focused on developing and commercializing synthetic cannabinoid therapeutics. To boot, MassRoots, a Denver-based social networking company for cannabis users, is attempting to list on the Nasdaq again to raise capital. 
"Most of these stocks are not covered by broker dealers," said Jason Spatafora, co-founder of Marijuanastocks.com and a well-known Miami-based cannabis trader known as @WolfofWeedST on Twitter. "GW Pharmaceuticals has the strongest Wall Street coverage and its shares are covered by Bank of America and Morgan Stanley."
The majority of the 350 cannabis-related businesses are traded on the OTC, said Eddie Miller, CEO of InvestInCannabis.com, a New York-based cannabis technology investor.
"There are around 195 companies that participate exclusively in the sector and the rest of the businesses somehow touch it but have diversified interests," he said.
The glaring issue is that most of these companies have relatively low market capitalizations and low daily trading volume, making it risky for investors, Miller said.
Where to Find Research
Research can be delved from companies such as The ArcView Group, a cannabis investment and research firm, to help investors weed through the multitude of companies. Other resources include Viridian Capital Index, The MJIC Marijuana Index and The Wolf of Weed Street, he said.
The majority of the research conducted by InvestInCannabis.com is done by speaking with the principals of the companies and others in the industry, said Miller.
"We have profiled over 21,000 various businesses with an overwhelming majority which are not publicly traded to establish a pipeline of information," he said.
For public companies, some of the best research comes from Alan Brochstein, who runs 420 Investor, an investment research site focused on the marijuana industry, said Leslie Bocskor, managing partner of Electrum Partners, a Las Vegas-based cannabis consulting company.
"There are a few, if any sources of good data on these companies," he said.
Sectors With Lower Risk
The two sectors that tend to be the most attractive are the pharmaceutical grade companies such as Insys Therapeutics and GW Pharmaceuticals and media ones such as MassRoots, Miller said.
The major downfalls for other media centric companies are the very low trading volume and relative tiny market caps like NorthSight Capital (NCAP), Miller said.
"Stay cautious at the moment on both sectors until either pharmaceutical companies reach market ready products or media companies show some revenue," he said.
The sectors that will demonstrate the most potential for growth as the industry matures will be adult cannabis use, medical marijuana, pharmaceuticals, ancillary, veterinary, nutraceuticals and supplements and industrial hemp, said Bocskor.
Companies which are involved in software and the supply chain technology have the largest opportunities to scale with room to grow domestically and internationally, while those involved with medical products and testing have a good outlook also, said Mike Bologna, CEO of Green Lion Partners, Boston-based consulting company which has founded several cannabis companies and invested in others.
Cannabis Stocks and Returns
While there is plenty of upside to trading in an out of cannabis stocks rapidly, Miller does not recommend that mainstream individual investors maintain a short-term view. Since the daily volatility can be extreme, holding the stocks for a longer period is a better strategy, Miller said.
"The idea is to keep the stock through the point of federal legalization and see a 100 times potential return on your investment in a three to five year period from now," he said.
The largest impact on cannabis stocks will depend on the speed of legalization and regulation in state markets, Miller said.
The volatility in the market can determine how long a stock should be held, said Spatafora.
"I have benefited from some of the wild runs from some of these companies, but I still caution investors not to get too greedy and never wager what you are not afraid to lose," he said. "We have seen more than 10,000% returns and we have also seen shares fall by 99% just like Medbox."
Locking in gains after the stock rises 10% to 15% is a good strategy, especially between April and October when liquidity "begins to dry up," said Spatafora.
Invest in Private Companies...

For those who aren't ready to trade pot stocks on the Nasdaq, there are private investment opportunities as well. Med-X, a Canoga Park, Calif.-based enterprise, is the first cannabis-related company to utilize crowdsourcing to expand.
After receiving clearance from the SEC to raise capital through crowdfunding, Med-X, a company which works on compound identification and extraction of the identified cannabidiol (CBD) compounds for the medical industry, launched its fundraising campaign in February. The JOBS Act of 2012 paved the way for everyday consumers to make smaller investments in various industries.
"It's going very well because virtually anyone who is at least 18 years old with an income of over $4,200 annually can purchase 700 shares of our stock for $420," said Matthew Mills, COO of Med-X.
The investments in private companies might yield better returns, but the holding period should be five to seven years since these are early stage companies, said InvestInCannabis.com's Miller, who has made eight investments in the legal industry.
"In order to truly see a return on capital, the time horizon goes all the way until there is federal legalization or over 35 states having legalized cannabis," he said.
The minimum amount of investment for private companies can be as low as $10,000, said Miller.
"Our most successful early stage investment is a legal medical cannabis delivery platform called GreenRush.com, because it has seen a tremendous amount of growth and has 125 California dispensaries on the platform," he said.
While the private sector appears to be a better bet, the market saturation lowers the odds of choosing the right product or technology, said Spatafora.
"Most investments are for accredited investors, but now with Regulation A+, the landscape is changing," he said. "The minimum investment is typically $25,000 to $50,000 and these are usually long-term positions."
Crowdfunding is a "really great way for individual investors to get in the game without risking large amounts capital," while the management faces a series of compliance with the SEC and FINRA as well as being audited by the SEC, Mills said.
"This gives the investor a more serious position and a piece of mind since it is likely a good management team is in place to execute that level of scrutiny," he said.