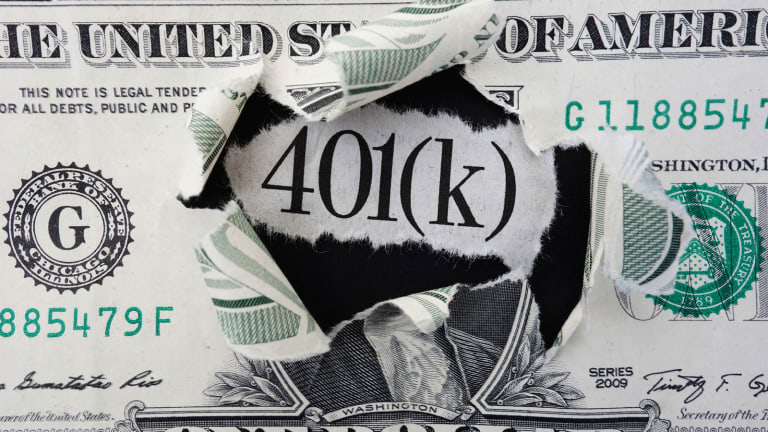 How to Handle Your First 401(k) Plan
For a new 401(k) investor, education and an early start are the keys to becoming a retirement millionaire.
The job market for the 2016 crop of college graduates is looking promising, as employers say they're planning to hire about 5% more graduates from the class of 2016 than last year, according to data from the National Association of Colleges and Employers.
That's good on several fronts, including a good, steady paycheck, a way to pay off a student loan and some much-needed experience in the professional working world.
But there's another advantage to landing your first professionals job -- it should give college graduates their first chance to fund their retirements through a company-sponsored 401k plan.
Trust us, starting early on your retirement savings means something, and here's why:
Take, for instance, a 25-year-old career professional who starts investing $2,000 annually into a 401(k) plan, where it grows at an 8% average annual rate. After 40 years, that investor has earned $560,000 toward retirement.
If a 35-year-old invests the same amount, with the same average rate of return, over the same 40-year timeframe, that investor only earns $245,000 toward retirement.
Given the significant discrepancy in savings from one decade to the next, you'd think younger workers would be aggressively jumping aboard the 401(k) savings bandwagon -- but that's just not so.
According to a new study from San Francisco-based Personal Capital, 40% of U.S. millennials don't have a single retirement savings account, and 73% don't know their net worth.
"Millennials are oblivious to the $14 trillion retirement crisis facing America," says Bill Harris, CEO of Personal Capital. "They're dangerously assuming that retirement planning can start tomorrow, instead of today. We've found that Millennials are banking on working just 15 years, and many plan to live on inheritances during retirement - it's delusional."
"The largest generation currently in the US workforce cannot afford to keep gambling on their retirement," Harris adds. "But there's hope if we meet Millennials where they are now, whether that be battling student loan debt or searching for easier tech-driven solutions."
That strategy starts with getting younger career professionals more aware of the size and scope of a good retirement savings campaign, and make sure they get started right away.
"Depending on where you work, you may be able to sign up for your 401(k) on day one," says Catherine Golladay, Charles Schwab's senior vice president of 401(k) participant services. "If you can't contribute right away, use that time to get into the habit of saving money from each paycheck."
"For example, if you plan to allocate 6% of your salary to your 401(k) plan once you're able, then take that 6% and put it towards an emergency fund, paying down credit card debt or paying down high interest loans in the meantime," Golladay advises. "That way, when it comes time to start putting money towards your retirement, your other financial priorities will be that much more manageable, and you'll have gotten into the discipline of saving regularly."
Taking advantage of company matching contributions to 401(k) plans can make a big difference in plan earnings, too.
"I strongly encourage my clients that are fortunate enough to be employed by a company that offers a 401(k) with a match to immediately sign up and contribute to the full match," says Wayne Bland, a financial advisor with Metro Retirement Plan Advisors, Charlotte, N.C. "If your employer is offing a 4% match, your contribution should be at least 4%. Anything less is leaving free money on the table. Who doesn't want free money?"
Taking your time and being patient with a 401(k) plan is also highly advisable for newbie retirement savers. "Take a long-term approach," says Nicholas Vail, a financial planner with Integrity Wealth Advisors in Indianapolis. "The most important thing is the time you spend in-the market, not timing the market. Make selections that reflect your risk tolerance and keep plugging away."
Part of that strategy also involves avoiding locking into your account balance every day. "That will just drive you crazy," Vail adds. "Make investment selections that reflect your risk profile. This way, you aren't worried about short-term fluctuation."
Also, avoid at all times using the money before retirement. "Try not to use it, even for a home purchase, if you can avoid it," Vail says. "Earmark that money for retirement and let it continue to grow for your long-term goals."
Investment-wise, first-time 401(k) savers should get all the help they can in choosing the best investments, like stocks, bonds and funds. "Unfortunately, 401(k) investment options aren't typically very clear, so if you don't know how to research and learn about the options, talk to a financial professional that is willing to help," says John Booren, a financial advisor with Prosperion Financial Advisors in Greenwood Village, Colo. "Otherwise, put most of the weight in your research toward keeping fees low, using vehicles that have at least a long track record, and look mostly at the three-, five-, and ten-year historical return numbers."
"If your company has a Roth 401(k) option, add money to that as well," Booren adds. "That's especially so if you're young and early in your career, because this investment will grow tax-free forever."
No question, facing down a 401(k) plan for the first time can be intimidating for a college graduate starting out in his or her first job. But get a few rules of the 401(k) road under your belt, and you'll have a great head start in saving a bundle for your retirement.