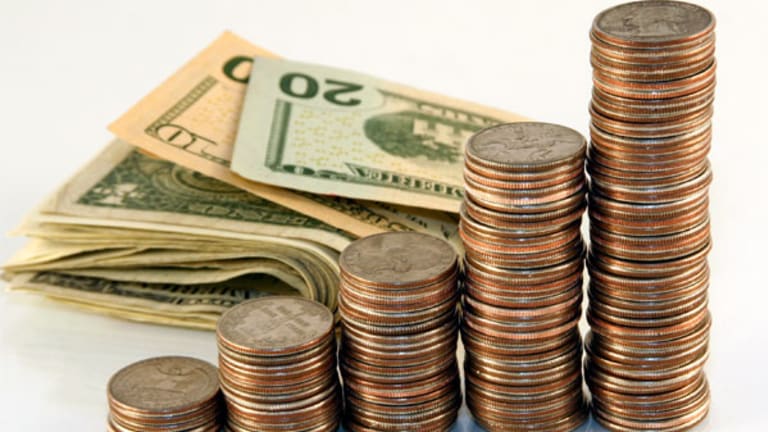 How to Greece-Proof Your Portfolio
Investors should reduce risks if volatility rises.
Updated to include investment ideas by Scott Kimball of BMO TCH Corporate Income Fund.
NEW YORK (
) -- A second bailout to save Greece from defaulting has been agreed to by eurozone finance ministers, but for U.S. investors, the story is far from over.
A deal to secure 130 billion euros ($172 billion) to prevent the sovereign nation from defaulting on its debt in late March (when the next tranche is due) was reached. In return, creditors will accept a 53.5% write-down on their debt and a reduction in the interest rate paid on 56 billion euros in loans from the prior bailout.
This will reduce the ratio of debt to GDP of the country to 120% by 2020. This news originally led to a 1.2% pop in the Euro Stoxx 50 index, which measures the performance of 50 stocks in 12 eurozone countries, but the index ended up declining.
The worries follow concerns that the agreed-upon austerity measures that are to be implemented in order to receive the payment could be reversed to some degree after elections are held in Greece. The election is slated to take place in two months. According recent polls, leftist parties opposing the bailouts are rising in popularity.
Wayne Lin, portfolio manager and investment strategy analyst for
Legg Mason
(LM) - Get Legg Mason, Inc. Report
Global Asset Allocation, says investors should watch the election carefully and manage their portfolios accordingly. U.S. investors have become comfortable with the situation in Europe, especially as our own economy is showing an improvement.
However, volatility could increase substantially if the incoming government plans to reduce austerity measures, putting the stability of Greece's debt position in jeopardy of default. Talks of exiting the euro would also lead to uncertainty and increased volatility. As the election evolves over the next few months, U.S. investors should actively manage their market positions.
Lin recommends taking some money out of risky assets if one of these scenarios becomes likely. He points out that risk premiums reached historic highs in August and if equities were to approach those levels again, that would signal a good exit point.
Even though the
S&P 500
has rallied nearly 9% so far this year, there are still attractive investing opportunities. Looking for undervalued stocks is one of the best ways to play the field. Lin says he "expects the market to trade sideways to slightly up for a while. Getting to the next level is going to require something big to happen."
10 Latin American Stocks Soaring Up to 30% in 2012
Scott Kimball, portfolio manager for the
BMO
(BMO) - Get Bank of Montreal Report
TCH Corporate Income Fund says, "As an investor, you have to figure out what degree the situation in Greece will spill over into Europe and the U.S. If you think there is going to be a spill-over effect, then you're setting yourself up for a flight to quality, like U.S. Treasuries and high quality U.S. investment grade corporate bonds."
Kimball has found value in corporate bonds in the telecom space. He recommends
DirecTV
(DTV)
and
CenturyLink
(CTL) - Get CenturyLink, Inc. Report
. He explains, "DirecTV has a very emerging business in Latin America, which diversifies the risk away from the U.S. and Europe. CenturyLink (provides voice, internet, data and video services) is entirely a domestic story where they're bringing bundles to areas in the U.S."
If you have a longer-term investment horizon, you will probably be better able to withstand fluctuations in the market related to the Greece debt debacle. If you're in it for the short term, manage your investments more actively.
--
Written by Lindsey Bell in
New York.
Readers Also Like:
5 Stocks to Buy on a Pullback