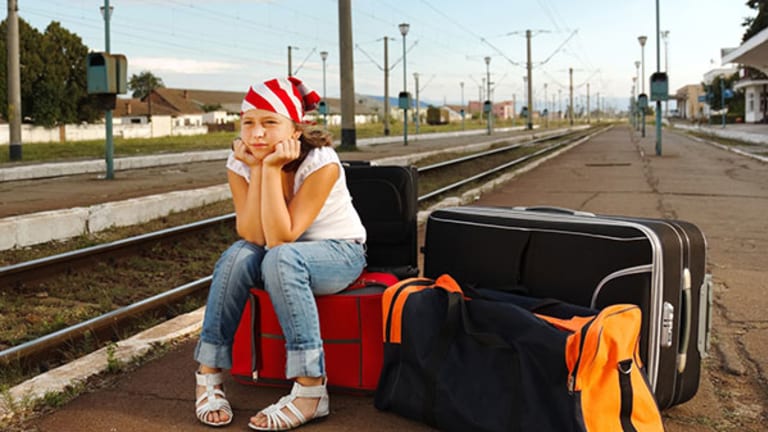 How to Give Away Your Kids
If something happens to you, will your children be taken care of financially? Here's what you need to know about your child and will.
NEW YORK (TheStreet) -- Although it may not be pleasant to consider, it's important to have a plan in place for what happens to your children in the event of your death. Who will be your child's guardian, and who will be the guardian of your estate? Experts say it's a difficult decision many families agonize over, and there's no one-size-fits-all scenario. Here's a look at the most important considerations when you're making out your will and planning for your child's financial future without you.
It's incredibly difficult to think about what might happen to your child once you're gone, but it's a discussion you must have, says Dan Mielnicki, an estate and trust attorney with Florida-based Berger Singerman.
Because the debate and decision can be complex, it's not uncommon for families with young children to get "frozen in place" without making a choice, he explains.
"They think, 'Should we leave the kids to your mother who is older and won't be around much longer, or my sister whose lifestyle we don't agree with?' It can be incredibly difficult," Mielnicki says.
In most states, although you're allowed to nominate someone as a guardian of your child, the court has the final decision as to who is the most appropriate caregiver.
"It's at the discretion of the court as to what's in the best interest of the child," Mielnicki says.
When you're making out your will, remember that your money and your child can go in completely different directions. Two types of guardians can be specified in your will -- the guardian of the child, and the guardian of the property or the estate. Although they can be the same person, they don't have to be.
"Naturally, the answer is different for everyone and depends on what you want for your child as well as his or her caregiver," says Kimberly Maez, an Ameriprise private wealth adviser in Colorado Springs, Colo. "The person who looks after and cares for your child may not be the same person you'd want handling his or her financial life, as they may require a different skill set. To control risk, some people decide to keep the roles separate."
Also see: How to Tell Your Kid You Can't Help With the Wedding
Also see: How to Tell Your Kid You Can't Help With the Wedding>>
The best way to do this is by establishing a trust, says Eleanor Blayney, certified financial planner and consumer advocate for the CFP Board.
"In the event of both parents dying, it's likely that all or most of their estate will pass to the children, and ideally this would be done via a trust, assuming they're minors," she says.
By establishing a trust, you can be explicit about how those funds are to be used for the care and education of the child, Blayney says. If you'd like, the child's custodian can be the trustee, and thus be able to determine what funds can be withdrawn for those purposes -- but when that happens there is always the possibility that the money will go elsewhere. Remember that in your will a separate bequest can be made directly to the custodian, and that can exist separately from the trust.
Keep in mind that the guardian of your child's property could be an institution if you wanted it to be -- it doesn't have to be a person. Additionally, the guardian of the child doesn't necessarily have to be the person with whom the child resides, Mielnicki says.
"You could name your older 19-year-old daughter legal guardian of your 13-year-old, but your 13-year-old could live with your parents while your older child is in college," he says.
When thinking about the appropriate dollar amount to leave for your child's care, remember that children are expensive, Mielnicki says. The average family should budget $50,000 per year, per child. Also, use common logic: If your child is 6 years old, you'll need to leave more than you would if your child were 16 years old.
From birth to 18, the government estimates that it takes as much as $250,000 to $300,000 to feed, clothe and house a child, Blayney says.
"And four years of private college education can run $250,000 to $280,000. The amount will of course increase if you want to provide funds for education beyond college."
Also see: How Working Parents Can Really 'Have It All'
Also see: How Working Parents Can Really 'Have It All'>>
Remember that if you're asking someone to add a child or two to their household, that's a major financial obligation, Mielnicki says. "Yes, there's education to think about, but there are also groceries to buy, health care, clothing and a thousand other little day-to-day things."
There may also be bigger expenses associated with taking on extra children. For example, if you send your children to live with your brother and his wife who already have three other children, they may need to add an extra bedroom or two onto their home to make it comfortable for everyone.
"Will you leave enough to provide for these kinds of expenses?" he asks. "You must stipulate if your trust will pay for this kind of thing, or if you want all your money to go toward education and other expenses more directly related to your child."
Also, consider expenses your child may incur that aren't part of your current budget. For example, if your child attends a good public school but might move to an area with subpar public schools in the event of your death, providing for private school tuition is imperative.
Many people will spend some time calculating what it will all cost, then subtract how much they already have to make sure they have the appropriate type and amount of life insurance for the balance, Maez says.
"This calculation should be revisited every year or two to take into account changes in what's important to you," she says. "Everyone's situation is different. These decisions are based strongly on personal values and should be made with intention and secured with proper legal documents."
At a certain point, however, you must rely on your instincts when choosing a trustee and deciding how much money to leave, Mielnicki says.
"As long as you choose someone who understands your values, is honest, and will raise your child the way you would have, then you have to rest easy that you made the right decision."