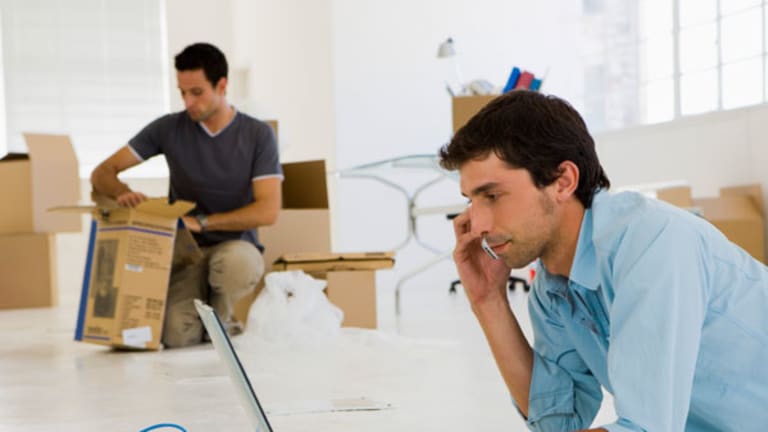 How to Get a Microloan From a Major Corporation
Microlender Accion got a $1.5 million grant as part the NYSE Big StartUp initiative. Here's how you can get a piece of the pie.
NEW YORK (
) - This spring,
NYSE Euronext
(NYX)
launched the NYSE Big StartUp, an initiative meant to connect start-up companies and entrepreneurs with corporate America.
NYSE's hope is that by having big corporations support their smaller counterparts -- with improving procurement, networking, business development, training, marketing and information sharing -- the ones where there is high potential for job creation will thrive.
As part of the initiative, the exchange created the NYSE Job Growth Fund, in which it committed $1.5 million to nonprofit microlender
to disperse to small businesses.
So far the NYSE Big StartUp hasn't had much effect, but the hope is that going forward more fast-growing companies will be able to expand and hire from the initiative.
"The money has just been distributed," says Gina Harman, CEO of Accion U.S. Network. "What we have been spending our time on ... are the other programs that are a part of the Big StartUp."
Harman is referring to workshops led by Accion and
Yelp
on small business marketing and financing, as well as getting more public companies to support the initiative.
The
, which kicked off in June in Tuscon, Ariz., will visit 10 cities in total. Its next stop is Chicago on September 18.
Microlending seems to be picking up in the U.S. Just this week,
Biz2Credit
released its monthly loan report, stating that alternative lenders, which includes microlenders, approved the highest rate of loans as a percentage of applications in August since the index began a year ago. Meanwhile loans approved by big banks fell.
The Small Business Administration distributed nearly $47.5 million in microloans during its 2011 fiscal year through 170 nonprofit lenders. It was the largest amount in the agency's history, even as the average loan size declined from about $14,200 to $11.750, the
The Wall Street Journal
reported.
So how does a small business owner get a piece of the microlending pie?
"What we do is almost always visit the business owner in his/her place of business to get a sense of the business itself, but as important to get a sense of the business owner's commitment to the sector
and the determination to manage the business," Harman says. Loan approvals are "almost never" about a 300-page business plan, she adds.
"It's really about the character of the business owner and his or her ability to make the business grow," she says.
The commitment through the NYSE Big StartUp is not targeted at specific industries, she says, "but there is a great interest on the part of the NYSE to generate jobs, so in this program we are reaching out to businesses that have been referred to us by banks that are viewed as highly likely to increase the number of employees they have. That's a very standard way for us to operate but it is the commitment to the NYSE Big StartUp to pay specific attention."
Even with creditworthy businesses, banks have shied away from small loans, primarily because the time and cost to do business is not worth it to them. Larger banks typically characterize "small businesses" as companies with 100-500 employees.
"That's not our focal point," Harman says.
Accion typically makes loans up to $50,000, with the average loan around $13,000 across the U.S. Harman says that as the economy recovers slowly, the organization has been making larger loans at the request of the SBA "as a way to get those dollars into the community where banks are still reluctant to lend." Loan terms average two years, however the larger the loan, the longer the terms.
Similar to bank loans, business owners who apply for the microloans need to have their financial house in order, but Harman says the most important part of the application really stands with the business itself -- is the business financially viable?
Small businesses that are looking for loans "need to demonstrate they are in a financial position to take on debt," Harman says. We want to lend "in a responsible manner so the business improves as a result of the loan rather than loses whatever equity or asset they build up. That's criteria of critical importance to Accion."
Alex Rein and Zach Silverman, co-founder of
got a loan from Accion this past spring to expand their food truck business.
Rein says he thought of the idea for essentially a natural ingredient Slurpee after he was laid off from his corporate law job in 2009. The partners initially raised money from friends and family and used personal savings to launch the business.
With two trucks and a growing wholesale business to local bars and restaurants, the pair switched to finding a loan to finance further expansion. With the $30,000 loan they received from Accion, Kelvin Natural Slush plans to open a third cart in another part of the city this coming sprint. The partners plan to continue their wholesale plans as well.
"For our business we're buying hard assets. The cost associated for the machinery and the carts are relatively high I guess, but once they're open they start kicking off income to cover the loan so debt is a way to finance our growth," he says.
This is not Kelvin Natural Slush's first experience with getting a loan. Rein says they had a prior bank loan, but the process was much more complicated.
"We thought the process was fairly easy, relatively speaking. We had applied for other loans in drips and drabs, where they kept asking for extra documents. Accion did a very good job. It was very straightforward and fairly user-friendly," Rein says.
-- Written by Laurie Kulikowski in New York.
To contact Laurie Kulikowski, send an email to:
Laurie.Kulikowski@thestreet.com
.
>To submit a news tip, email:
.
RELATED STORIES:
>>Leadership Lessons From Our Favorite Teachers
>>Under-the-Radar Hot Industries for Small Business Profits
>>Behind the Scenes at a Small Business: Summer Doldrums Not So Dull
Follow
TheStreet
on
and become a fan on
Disclosure: TheStreet's editorial policy prohibits staff editors, reporters and analysts from holding positions in any individual stocks.