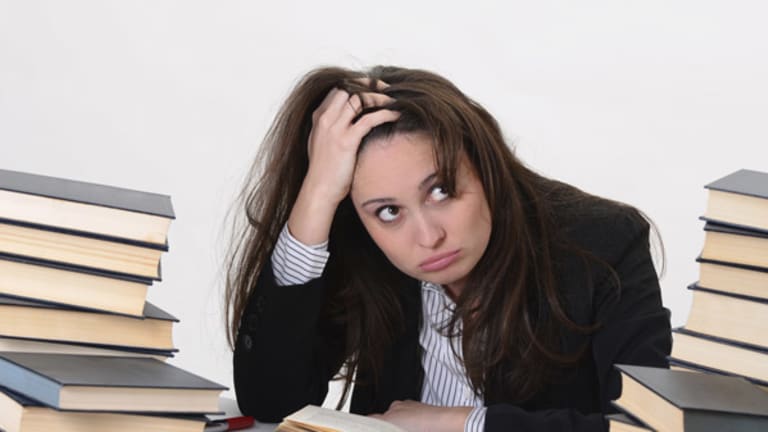 How to Get a Job When You're One of 1.6M New Grads
After the graduation parties comes a job search that puts you up against 1.6 million other newly degreed workers.
NEW YORK (TheStreet) -- May is right around the corner, and that means it's time to party after years of diligent work toward a college degree ... and then to start looking for a job, a task that most have started already. It also means plenty of potential competition, as the National Center for Education Statistics projects 1.6 million students will graduate with bachelor's degrees this year.
The good news is that the average starting salary for college graduates who land a job in their chosen career rose to $45,327 last year, up 2.4% from 2012, the center says.
For college grads hurled into the competitive employment market, it's worth knowing what companies expect. NACE lists the top five qualities firms look for before extending a job offer to a new college graduate:
Ability to work in a team
Verbal communication skills
Ability to make decisions and problem-solve
Ability to find and process information
Ability to plan, organize and prioritize work
Also see: 3 Ways to Keep Bad Job References From Derailing Your Next Job>>
How do you match up? Sean Kenney and Sarah Friedell O'Connell of Essex Partners, a Boston career advisory firm specializing in senior executive and C-level career management counseling, say college grads should do five key things on a job search.
Emphasize "clarity." "The more clear you are about the type of industry and position in which you are interested, the more your connections will be able to help you," the duo says. "If you don't have a general idea of what you want to do, tools such as ONetOnline.org can help you explore different occupations as well as the skill set needed for each position. Think about what you like to do and what you are good at; know your strengths and be comfortable talking about them with others."
Leverage your part-time job experience. College grads often worry about the lack of professional experience they bring to a job hunt. But as Kenney and O'Connell say, "Not having a full-time job doesn't mean you don't have experience.
"Any work you have done in the past, whether it be as a volunteer or during a summer job, can be used on your resume, if it is related to your industry," they say. "For example, if you were a waiter, you most likely have customer service skills and experience working in a fast-paced environment. Look at the skill set needed for each position and whether any of the skills you have acquired are related."
Also see: What Young Americans Worry About Financially>>
Use LinkedIn.com. A profile on LinkedIn, which is free, can raise your profile. Kenney and O'Connell say human resource professionals are relying increasingly on LinkedIn to look for talent. Sign up, write up a great profile and make sure you include a photo.
Know what you want from a networking event ahead of time. Reaching out to mentors, hiring managers and other people who can help you get a foot in the door professionally is a great idea. Just know your endgame going in. "Before you have a networking meeting, think about your goal," Kenney and O'Connell say. "What do you want to find out? How can your contact assist you? Networking is not about asking for a job, but about gathering information, asking for advice and possibly getting introduced to other contacts who can help you." (Always follow up with a thank-you note, they add.)
Do your homework. Hiring managers love it when you ask good questions and demonstrate solid knowledge about their company and industry during a job interview. "Taking the time to understand the basics of a company can set you apart from other job applicants and help you feel more prepared before an interview," Kenney and O'Connell say.