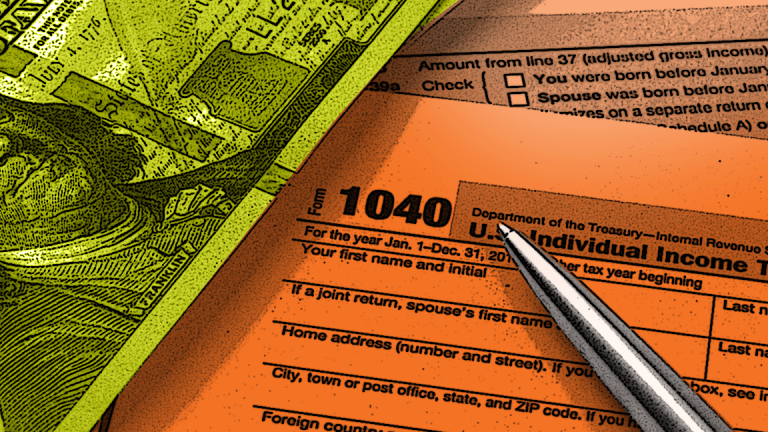 How to File Your Taxes for Free
There are a lot of free filing options available this tax season, but you'll have to meet age and income requirements to use them.
When tax season comes around, a filed tax return is one of the few things you won't have to pay for.
The Internal Revenue Service started accepting tax returns on Jan. 29 and expects more than 155 million returns to be filed by the April 17 deadline. The IRS is expecting more than 70% of taxpayers to get refunds this year, with 112 million people receiving an average of $2,895 in refunds last year. However, you don't have to pay a tax preparer or online tax service to get a refund that is rightfully yours.
"The IRS has a number of ways to help taxpayers this filing season, and we encourage people to look into the many options available," says acting IRS Commissioner David Kautter.
If you're a taxpayer who made less than $66,000 last year, the IRS allows you access to its Free File tax preparation and filing software for federal and state taxes. It isn't just some generic IRS-issued software, but software from H&R Block, TurboTax and other names taxpayers will immediately recognize (see for yourself).
If your annual income is $66,000 or higher, Free File still offers fillable forms with some basic guidance and math help. However, that option relies heavily on taxpayers knowing how to do taxes themselves and having their 2016 return on hand. It also assumes that they'll be doing their state taxes elsewhere, which often results in headaches for tax preparers who have to clean up at the last minute.
"I get a lot of these last-minute calls, but unfortunately, I'm really only handling the current clients and taking care of them because there are always a lot of last-minute issues that come up -- making sure their stuff is e-filed, making sure extensions our e-filed," says Jonathan Medows, a New York-based certified public accountant who tailors his service specifically to freelancers.
Fortunately, this isn't the only free option offered by the IRS. The Volunteer Income Tax Assistance (VITA) program offers free tax assistance to people who make $54,000 or less, persons with disabilities and taxpayers who speak limited English need assistance in preparing their own tax returns. IRS-certified VITA volunteers provide basic income tax return preparation for qualified individuals and help them file electronically.
Meanwhile, the Tax Counseling for the Elderly (TCE) program offers free tax help to those who are 60 years of age and older, specializing in questions about pensions and retirement-related issues unique to seniors. At some TCE sites, taxpayers also have an option to prepare their own basic federal and state tax return for free, using Web-based tax preparation software, with help from and an IRS-certified volunteer. The IRS keeps a running list of VITA and TCE sites, but taxpayers can also call 800-906-9887 for VITA sites and 888-227-7669 for TCE sites.
There are options outside the IRS as well.
TurboTax Absolute Zero offers free software to people making less than $100,000 and filing federal 1040A or 1040EZ returns as well as state returns. While it will cover forms associated with the Affordable Care Act and Earned Income Tax Credit, any mortgage interest, itemized deductions or self-employment income will have to be handled separately. H&R Block, TaxAct and Credit Karma all offer similar bare-bones tax software, but investors and business owners should look into the details of each service to see if they will meet their specific needs.
There are more specialized free tax-filing options available as well. AARP's Tax-Aide Program covers some of the same ground as the IRS' VITA and TCE programs, but also follows up tax preparation with consumer protection services, budgeting and debt-management tips and even savings and investment advice.
Meanwhile, active-duty military have free options from the IRS' VITA service and companies like H&R Block and TaxSlayer, but Military OneSource offers free online or in-person tax preparation and financial counseling for military members and their families.
Of course, if none of the free options work out and you still don't feel comfortable with how your taxes turned out, you can always resort to a paid option. Anthony D. Criscuolo, a certified financial planner with Palisades Hudson Financial Group, sees that as a particularly wise option for those with income, assets and investments more complicated than they can handle.
"After all, you don't necessarily fix your own car or treat your own illness -- you hire a mechanic or a doctor," he says. "In this fast-paced global economy and complex tax system, professional advice is almost always worth the cost."
This article is commentary by an independent contributor. At the time of publication, the author held no positions in the stocks mentioned.