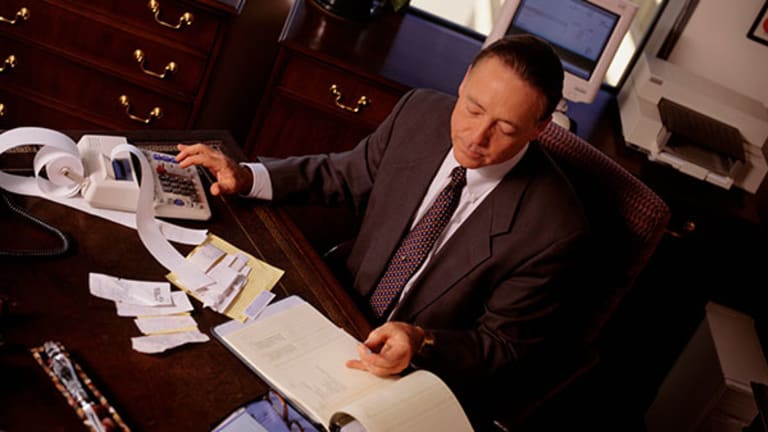 How to Choose Between Tax Software and Accountant
April 15 is right around the corner, so you'd better look at which method of tax filing is right for you.
NEW YORK (TheStreet) -- With tax day just around the corner, millions of Americans are gathering their documents and deciding whether to use an online tax filing service or certified public accountant. There's no definitive rule on which method of tax filing is best -- but our experts can weigh in on which option is best for you.
If you file online ...
The pros:
Filing your taxes online is usually pretty cheap, says Kay Bell, tax expert for Bankrate.com.
"In this day and age we are always looking for bargains, and Tax Slayer, TurboTax and Tax Act are all three very affordable, and they do a great job walking you through the process," she says.
If your filing is fairly straightforward -- if you are a single person with few investments -- a simple online filing may be right for you. Young people, for example, may have only their income from one job and student loan interest to deduct -- a very simple return.
"Those straightforward returns are the bread and butter of online tax services. If you're comfortable using a computer and doing your taxes without any help from a professional, then it's a good option," she says.
If you're thinking of filing online, ask yourself if your personal situation has changed a lot from the previous year. If you haven't gotten married, had a child, bought a house or cashed in investments, an online service can be perfect for you.
Folks filing online can expect to spend around $50 for a federal filing. They also have the benefit of checking out IRS.gov for answers, says Trae Bodge, senior editor for coupon site RetailMeNot.
Also see: The Most Important Tax Documents You Might Be Missing>>
"There is information on which forms you should use, links to track your refund, links to see what deductions you might qualify for and, if you can't pay what you owe right away, links to make payment plan arrangements. There is also support available and instructional videos via Twitter, Tumblr or YouTube," Bodge explains.
The cons:
If you don't have a professional looking over your shoulder, you could miss something. A tax professional will know when and where you might have made a mistake, and they will go in and fix it, Bell says.
"There's always a danger that you have missed something, that you might have screwed something up. You may think that your return is basic, but if you got married or bought a home, then suddenly you have a joint filing for the first time and mortgage interest to think about," she says.
Most online filings offer a simple "down and dirty" checklist for what you need to file, Bell says. Sometimes, this may not be enough. For example, if you had a child and your medical expenses were more than 10% of your total income, you can deduct those expenses. Tax software probably won't catch that, but a tax professional would.
"If you make a mistake on your return, it could really cost you -- you might have to come back with tax money you don't have, as well as any interest or penalties associated with missing that in the first place," she explains.
If you use an accountant ...
The pros:
If there's a problem with your return, your tax professional can argue for you with the IRS. Attorneys, CPAs and enrolled agents have the authority to be your legal agent, and they can take care of any issues that may arise.
Also see: The Business Owner's Tax Extension FAQ>>
"Tax laws change all the time," says Brad Pine, wealth adviser and president of Bradford Pine Wealth Group in Garden City, N.Y. "To make sure you get your return done right, I am a firm believer in having a professional do it."
If you hire someone to do your taxes, often what they can save you by finding just one missing deduction or mistake can save you more than what you're paying them, Pine says.
"All of a sudden you find that they're saving you well above what they're charging you. The other thing to consider is that your time is valuable. By hiring someone, you're saving several hours that you would have spent working on this," he says.
Even if your tax return is simple, don't discount going to a tax professional, Bell suggests.
"It never hurts to have a good relationship with a professional. As your life gets more complicated and you buy a house, have children, get inheritance from a family member, it's great to have a bond with someone who can see those changes coming and know how they are going to impact you."
The cons:
People may be hesitant to spend the money on a tax professional if funds are already tight, and this is an understandable concern, Pine says.
"If you have a simple return and you see that you're going to spend $150 to $200 on a CPA, it can seem like a lot of money," he says. "If you don't have any questions about your return, then filing online is going to look a lot more appealing."
Taxpayers looking to hire a professional can expect to spend an average of $261 this year for an itemized Form 1040 with Schedule A and a state tax return, according to the National Society of Accountants.