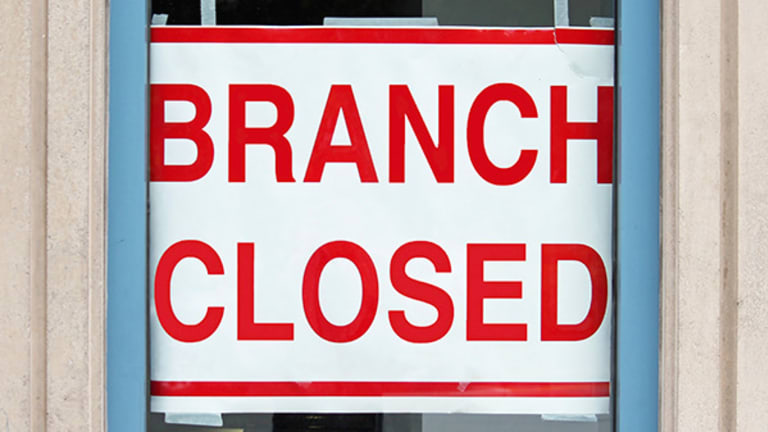 Publish date:
How to Check the Money Health of Your Financial Institution
Banks don't usually go under, but they can. So be ready if another financial crisis hits the U.S.
Banks don't usually go under, but they can. So be ready if another financial crisis hits the U.S.
By and large, banks are a good bet for U.S. financial consumers.
But in periods of high economic strife, banks can and do go bust.
According to a valuable look at the history of U.S. bank failures from DaveManual.com, a financial blog, more than 9,000 banks failed during the Great Depression of 1929-1933.
From 2009 through 2011, in and immediately after the Great Recession, almost 400 U.S. banks failed, compared to just seven from 2004 through 2007, Manual states, citing figures from the U.S. Federal Deposit Insurance Corp.
So far in 2016, only two U.S. banks have gone under, according to the FDIC - Hometown National Bank in Longview, Wash. and the Bank of Georgia in Peachtree City, Ga.
But with economists starting to whisper about another potential recession in 2016 - this a global one that could ensnare the U.S., China and Russia, to name a few major economies, a checklist that allows you to gauge your bank's health isn't such a crazy idea (especially if it's a smaller bank.)
To lend a hand, MyBankTracker.com offers a handy five-step process to check the health of your financial institution - in good times and in bad times.
Here's a blueprint sketch of what MyBankTracker analysts want you to do to do some due diligence on your bank:
1. Be sure that the financial institution is FDIC insured. Banks will typically show the FDIC logo on their website, but it is best to confirm it by searching the FDIC directory. Start with the "BankFind" page at the  FDIC website.
2. Look at the percentage of non-current loans compared to total loans. It's bad news if this percentage is 10% or higher, MyBankTracker tells TheStreet.
3. Look at deposit growth. Deposit growth is good for a bank's balance sheet and it shows trust in the financial institution. Again, consumers can view the quarterly and annual changes of a bank's total deposits through the FDIC website.
4. Look at the bank's available capital. Strong capital indicates more assets available to cover potential losses, MyBankTracker notes.
5. Find out a bank's Texas Ratio. The Texas Ratio is a financial metric used to determine a bank's credit issues. It is calculated by dividing the bank's non-performing assets and loans and loans that are 90 days past due by the bank's equity capital and loan loss allowance. A ratio of more than 100 is a sign that the bank is at risk. Once again, the information for calculating a bank's Texas Ratio is publicly accessible via the FDIC website.
Alex Matjanec, MyBankTracker's chief executive officer, says determining if your bank is financially healthy just makes good common sense. "In a recent report, MyBankTracker found 34% of respondents plan to put $10,000 or more into savings - and bank health is the first priority in choosing where they place their money," Matjanec states.
Other banking experts agree, and offer their own recipes for giving your financial institution a thorough evaluation, especially with investors wary of the market and looking to park their savings in a safe haven.

"The most effective way to gauge the financial health of a bank is to check their deposit growth and available capital," says Ash Exantus, financial empowerment coach at BankMobile. "But since that information isn't always readily available or not that easy for the everyday consumer to understand then it is important to pay attention to some other signs that indicate whether your bank is financially healthy."
Exantus says that one important sign is the level of service your bank is providing. "A healthy bank will invest in people and good service," he says. "As you begin to see service decline that can mean your bank is having issues. When things get rough for financial institutions the first thing they do is look for ways to cut costs, and that often means a reduction in staff and services."
"Another sign may be the reduction of financial products or interest rates. "As banks get into financial trouble they may have to pull back on the types of accounts they offer in order to cut cost," Exantus adds. "Also, whenever a bank is going through capitalization issues -- assets minus liabilities. The FDIC or NCUA, if it's a credit union, may put a rate cap on deposits forcing the bank to lower its rates on deposit accounts."
Conversely, when a bank has great customer service, provides new and improved products and services, and has a healthy rate of return on its deposits, that's a good sign that your bank is doing well, he notes.
There is a school of thought that as along as your bank deposits are insured, you've got nothing to worry about.
James Johannes, a professor of banking at the Wisconsin School of Business, is on that side of the aisle.

"The short answer is that most consumers don't really need to worry as long as their deposits are insured," Johannes says - but adds a caveat. "For some consumers, getting all their deposits insured can be tricky, so they need to fully understand the questions surrounding that."
"The real issue for most people should not be safety but rather what services does my bank offer that I want to use and what is the cost of those services," he says. "Historically, the answer differs greatly from one generation to another."
If you see dark economic clouds coming, go ahead and take the steps needed to check your bank out. The odds aren't big that you're institution will go under, but why take the chance?