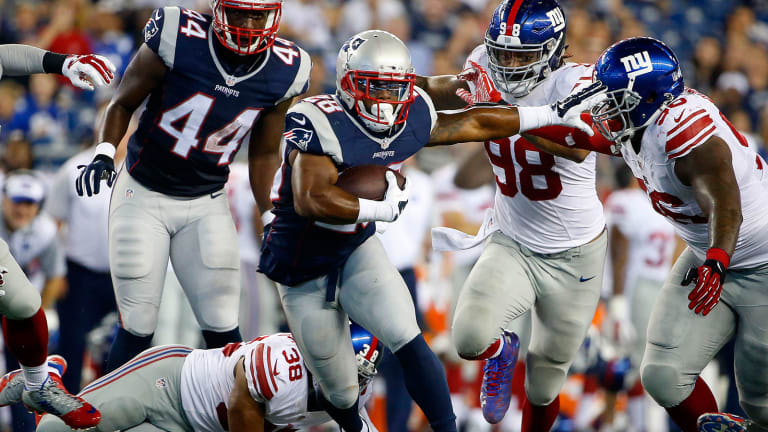 NEW YORK (MainStreet) –- NFL tickets aren't cheap, but they don't have to be all that expensive either.
According to Team Marketing Report, last year's average NFL ticket cost fans $84, with that average price jumping to $122 for fans of the New England Patriots -- the most expensive team in the league. However, those are just the face-value tickets. Go online, and the average $88 that ticket resale aggregator site TiqIQ says that St. Louis Rams tickets are fetching on the secondary market are the only seats close to that face-value price -- and are still above the team's $74 face-value average.
If you've waited this long to buy tickets, you could find yourself in the same position as Seahawks fans, who are paying nearly $400 on average for tickets from brokers. Don't laugh, Pats fans: Your team beat the Seahawks in the Super Bowl, but your $292 tickets rank behind only Seattle and the Denver Broncos ($370) in overall cost.
That said, even ticket brokers know that some tickets are a whole lot more expensive than others, with help from ticket sellers including TiqIQ, SeatGeek and eBay-owned StubHub, we compiled a few tips to get you through the 2015 season without bankrupting yourself just to go to a game:
1. Be patient: "Generally it pays to wait until the last minute to buy a ticket as sellers are more willing to drop their price once the event gets closer," says Cameron Papp, spokesman for StubHub. "However, this isn't always the case. If a team starts doing well, demand will increase and ticket prices could rise."
As an item with a firm expiration date, an NFL ticket tends to drop in price as sellers try to offload them. While StubHub's app sets a price alert that notifies customers as soon a seller hits the desired price point for a particular event, that isn't necessary in most cases.
"While there may be less inventory to choose from, those tickets that do remain will most likely be at a discounted price," says Chris Leyden, spokesman for SeatGeek. "In the case of the Chicago Bears last season, the average ticket resold for $249 three weeks out from a game, but just $195 three days before the game. That's a drop in price of 22%."
As marquee matchups move along, the chances of getting a cheaper ticket only increase. In fact, as playoff races are decided and teams are eliminated, Chris Matcovich of TiqIQ notes that NFL resale prices drop on average 11.92% from the beginning to the season to the end. Which reminds us:

2. Don't get picky: Not surprisingly, prices vary widely by both opposing teams and circumstance. StubHub notes that the top-selling visiting teams for the 2015 seasons -- the Green Bay Packers, Dallas Cowboys, New England Patriots, Pittsburgh Steelers, Seattle Seahawks -- all have huge national followings and, for the most part, did well in 2014. Combine those games with games within the division, and you're looking at at least half a season of sought-after matchups.
SeatGeek notes that having the Tampa Bay Buccaneers, Cleveland Browns, St. Louis Rams and Jacksonville Jaguars on your home schedule offers the best chance to score cheap tickets. TiqIQ doesn't disagree, noting that tickets for those teams, the Washington Redskins, the Tennessee Titans, the Kansas City Chiefs and the Oakland Raiders all average $125 or less on the secondary market.
Also, as with playing fantasy football, it helps to know what's going on with the opposition. StubHub's Papp notes that the record of each opponent generally dictates how much you're going to spend on a game, but so can circumstances surrounding that opponent. If you can read the transaction reports and see the trends unfolding, you can likely save yourself some money by buying early.
"Let's say you're a Miami Dolphins fan and you just know [quarterback] Ryan Tannehill will make the jump and the team is going to be in the hunt for the division title this year," Papp says. "The last game of the season is against the Patriots and the cheapest ticket right now is $116 on StubHub. With Brady coming back, one would think that game is going to matter a lot and be in high demand. Maybe $116 is a bargain compared to where the price will be towards the end of the season."

3. Buy from the team:
Prior to the recession, the average fans typically had to take a backseat to season ticket holders when it came to finding decent seats. However, when attendance dropped during the economic collapse and season ticket holders couldn't be relied on, teams began beefing up perks for season tickets while keeping more tickets on hand just in case.
"For many years there were waitlists for season tickets and it was very expensive to go to NFL games," says TiqIQ's Matcovich. "That dynamic has changed very much for most teams. Season ticket holders are a dying bred and many teams to keep butts in the seats are adopting variable pricing, as well as managing ticket inventory better all in an effort to keep value for those who buy from the team."

4. Prepare for the big games: StubHub notes that matchups between the Patriots and Cowboys, Packers and Bears, Cowboys and Philadelphia Eagles, Miami Dolphins and New York Jets and Pittsburgh Steelers and San Diego Chargers are the most-searched games on its website. That said, they aren't impossible to see if you do your homework.
"Marquee matchups -- think inter-division rivalry, and big quarterback matchups -- are not always the exception to the rule that prices tend to drop, but are the most likely to buck the trend," Maticovich notes. "When buying for these big games, it's important to check frequently for price movement and the occasional good deal, because if you do not, someone else will."
Set your alerts, check multiple sites and do your homework. You can get to a big game without inflicting maximum financial pain, but it takes some effort. Be patient, but diligent.

5. Hit the road:
Seeing the Giants in New York cost $112 per ticket on average in 2014. However, when the Giants played in Jacksonville last year, ticket prices averaged about $58 apiece. The Ravens cost roughly $100 per ticket in Baltimore last season, but an October game in Tampa was only $64.
Yes, there are gas prices, flights and hotel trips to consider, but if a home team is pricing you out of games to begin with, the combined cost of all of the above may still hold more value than a resold seat to a game in your backyard.
"If you are a fan of one of the better teams, search around for tickets to the away games," SeatGeek's Leyden says. "Going to another NFL city can make for a great weekend trip, and save you money on tickets. Of course you will most likely spend money on travel and a hotel, but you also get a brief vacation out of the trip."
This article is commentary by an independent contributor. At the time of publication, the author held TK positions in the stocks mentioned.