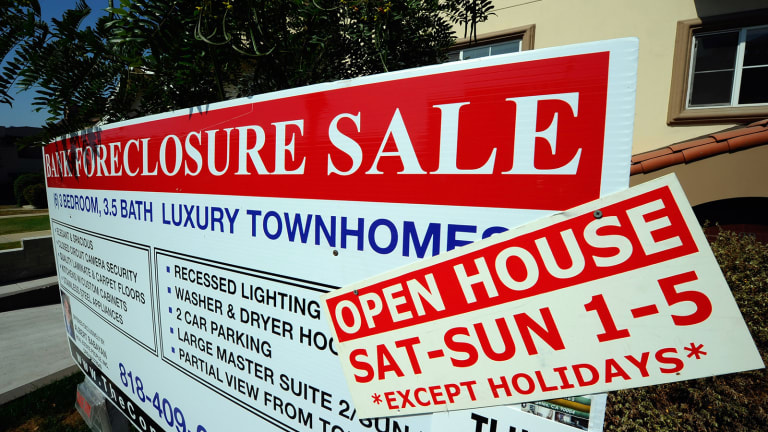 Do's and Don'ts for Buying a Foreclosed Home
Know what you're getting yourself into before making the plunge on a foreclosed property.
You probably don't need to be told twice that purchasing a foreclosed home can be a high risk venture. Even making it to this page means you've likely been told dozens of times by now. Perhaps you've already looked through some foreclosure listings and found something that has piqued your interest, and you're looking to be talked into purchasing it- or talked out of it.
Buying any home is not a decision to venture into lightly, even more so when dealing with the minutia that comes with a foreclosed home. It can be time-consuming and stressful, but if you proceed with caution in some regards and take the right risks in others, you can wind up with a fantastic investment instead of a huge mistake.
Here are just a few of the different things you should be keeping in the back of your head while going through the process of buying a foreclosed home.
Don't Assume You're Getting a Perfect Bargain
When a property is foreclosed upon and bought by a bank, there are only so many expectations they have for it. The foreclosure process works in a way that if a house is actually being foreclosed on, the owner had not paid the mortgage in some time. With such a lengthy financial struggle, very often the homeowner was also unable to keep the property in quality condition.
As such, banks have been known to price these homes quite modestly to ensure that at the very least, they can recoup their losses. People in the market for a foreclosed home can, naturally, see all of this and think buying one is a guaranteed moneymaker of an investment.
Betty Anne McKenna, a realtor at Coldwell Banker Residential Brokerage in New Jersey, believes this is the assumption far too often, saying "I feel that there is a misconception that consumers believe foreclosed properties come with a tremendous discount. It is important to understand that even if the price is discounted there may be many repairs or updating to be made to the property which may not make it the bargain a buyer had hoped for." The fixes required of a foreclosed home are a given, but failing to recognize the potential extent of required repairs can turn a solid investment into a nightmare that lasts years.
Treat the combination of price and repairs for a foreclosed home much in the same way you would treat the price of any other house on the market. Don't get suckered by a low number.
Be Prepared for the Repairs
"In my experience when novice buyers sit down to make a budget they often underestimate how much money they'll spend to renovate a property in order to make it habitable," says David Lynch of the NJ-based property preservation company The RAS Group. "It's important to be aware of those risks going into a purchase, but a great way to minimize risk to yourself is to have an existing relationship with a reliable contractor who knows how to look for issues that commonly afflict long-term vacant buildings, especially mold, pest issues and plumbing leaks."
A foreclosed home in desperate need of repairs is a project, no doubt about it. But the project is also only as long as you let it go. If you're serious about tackling this project head-on, get in front of the problem and start preparations now. Bring in contractors even after the initial inspection. You're well aware by now of the time required of repairing this home; investing in your home now can help you get a thorough list of everything that needs to be done.
Be Careful at Sheriff Sales
A sheriff's sale is an auction of sorts where foreclosed upon properties are sold in public by the county. This is where a lender, often a bank, can purchase the property's mortgage. But investors attend these too, and you may be able to buy the property before lenders and realtors have the chance to.
Sounds like it could be a dream come true, doesn't it? With the right bid at the right time and a lack of competition, you could make out like a bandit and actually profit. It's high risk, high reward to be sure, but don't ignore that risk.
You'll have time before the sheriff sale to research the property, but the amount of research you can do may be limited. It's entirely possible you won't be able to inspect the property prior to the auction. And without a lender buying the mortgage first, it may be incumbent on you, the owner, to evict tenants who still live there.
These are warnings, but not meant to be a complete deterrent. The potential for profit is there, but whether you want to take on the additional risks and work required will sway you one way or the other.
Do As Much Research As You Possibly Can
It just cannot be emphasized enough: get as close as you can to knowing everything there is to know about this property, your financial situation, and the market for foreclosed properties. Doing the proper research can very well save you from getting stuck with a bad investment that would have otherwise been avoidable. Some things that can be essential to this investment can include:
Assessing how you would plan on paying for the property. If you don't intend to use cash, get a preapproval letter from a bank or other lender to see what your options are.
Consulting with a real estate attorney. You'll want someone by your side who understands foreclosure law in your state.
Visit the inspection. You'll get a head start on what some of your additional costs for this property will be (including the inspection itself!).
Gauge the market for foreclosed homes in your neighborhoods of interest. If properties are getting many offers just hours after going on the market, you'll need to make your decision quicker than you may have realized.
Don't Get Discouraged if it You Can't
You've done your research and you've visited the house. You've met with lawyers, the real estate agent, and financial planners to assess your options. You know what repairs you'll have to make and the number of years it will take to turn this house around. Yet even with all that work put in, you may be left only with the knowledge that this investment isn't going to work, and that you cannot buy it.
That's perfectly fine! Don't get too caught up in the potential the home has if the work needed to realize that potential isn't feasible for you. There will be other homes and other investments. Think of it as a test run in that event. You've put the work in and you've practiced it. When the right property comes along, you'll be ready for it.