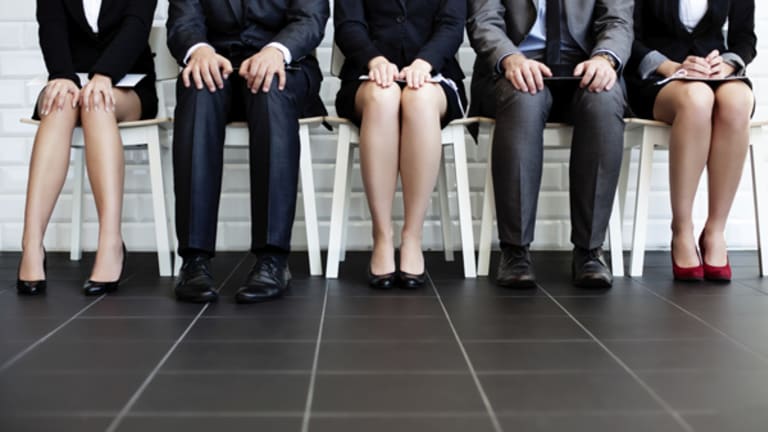 How to Avoid Making a Bad Hire: Follow This One Easy Tip
A new study shows how inserting this feature to a job ad can increase the quality of applicants, resulting in a better hire.
NEW YORK (MainStreet) — Those involved in hiring know that it can be a tedious slog, to say the least. Not only is the process a logistical nightmare, but making a misstep and hiring the wrong person for a job can hurt workplace morale and in turn reduce overall productivity. Additionally, studies show that bad hiring decisions contribute to more than half of employee turnover in the United States and cost employers millions of dollars annually.
Yet, there is a relatively easy way to prevent hiring the wrong person for the job: it starts with the job ad.
In particular, a new study titled "Does Emphasizing Different Types of Person–Environment Fit in Online Job Ads Influence Application Behavior and Applicant Quality? Evidence from a Field Experiment," finds that job ads that focus on how a position can meet an applicant's needs tend to result in better and more long-term hires than those that merely emphasize the skills required to fill the position. 
To come to this conclusion, the researchers--who include David Jones, an associate professor of business at the University of Vermont; Joseph Schmidt from the University of Saskatchewan; and Derek Chapman from the University of Calgary--manipulated real job ads at a large engineering-consulting firm in Canada and analyzed 991 applicants who responded to 56 ads for engineering- and project management-based positions.
Among these job ads, those that focused on "needs-supplies" (N-S)--or what the organization can supply to meet an applicant's needs--received almost three times as many highly rated applicants as ads that instead stressed "demands-abilities" (D-A)--or the abilities and skills the organization demands of candidates for a given position.
To elaborate, job ads that are D-A-heavy would focus more on what academic degrees (or professional licenses or certifications) or computer program a company wants a prospective candidate to possess. By contrast, an N-S-focused ad may also contain these requisites, but will also feature (and focus more on) things the employer intends to offer the person hired for the position--like worker autonomy, career advancement and inclusion in decision-making.
Since ads that focus more on "N-S" aspects of a job position serve to attract "superstar" applicants who can afford to be more selective in their job hunt because of being more highly qualified, these ads will likely result in more successful hires.
This has been the experience of Deborah Sweeney, the CEO of an online document filing service, when hiring staff positions at her company.
"I have seen great success in presenting better job ads, specifically with regard to the role and opportunity for growth," says Sweeney. "Higher quality potential employees are looking for opportunities for growth and influence in a company - not merely vacation, sick or 401(k) benefits. Employees who are looking for a 'job' may be attracted to the more standard benefits, but employees who are looking for a career and to make a difference at a company -- the kind of employees we are looking to hire -- are seeking more substantial opportunities than simply standard vacation benefits."
Some HR specialists say that even tweaks in the title or headline of a job ad can make the difference in attracting superior applicants. 
"Not only have we found that ads which include job perks attract better applicants, but also including a draw in the ad headline is just as important," says Tammi DeVille Merrell, CEO of the hiring specialty firm Hire With Ease. "Whether it's 'room to grow,' 'great culture,' 'training provided' or just 'casual Fridays,' including something attractive in the job ad heading will result in more applications from great candidates."
Meanwhile,  Jones's study found that using a D-A approach in a job ad usually leads to a mostly mediocre applicant pool composed primarily of candidates who are using a carpet bomb approach to their job search process without much direct targeting based on specific offerings.
This can result in a bad hire, which Jones defines as someone who is a poorly performing employee who does not having the right skills and abilities, has a poor work ethic and a negative disposition, or leaves or quits the job soon after being hired.
So, if having a better hire is simply a matter of offering some tweaks to a job ad to emphasize ways the position will be advantageous the worker, why do so many ads continue to focus on the D-A aspects of a position?
According to Jones, many employers still run D-A-heavy ads, because the people who write them often have little training in this area, have very specific skill gaps they need to fill quickly or rely on headhunters who prioritize the employer's needs over an applicant's.
"A hiring manager in a specific unit or a supervisor of the second shift in manufacturing with little training in this stuff may be crafting the ad," speculates Jones, who has a doctorate in industrial and organizational psychology.
Yet Jones warns the solution is not to simply slap in some N-S statements in a job ad to make the position more attractive to would-be employees. Employers have to be realistic on what benefits they can offer and ready to deliver on the promises they are making in their ads to the worker once the position is filled. Otherwise, they would be offering empty promises, which will backfire after the person is hired.
"It's key not to add [N-S] types of statements if they aren't true," says Jones. "If you create what is called a psychological contract where the applicant has an expectation of what is going to happen as an employee and then it doesn't, the people you hire are less likely go above and beyond and are more likely to quit much sooner than they otherwise would."
Still, some are skeptical that the language in a job ad will make much of a difference in the quality of applicants and resulting hire.
"Job postings don't attract top talent," says Brett Farmiloe, co-founder of the executive search firm, Y Scouts. "As soon as a candidate reads a job posting, their natural behavior is to try and mirror themselves to the description [of the position]. This may get a candidate an interview and even a job, but rarely will this process put the right person in the right role."
The study's findings are due to be published in an upcoming issue of the Journal of Business and Psychology.
--Written by Laura Kiesel for MainStreet