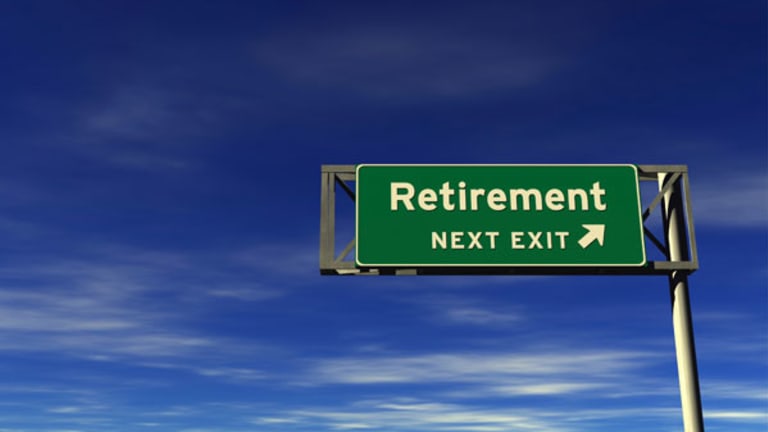 How to Add Hundreds of Dollars to Your Retirement Paycheck
Fidelity reports its 401(k) accounts are seeing healthy gains from one year ago.
By Hal M. Bundrick
NEW YORK (
) -- Retirement nest eggs have gone from scrambled to sunny-side up, with healthy profits and greater contributions. In an analysis of Fidelity Investments 401(k) accounts, the average balance remained relatively steady over the previous quarter, ending at $80,600, -- but that's up nearly 11% from the second quarter of 2012. For employees who were continuously employed and in a 401(k) plan for the last 10 years, the average balance rose to $211,800, up a generous 19% from a year ago. For the past four years, more employees have increased their 401(k) contributions rather than trimming them.
Also see: These Colleges Would Get High Honors on Obama Ranking >>
"While it's a good sign that some workers are increasing their savings for retirement, many younger workers - especially Millennials -- aren't saving at the recommended 10 to 15% of their income," says James MacDonald, president, Workplace Investing, Fidelity Investments. "It is critical young workers realize that even the smallest increase to their monthly savings today or just 1% - whether in a 401(k) or an IRA - could have a meaningful impact on their retirement paycheck down the road."
To illustrate the impact of increasing 401(k) savings by just 1% monthly, Fidelity prepared two hypothetical scenarios showing how the added savings could potentially impact retirement income for individuals that begin saving at ages 25 and 35 until a retirement age of 67, assuming investment return rates of 5.5% and 7.0%.
Also see: The Big 'O' and Your Finances >>
Hypothetical impact of 1% increase in savings now on estimated monthly retirement income
Current Age: 25
Current Salary: $40,000
Initial Monthly "Cost" of 1% Boost: $33
Assumed Rate of Return 7.0% / 5.5%
Potential Monthly Pre-Tax Increase to Reitrement Paycheck: $330 / $200
Current Age: 35
Current Salary: $60,000
Initial Monthly "Cost" of 1% Boost: $50
Assumed Rate of Return: 7.0% / 5.5%
Potential Monthly Pre-Tax Increase to Reitrement Paycheck $270 / $180
The $33 per month contribution starting at age 25 would increase along with assumed wage increases of 1.5% annually, for an average contribution of $46 monthly over the participant's working life to age 67 (for the 35-year-old the $50/month averages to $64/month). The monthly pre-tax hypothetical increase to retirement income is in current dollars and does not take into account inflation.
--Written by Hal M. Bundrick for MainStreet