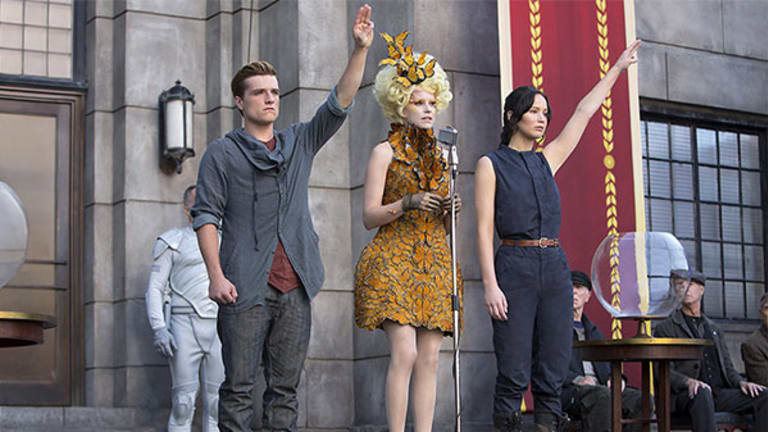 How the Cost of Movies Made Us More Patient
When the average price of one movie ticket was the cost of one month of Netflix last year, moviegoers confirmed they were willing to wait months for cheaper options.
PORTLAND, Ore. (TheStreet) -- The Hunger Games: Catching Fire was released Nov. 22 and made more than $864 million worldwide during its initial run as the biggest movie of 2013. So why was a 3:30 p.m. showing of it on a Sunday in Portland packed nearly three months later?
Because the market reset the price a $3 for a matinee showing at the second-run Laurelhurst Theater in Portland, and that market is more than willing to wait.
If it wasn't, the deal between Comcast and Netflix to ensure speedy video streaming and lots of broadband access wouldn't have been necessary. If it wasn't for that audience performing cost triage on theatrical releases and deeming them worthy of a first-run ticket, second-run screening, on-demand rental or spot on the streaming queue, Verizon wouldn't be considering a similar deal.
Read: Investors Forgive Target Its Trespasses; What About Wal-Mart?
The recession and Netflix have made the moviegoing public a lot more patient and a lot less inclined to just throw money at whatever features studios decide to release. Perhaps nowhere on the movie calendar is this more true than in the movie industry's winter "dump months" leading up to the Academy Awards, when studios unload their smelliest garbage and hope that there's a Dumpster-diving treasure such as The LEGO Movie in their piles of wretched refuse.
The miserable truth for movie studios is that, after a brief uptick in movie ticket sales in 2012, movie audiences retreated again last year. The number of tickets bought fell 1.3%, to 1.34 billion, according to BoxOfficeMojo. That's the seventh downturn in ticket sales within the past decade and only moderately better than the post-recession low of 1.28 million tickets sold in 2011. It's also well below the industry's peak of 1.58 billion tickets sold in 2002 and roughly the same amount of tickets that the industry parted with in 1996.
Since 1996, the average price of a movie ticket has jumped to $8.13 from $4.46. It's the only reason the industry hit a record U.S. gross of $10.9 billion (compared with $5.9 billion in 1996), but that's also roughly the price of a month's worth of Netflix streaming. When the choice is one new movie at that price or unfettered access to a huge library of older movies at that same price, moviegoers are choosing to wait in far larger numbers.

Netflix surpassed 33.4 million streaming subscribers in the U.S. last year after having fewer than 20 million streaming-and-DVD customers total in 2010, but the company was enticing audiences to stay home well before it split its DVD and streaming services. A 2006 poll from Pew Research found that only 21% of all U.S. viewers preferred watching movies in the theater to watching them at home, down from 27% in 1994. Meanwhile, 50% of core moviegoers who watch one movie a week or more did so through DVD or on-demand, compared with just 5% who did so in theaters.
That all-important on-demand step between the theaters and Netflix has seen a bump as well, especially as Blockbuster faded into bankruptcy and rental options diminished. Nielsen reported last year that video-on-demand was an option in 60% of U.S. television households, compared with just 37% five years ago.
Satellite and cable on-demand services -- as well as those offered by Amazon, Apple's iTunes, Wal-Mart's Vudu and others -- have become the option of choice for those still concerned with the notion of "new" home releases. For roughly $5, which is still a steep discount over first-run prices, audiences can still "rent" movies after their second-run window on the day their disc and digital copies go on sale.
Read: Coca-Cola Needs Less Fizz in Its Products to Get More in its Stock
But Netflix started making moviegoers a better offer five years ago when its deals with content providers including Sony and Time Warner required it to withhold "new releases" for a month in exchange for more back-catalog streaming content. Fans who'd already waited months for films to leave theaters had no problem waiting another just to have it fall into their $8 monthly Netflix plan.
We know what you're thinking: Weren't we already this patient? Didn't years of video stores and HBO, Showtime, Cinemax and countless other channels once considered "movie" channels already train some of us to wait this long?
No. Video stores still amounted to a trip out and required a movie to be in stock. None of those hindrances apply to video-on-demand. Meanwhile, the movie channels held viewers to a fixed schedule and only in recent years -- if at all -- made all of their movie content available as "free" on-demand viewing. Netflix, Amazon Prime's streaming service, Verizon's RedBox streaming and others all make their movie content available ubiquitously over various platforms.
In short, not having to leave our warm, dry shelters to get movies and not having to adhere to a channel's schedule or watch it on a television has changed just how long we're willing to wait to see movies. It's not just a matter of pricing, but a matter of value. When the first-run theatrical experience doesn't add that value or, worse, detracts from it, the U.S. moviegoer is more than willing to wait for a better option to come along.
-- Written by Jason Notte in Portland, Ore.
>To contact the writer of this article, click here: Jason Notte.
>To follow the writer on Twitter, go to http://twitter.com/notteham.
>To submit a news tip, send an email to: tips@thestreet.com.
RELATED STORIES:
>>Don't Bother Going To The Movies In Winter
>>10 Best Christmas Movies That Aren't About Christmas
>>No, Christmas Isn't The New Summer Movie Season
Jason Notte is a reporter for TheStreet. His writing has appeared in The New York Times, The Huffington Post, Esquire.com, Time Out New York, the Boston Herald, the Boston Phoenix, the Metro newspaper and the Colorado Springs Independent. He previously served as the political and global affairs editor for Metro U.S., layout editor for Boston Now, assistant news editor for the Herald News of West Paterson, N.J., editor of Go Out! Magazine in Hoboken, N.J., and copy editor and lifestyle editor at the Jersey Journal in Jersey City, N.J.