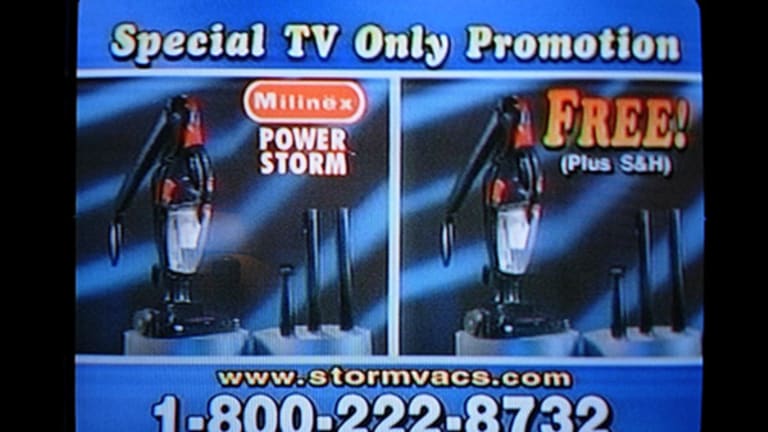 How Startups Earn Millions at Infomercials, TV Shopping Networks and Walmart
Infomercials alone constitute a $150 billion market and each dollar spent on direct marketing yields a return on investment (ROI) of $12 compared to $5 from non-direct marketing.
NEW YORK (MainStreet) — Tony Little's first infomercial in 1993 earned him $150 million in retail sales. Not bad for a now 58-year-old body builder.
"It was a series of three videotapes called 'Target Training' with me leading one-on-one exercise workouts," Little told MainStreet.
View Today's Auto Loan Refi Rates
After paying some $250,000 to National Media to produce the series and $100,000 to test, Little's company has earned $4 billion in worldwide sales.
"I'm currently looking at the short form infomercial market for several product categories that are successful on the Home Shopping Network," said Little, whose product categories include fitness, fashion, wellness, nutrition and motivation.
Infomercials alone constitute a $150 billion market and each dollar spent on direct marketing yields a return on investment (ROI) of $12 compared to $5 from non-direct marketing, according to the Electronics Retailing Association (ERA).
"Anyone can come up with a product," said Julie Coons, president and CEO with the Electronic Retailing Association (ERA). "Shows like ABC's 'Shark Tank' highlight budding inventors who dream of marketing that hit product or service; however, it's not that easy to just make an infomercial and assume it will be successful right from the start."
While barriers to entry into the infomercial industry may only be financial initially, certain products sell better than others.
"Real estate and stock market analysis products are ideal for infomercials, because the seller can be proactive in warning about risks," said Collette Liantonio, president of Concepts TV Productions.
Other products that sell well include books, tapes, exercise equipment, kitchen, cleaning and beauty products.
"Infomercials showcase whole segments of books and offer reviews by people who have used and enjoyed the infomercial system," Liantonio told MainStreet.
However, the infomercial industry is not without its checks and balances.
"The testimonials you see should be truthful and accurate," Coons told MainStreet. "Any testimonial that is too good to be true is subject to review and disciplinary action by the government and our industry self-regulation program."
Products successfully sold with infomercials can find shelf life and new sources of revenue at retail stores such as Walmart, Walgreen and Target.
"The last five years have been an exciting time of change," said Coons. "There has been a strong move for infomercial products to be offered at retail stores in As Seen On TV sections."
For example, Sue Ismiel created Nad's hair removal gel in her kitchen in the 1990s.
"You need to make the audience believe that you have created a new world from a place of frustration," said Ismiel, CEO with Sue Ismiel & Daughters. "The unwanted hair problem was the frustration for me. The story of a mother's love for her daughter and doing something about the frustration is what connects with the viewers."
Today Nad's is advertised in 30- and 60-second commercials directing the consumer to retail stores.
"Once the product hits retail shelves, the heavy investment in long-form infomercials is not necessary," Ismiel told MainStreet.
With or without an infomercial in tow, not just any product can find its way to shoppers at retail storefronts, such as Target, Walmart, Win Dixie, Walgreens or HEB.
Winning the Shelf Placement
The Global Market Development Center (GMDC) out of Colorado Springs hosts conferences twice a year to help facilitate deals between suppliers and service companies who pitch their products to retail buyers.
"We have companies that go from very small to millions of dollars," said Mark Mechelse, director of industry insights and communications with the GMDC. "They need to be ready to write orders after pitching because if they don't, they can lose business."
Some 600 supplier members paid $2,500 to attend the general merchandise conference in San Antonio this month where they pitched up to 85 retailers at the JW Marriott Conference Center.
Entrepreneurs displayed their pet toys, collapsible Tupperware, non-food items, baby products, kitchen wares and gifts. GMDC will meet again in Orlando and Phoenix in 2015.
"We don't get involved in infomercials or advertising," Mechelse told MainStreet. "There could be companies here that have As Seen On TV products but it's a small part of what we do."
One advantage of infomercials is that entrepreneurs can price their products higher than when advertising with a mere TV commercial.
"It is harder to get an impulse buy for a high-ticket item from a short commercial," said Liantonio. "People aren't as likely to spend $99 after watching just two minutes of an advertisement. You also can't get a sense of a special book or tape from a short commercial."
Once produced, the worst time to run an infomercial is prime-time, because that's when advertising time is most expensive and competition from network sitcoms and news shows is steep.
"Overnight is great because viewers are bored, have insomnia or work unusual hours," Liantonio said. "Saturday and Sunday mornings are ideal, because people can watch half hour segments at their leisure."
--Written by Juliette Fairley for MainStreet
Save Cash on Payments! Compare Low-Interest Credit Cards Now