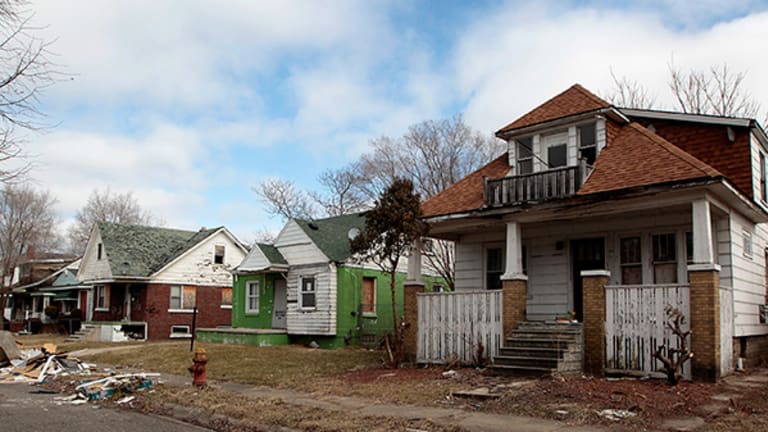 How Stagnant Wages Have Trapped the Housing Market
Prices are up enough to make buying a home too expensive, but still too low to get more homes onto the market. What happens when mortgage rates rise?
NEW YORK (TheStreet) -- In the housing bubble of the past decade one warning sign flashed bright red: Home prices rose faster than incomes. That condition cannot continue for very long before too many prospective buyers can't afford to buy -- the point where the bubble bursts.
On a national basis, this isn't a major problem today, as mortgage rates are low and home prices remain below their bubble-era peaks. But in some markets, especially the large metropolitan areas of California, affordability is becoming an issue, according to Zillow.com, the online housing marketplace.
A survey commissioned by Zillow asked 106 economists why affordability was declining in certain markets. Stagnant income growth was cited as the No. 1 reason by 28% of those who responded, followed by abnormally high rates of home price appreciation at 27% and an abnormally low supply of homes for sale (21%). Other reasons were an insufficient number of homes (13%) and tight credit (11%).
Also see: How Much Income Do You Need for a Home? It's Easiest in Cleveland>>
"We're certainly in a better spot than we were just a couple years ago, but the housing market remains far from anyone's definition of 'normal,'" said Zillow Chief Economist Stan Humphries. He said that "despite a generally improving economy, incomes have not risen at the same level as home values and rents, leading people to spend an ever-larger share of their pay on housing. It will take years for these issues to either be adequately addressed through policy, or to naturally work themselves out of the market."
A shortage of homes in some of these markets hurts affordability by pushing prices up. The shortage is caused, in part, by a large number of homeowners who owe more than their homes are worth, despite rising prices in recent years. Those owners don't sell because they can't get enough to pay off their existing mortgage. Also, construction of new homes is weak, partly because it's difficult to build a home cheaply enough to compete with existing homes.
So it's a strange situation: Prices have risen enough to make buying too expensive for many prospective buyers, but prices are still too low to get more homes onto the market. It is stagnant wages that keeps the market trapped in this purgatory.
Also see: Homeownership Not Always the Path to Prosperity It's Said to Be>>
Nationally, homes remain relatively affordable by historical standards because prices are still below the peaks reached in the middle of the past decade. But incomes remain flat in most of the country. The big California markets demonstrate how hazardous this can be as the housing market struggles to return to normal. If incomes were to rise faster, buyers could afford larger down payments and bigger loans.
Currently, low mortgage rates help to make homes affordable in much of the country. But if rates rise, as many experts expect, buyers won't be able to borrow as much, making it harder for the average buyer to afford the average home. So if rates rise, returning to normal could take even longer.