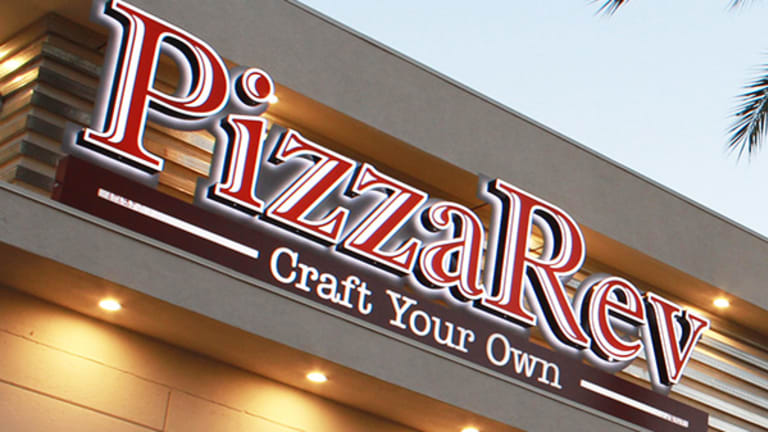 How PizzaRev Plans To Be the 'Chipotle of Pizza'
PizzaRev sees lots of opportunity in the so-called better pizza niche and has even garnered an investment by Buffalo Wild Wings. Can the small fast-casual chain succeed when up against big pizza companies like Domino's, Pizza Hut and Papa John's?
PizzaRev sees lots of opportunity in the so-called better pizza niche and has even garnered an investment by Buffalo Wild Wings. Can the small fast-casual chain succeed when up against big pizza companies like Domino's, Pizza Hut and Papa John's?
This story has been updated from May 19 with additional commentary from Buffalo Wild Wings.
NEW YORK (TheStreet) - For a two-year-old restaurant chain with just 10 stores so far, PizzaRev has a pretty clear idea of what it wants to be and how it's going to get there. The Los Angeles-based fast-casual concept is setting its sights on becoming the Chipotle (CMG) - Get Report of pizza.
Leaving aside for the moment the fact that the hugely popular burrito chain already has a pizza concept it's investing in, Pizzeria Locale, PizzaRev believes it has the wherewithal to beat Chipotle at its own game.
"It's not as though there is a big void in America, there are 74,000 pizza restaurants, but this offering is dramatically different," said PizzaRev co-founder Rodney Eckerman in a phone interview with TheStreet. "Traditionally the highest quality pizzas were a fine-dining experience, it was a sit-down experience that took a bit of time, fast pizzas ... were not personalized and what we're able to do is offer people this high-quality pizza" quickly.
"Chipotle was a game changer in their industry," Eckerman said. "They created a product that was consistent on a coast to coast, it was high quality, it was fast and it had great value, it's a great value proposition. They looked at doing one thing and doing [it] extremely well and that, very much, is our model as well."
Using the same type of cafeteria line that is partially responsible for Chipotle's success, customers can choose from one of 10 combinations of PizzaRev's personal-sized 11" pizzas from The Classic, The Skinny Margarita or The Mediterranean for $7.99. Or customers can create their own for the same price (and regardless of number of toppings) using ingredients like red or white sauce, BBQ sauce, cheeses that include bleu cheese, ricotta and low-fat mozzarella and toppings such as spicy chorizo, capers or jalapenos. Pizzas are then fired in open-flame bed ovens, cooking the pizza "old-world style."
Eckerman boasted that from the beginning of the line to receiving an order, it takes just seven minutes.
Co-founder Eckerman and his business partner, Irv Zuckerman, retired in 2002 as co-CEO's of Clear Channel Entertainment, a division of Clear Channel Communications, which was then spun off to form Live Nation (LYV) - Get Report. Eckerman and Zuckerman were pulled into the PizzaRev venture by Eckerman's son, Nicholas, who came up with the concept and serves as its COO. Zuckerman's son, Jeff, is also a partner in the venture and serves as the chief marketing officer.
PizzaRev is focused on domestic expansion for the near term -- a number that could potentially reach in the "many thousands," with Eckerman likening the opportunity to levels reached by Chipotle, Panera Bread (PNRA) and other big brands expanding rapidly across the U.S. But it will be awhile before the company reaches that level. The company plans to have a total of 27 open by the end of the year, up from the already existing 10.
"Certainly there's tremendous international opportunities," Eckerman said. "At this stage ... we're going to continue to build corporate stores. We believe in the concept of you need skin in the game, you need to be actively operating stores to be able to really understand the dynamics of the business on a day-to-day business."
PizzaRev is also looking to franchises and has stores opening in Salt Lake City, Austin, Texas and San Diego, under franchisors. "We're looking for individuals who are experienced, who have appropriate levels of capital and, most importantly, have a passion for what they're doing in our brand," he said.
Can PizzaRev succeed?
The $34 billion pizza category is a crowded space, dominated by Yum! Brands (YUM) - Get Report Pizza Hut, Domino's Pizza (DPZ) - Get Report, Little Caesars and Papa John's Pizza (PZZA) - Get Report, according to Technomic. PizzaRev is serving up higher-quality customized pizzas, but the so-called better pizza category is tough to compete in when the top four brands own roughly 44% of the U.S. pizza market, according to Technomic's analysis of 2013 sales.
"It is a really crowded space," says Tom Kelley, president of AccessPoint Group, a restaurant and hospitality consulting firm, referring specifically to the new group of pizza outlets. "There's only so much custom pizza you can eat. At least one of these is going to shake out and probably fall by the wayside."
Still that doesn't mean that newcomers like PizzaRev, Pizza Inn's (PZZI) Pie Five Pizza, Project Pie, and Blaze Pizza, among others, can't be successful. The trick, Kelley says is who is backing them.
What could be PizzaRev's golden ticket is the minority investment that Buffalo Wild Wings (BWLD) , a sports bar and wing franchise, took a minority position in the company in March 2013. Buffalo Wild Wings has publicly said that it was looking for emerging concepts to build a portfolio of brands. PizzaRev is the first company that the Minneapolis-based company has taken on. Eckerman declined to share terms of the investment.
"We looked at over 25 different pizza concepts, from more of a full-service concept to this more fast-casual pizza. We liked the buzz PizzaRev was generating from its fans, the fixed price of the pizza -- no matter how many toppings you select -- and the passion of its founders, Irv Zuckerman and Rodney Eckerman," said Kathy Benning, Buffalo Wild Wings' Chief Strategy Officer and head of new business development. "Our objective was to find the next Buffalo Wild Wings growth story. We're looking for another brand that will help us achieve our vision of 3,000 restaurants in our portfolio of brands."
Both CEO Sally Smith and Benning sit on PizzaRev's board of directors.
Eckerman says the fit with Buffalo Wild Wings was a natural one. "We looked at them and felt like they were a great strategic partner," he said. "Obviously they brought funding into the venture ... so they enhanced our balance sheet, but they also brought leverage and buying power from day one. They certainly brought credibility because they had looked at hundreds of brands and chose us and obviously they're extremely well-respected brand [that has] a tremendous and very-disciplined growth model."
Securing the Buffalo Wild Wings investment could be a huge competitive advantage for Pizza Rev. Buffalo Wild Wings "brings enormous infrastructure and that's what needed," AccessPoint's Kelley said. "With a lot of these concepts, it's really who gets behind it and what they bring and if they bring enough infrastructure and buying power because with commodity prices in certain cases going through the roof the big [question] is how you control your costs. If you have the same purchasing agreements with your vendors that Buffalo Wild Wings can assist with or leverage, you're in a much better position than some of the other folks."
That's important as restaurants adjust to the reality that food commodity prices are going higher, in some cases considerably. Chipotle said last month during its most recent earnings call that it will be raising menu prices as prices rise for meat, cheese and avocados, while consumer demand surges.
As PizzaRev grows, it can also gleam lessons from Buffalo Wild Wings in everything from operations to customer service, Kelley ads, noting that an investment from an established restaurant concept is preferable to a private-equity investment.
"They just come in and dump a load of money in, [but] I'm not sure they bring a corporate culture that is hospitality or restaurant-rooted and that's really what's critical," Kelley said.
One such company is Project Pie. Based in Carlsbad, Calif., it received a "significant" investment in January from Lee Equity Partners, according to Nation's Restaurant News. Project Pie has plans for 200-300 locations, and expects to reach 20 restaurants by the end of 2014, according to the article.
Lee Equity Partners, headed by notable private-equity veteran Thomas H. Lee, was the investment firm also behind "take-and-bake" Papa Murphy's Pizza (FRSH) - Get Report, which went public earlier this month.
While it's still a new concept, when asked if PizzaRev could eventually go public like Papa Murphy's or agree to a potential sale, Eckerman said, "all of those are ultimately possible."
"At this time, what we're doing is focusing on building the brand, rapidly expanding ... right sizing our operation and our corporate staff and our store staffs to maximize operating potential and that's our focus today," Eckerman said.
--Written by Laurie Kulikowski in New York.
>>Read More:
Why JCP's Online Strategy Is Not That Bad
Chipotle Gets 'Wake Up Call' on Executive Compensation
Mobile Commerce Expected to Surpass $100B in 2014. But Are Retailers Ready?
Disclosure: TheStreet's editorial policy prohibits staff editors, reporters and analysts from holding positions in any individual stocks.