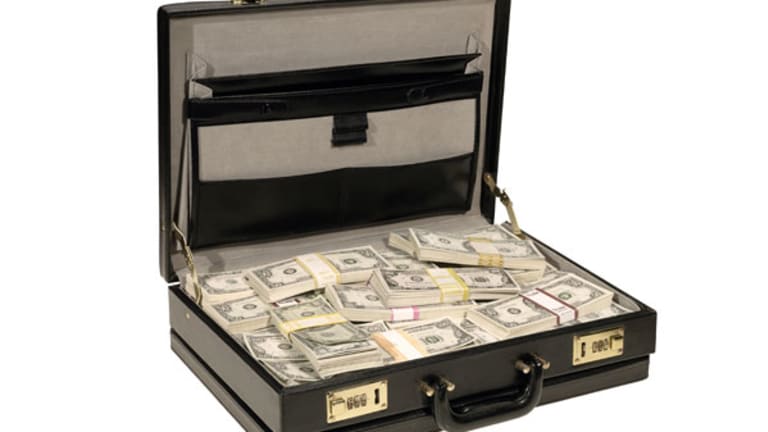 How Our $7B a Year Lets Fast Food Companies Pay Minimum Wage
Two studies find we're really paying plenty for our burgers so corporate profits can soar.
BOSTON (
) -- In September, workers from fast food chains in more than 60 cities across the nation went on strike to push for a wage increase to $15 an hour.
Many of those opposing the move have warned that such a wage increase could cost consumers, who would wind up being hit with a price bump on their burger. But it turns out Americans are already paying a high price to cover for the flat wages of fast food workers.
At least, that is the conclusion that can be drawn from two reports showing workers in the fast food industry rely heavily on public assistance to make ends meet -- at more than twice the rate of the overall workforce.
More than half (52%) of the families of frontline fast food employees are enrolled in one or more public assistance programs such as Medicaid, food stamps and Temporary Assistance for Needy Families, costing taxpayers up to $7 billion dollars a year, according to the report
issued by the University of California at Berkeley's Labor Center
.
Of those fast food workers enrolled in public assistance, nearly half are full-time. The states paying out the most in public assistance are California and New York, where $717 million and $708 million are spent each year, respectively.
"The paper is indicative of larger issues in the economy," said UC-Berkeley economist Sylvia Allegretto, co-chairwoman of the Center for Wage and Employment Dynamics and co-author of the report. "Corporate profits are highest on record, and workers' salaries are at a 50-year low."
The report also found that despite the traditional perception of the typical fast food worker as a teenager, two-thirds of them are in fact adults over the age of 20 and only a quarter of them minors. Additionally, the report revealed that 68% of these adult workers are the breadwinners for their household, yet a staggering 87% of them get no health benefits from their employer. This might explain why the largest expenditure in public assistance spent on fast food workers by far is Medicaid and the Children's Health Insurance Program, which accounts for $3.9 billion annually.
The second report,
released by the National Employment Law Project
, zeroes in on the costs of public assistance as associated to specific fast food chains.
Also see: Fast-Food Workers Are Right: Raise the Minimum Wage>>
NELP reports that nearly half, or $3.8 billion, of the $7 billion annual price tag of public assistance for fast food workers is spent on employees at 10 of the largest fast food companies in the country, including
McDonald's
(MCD) - Get McDonald's Corporation (MCD) Report
,
Burger King
(BKW)
,
Wendy's
(WEN) - Get Wendy's Company Report
and
Yum! Brands
(YUM) - Get Yum! Brands, Inc. (YUM) Report
(which owns Taco Bell, Pizza Hut and KFC).
Fast food workers from McDonald's accounted for the highest share of public assistance funds, at $1.2 billion a year. At the same time, a NELP analysis of data from the financial firm
Standard & Poor's
found that the 10 companies they outlined in their report made $7.4 billion in profits last year.
There are those who have pointed to weaknesses in the two reports, namely the inclusion of the Earned Income Tax Credit in the UC-Berkeley analysis as part of the $7 billion price tag, despite the fact that EITC is not technically an entitlement program.
"The inclusion of the Earned Income Tax Credit shows just how misleading these efforts are, as it is a tax credit specifically designed for working families, not public assistance, and is used to inflate their numbers," Scott DeFife, executive vice president of the National Restaurant Association,
.
According to the UC-Berkeley report, the EITC costs taxpayers $2 billion annually. When excluding the EITC from the equation, the remaining programs the report factored in their analysis adds up to a $5.8 billion cost to taxpayers every year.
Allegretto said that like the entitlement programs they looked at, the EITC "is provided through public subsidy and still comes out of the pockets of the taxpayers."
The Employment Policies Institute has
as well, noting that the majority of fast-food restaurants are franchises run by small-business owners who cannot afford wage increases.
"If you create a $15 minimum wage,
restaurant owners know they can't raise their prices enough to offset that," counters Michael Saltsman, research director of The Employment Policies Institute. "If they could raise their prices to accommodate such wages they would have by now."
Also see: College Costs Soar While Adjunct Faculty Head to Pauper's Grave>>
Since much of the large profit margins for these fast food brands seem to be concentrated at the corporate level, though, Allegretto argues a change in the business model could help both low-wage frontline workers and franchise owners by freeing up more revenue.
Some franchise owners are pushing for a change in corporate policies.
In August,
a letter circulating among McDonald's franchise owners that complained of strained relations with their corporate parent, whom they felt was burdening them with disproportionately larger fees. Specifically, franchise owners -- who operate nearly 90% of the chain's 14,100 locations in the U.S. -- complained of paying as much as 12% of store sales in rent, up in recent years from a rate of 8.5%.
Additionally, McDonald's, which averages the most in sales per franchise than any other fast food company (about $2.6 million annually), takes a
of gross sales from franchises. And buying a McDonald's franchise
a prospective buyer to have a minimum of $750,000 in "non-borrowed personal resources" and put at least a 25% down payment in cash toward the purchase of a restaurant, with the remaining purchase price requiring payoff in no more than seven years.
"The fast food companies exert an incredible amount of influence over the franchises," says Jack Temple, a policy analyst at NELP. "The corporations set the prices and shape the work policies, including the wages, for the franchises."
Temple says that if corporations reduced or minimized the fees and costs that they shift onto franchisees, there would be more money to pay their workers higher wages. Even with changes in business practices and franchise fees, many opposed to wage increases for fast food workers have maintained it would still lead inevitably to higher prices in the menu items.
Fast food items are significantly lower than those same items would be if bought elsewhere. The starting
at a restaurant already averages $8, as compared with the typical fast food hamburger, which is between $1 and $5 (and usually is on the low end).
The question is, would people be willing to shelve out an extra dollar for a fast food burger if it meant a lower tax burden later on?
"People want their burger and they want it fast," Darrin Howell, deputy director of the MassUniting labor coalition, which has been organizing fast-food workers in the Boston area,
. "But they might not recognize what it's taking out of their pocket besides the menu item."