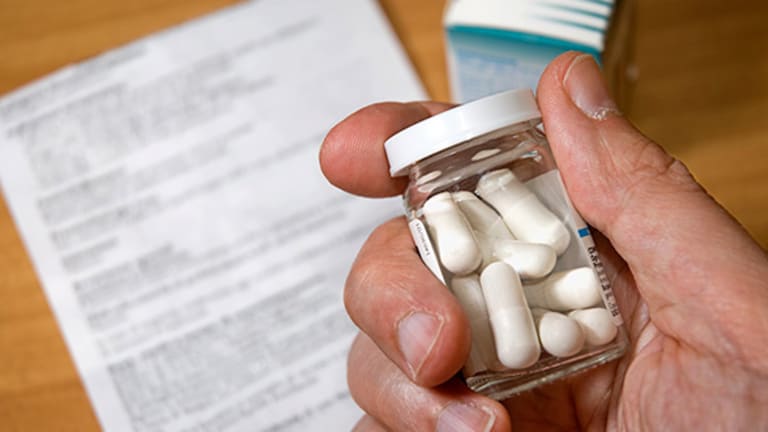 Publish date:
How Not to Go Broke Buying Prescription Drugs: Advice for Seniors
Here are three tips for controlling pharmacy expenses in Medicare Part D.
Here are three tips for controlling pharmacy expenses in Medicare Part D.
Editors' pick: Originally published July 15.
Ask Medicare beneficiaries if they have a grumble about the benefit and loud, angry voices quickly point to how much seniors pay out of pocket for medications - and many are paying out of a lean fixed income.
It could be worse. Medicare, in most cases, did not cover many drugs until the Medicare Modernization Act of 2003 which went into effect in 2006. That plan introduced so-called Medicare Part D, which gave seniors the option to buy coverage for at least some drugs, some of the time.
On average, seniors take six medications daily, according to a poll conducted by Consumer Reports. 25% take seven or more. And in most cases, the senior will have an out of pocket charge even when he is covered by Part D.
About 39 million Medicare recipients are enrolled in Part D or get similar coverage as part of a Medicare Advantage managed care plan. What do they get and for how much? Non-profit senior advocacy group AARP offers its members two Part D options. One is priced about $44 per month, and it has a $360 annual deductible, and so called Tier 1 medications (mainly generics) are a $1 co-pay.
The other plan is about $50 per month. No deductible. Tier 1 prescriptions are $4. And then the cash register rings louder. Tier 2 drugs are $13 co-pay. Tier 3 are $35 co-pay. Tier 4 (most name brand drugs) are 40% of cost, and Tier 5 (specialty drugs) are 33% of cost.
You want Crestor - a commonly prescribed cholesterol lowering pill? Expect to pay upwards of $25 per month.
Faslodex, commonly prescribed with breast cancer, costs around $1,900 per month; patient out of pocket, said Centers for Medicare and Medicaid Services, is on average $2,420 per year.
Zytiga, used in treating prostate cancer, will cost the patient about $3,011 per year.
Solvaldi, used to treat hepatitis C, costs the patient $5054 per year, said CMS.
Get the picture? Lots of common drugs - such as Lisinopril for high blood pressure and Simvastatin for cholesterol, both generics - cost $5 or less per month. But go for newer drugs - especially those for cancers, hepatitis, diabetes, and arthritis - and get your wallet out, because you will be paying despite having Medicare Part D drug coverage.
It gets worse. Once drug costs hit $3,310, the Medicare recipient enters what's called the doughnut hole where a new cost sharing formula kicks in. At that point you pay 45% of a discounted price for brand name drugs and 58% for generics. Once total spending hits $4850 you are out of the hole and back to normal coverage.
As drug costs steadily rise, more seniors find themselves in that confusing - and expensive - doughnut hole. Said George Garmer at Halethorpe Pharmacy in Baltimore: "We used to rarely have a Medicare D patient fall into the coverage gap. We have several now that have already fallen into the coverage gap and we are only halfway through the plan year."
Low-income, low-asset seniors may qualify for Medicare Savings Programs where the federal and state governments pitch in to help with the costs. More info is here.
Is the situation hopeless for higher income, higher net worth seniors? No. But know that - very probably - as you age in Medicare, your annual spending on drugs will continue to climb.
Adam Powell, president of Payer + Provider Syndicate, a consulting firm focused on health care, said there are three things a consumer can do to better control drug costs "and all involve change."
"Seniors can change their pharmacy, change their health plan, or change their drug," he said.
More specifically, "use generics wherever possible," advised insurance agent Colleen King in Northridge, Calif.
The most prescribed Part D drug in 2013 was opioid generic Vicodin (around $15, probably $5 to the patient). Oxycontin, a name brand opioid, will cost the patient an amount approaching $50.
Savvy patients print out pertinent parts of their insurer's drug formulary (where drugs are categorized into tiers) and they ask their doc, can we do a low cost Tier 1 drug? Usually the answer is yes.
As for changing pharmacies, every Part D plan designates one or several national pharmacies as preferred. Better prices are to be had there.
As for changing plans, know that Part D plans - and especially formularies - change continually. Emily Brandon, a senior editor at US News & World Reports and author of Pensionless, said that therefore you need to know this: "Medicare recipients can switch Medicare Part D plans once a year during the open enrollment period from October 15 to December 7. Even if you are happy with your current coverage, it's a good idea to consider shopping around for a new plan each year to see if another plan will cover your medications at a more affordable price."
Plug in the drugs you take, go with the cheapest carrier, and be ready to do it all over again next year.
Do all that and you are doing about all that you can do - and very probably, especially when you stick with generics, you will keep your personal drug expenses under control.
This article is commentary by an independent contributor. At the time of publication, the author held TK positions in the stocks mentioned.