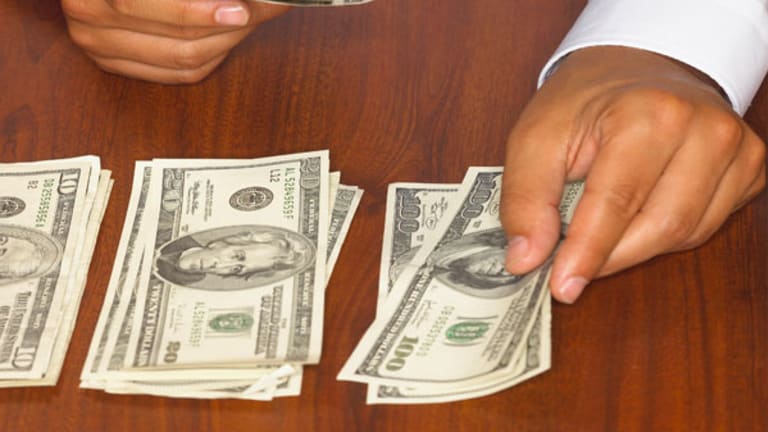 How Nitrogen Powers St. Patrick's Day Beer Business
Guinness used nitrogen to make its stout smoother, but even IPAs are nitro powered this St. Patrick's Day.
BOSTON (MainStreet) -- That smooth, creamy stout American beer drinkers are sipping this St. Patrick's Day may seem tame, but it's a nitro-powered brew that's driving brewers' creativity.
The not-so-secret ingredient that gives
Guinness
its cascading bubbles and thick creamy head and gives craft breweries fizzy ideas of their own is nitrogen, and it's getting a lot more common. First used by Guinness in the late 1950s and early 1960s to maintain its beer's wooden cask character when the industry started switching to aluminum and fabricated metal kegs, nitrogen helped Guinness sales in the U.S. bubble up by 3.9% in 2010 and is sneaking its way into beer styles that bear little resemblance to Guinness' stout.
The not-so-secret ingredient that gives Guinness its cascading bubbles and thick creamy head and gives craft breweries fizzy ideas of their own is nitrogen, and it's getting a lot more common.
"What we found as we started to develop pressurized systems was that you could start putting a little bit of nitrogen in and it would create this surge and settle process that became synonymous with the product," Guinness Master Brewer Fergal Murray says. "The use of the smaller nitrogen bubble which is inert and didn't change the flavor gave us the nice, more compact head on top of the pint that would last as long as the pint was in the glass."
It turns out nitrogen's effect translates just as well to red ales, lagers, cream ales and India Pale Ales. Joseph Tucker, executive director of beer ratings site
, compiled a list of the top "nitro" beers based on his site's ratings and had a pumpkin ale from Pennsylvania's
Selin's Grove Brewing
place third in a Top 10 dominated by stouts. Guinness came in at No. 11.
"Nitrogen is used in a variety of styles -- not just with dry stouts," Tucker says. "Some of the most successful nitro beers, in my opinion, are quite hoppy. A citrusy IPA or pale ale on nitro with the texture of an Orange Julius can be quite delicious."
So how does nitrogen work its magic? It all starts in the packaging process, when gas is added to beer to increase pressure and prevent it from feeling and tasting flat. In most cases, that gas is carbon dioxide, which keeps things nice and fizzy but has a tendency to make even light, low-alcohol beers feel heavy.
Brewer Jason Hunter has helped his Massachusetts-based
make nitro versions of its Coffeehouse Porter, Russian Imperial Stout, Shabadoo Black & Tan, Lost Sailor IPA and Holidale barleywine and found that the science behind carbonation makes most beers seem like more of a mouthful than their alcohol content would suggest.
"What happens when you drink a beer that has carbon dioxide in it is that when carbon dioxide warms up, it wants to break out of solution," Hunter says. When you drink that beer, you're warming it up and the gas is releasing in your stomach to give you a bloated feeling. Physically it feels like it's heavier, and when the carbon dioxide bubbles flow over your palate, if you look at them under a microscope they're jagged and scratching and irritating and give the perception of more heft to the beer."
When nitrogen enters the mix, however, a brewer ratchets down the amount of carbon dioxide to compensate. Will Myers, brewmaster at
in Cambridge, Mass., makes several stouts with nitrogen and has done so for more than 15 years. When making beers such as Cambridge Brewing's current I Am Nitrogen dry stout, he ferments the beer still and carbonates it with a mixture that's 70% nitrogen and 30% carbon dioxide.
When such beers are ready to pour, Berkshire Brewing's Hunter says a similarly blended "beer gas" is used to push it through the lines before sending it through a special tap first used by Guinness that features a restrictor plate with five to six holes poked through it and a narrow nozzle.
"The nitrogen bubbles are clinging onto the beer, but they're not activated," Guinness' Murray says. "You could apply an energy to activate them, so the energy applied from a keg point of view is the velocity and friction when you push a beer down a beer line, through a restrictor plate with five holes in it and forces the beer through that."
As a result, nitrogen bubbles are forced down the side of the glass through friction, only to bubble up again through the center. The surface tension at the top of the glass is stronger as a result, preventing the tiny bubbles from escaping or swelling up to fisheye size. With nowhere to go, the bubbles form an 18- to 20-millimeter head that can float two to three millimeters above the rim without spilling over and stays put for the life of the pint -- leaving rings of lacing down the side of the glass as it goes. The beer itself hasn't changed a bit, but the texture and aesthetics of it become the muse of pub poetry.
"You're dealing with the exact same beer and all the specifications of that beer are exactly the same, with the exception of the volume of dissolved carbon dioxide, which is much lower," Hunter says. "By virtue of that and the nitrogen gas that is in there that is rushed out of solution and comes through in the cascading effect, you're getting a beer with less carbonation in it so you're getting a creamier mouth feel and changing the way your palate perceives it texturally."
That said, both beer geeks and average drinkers have their doubts. Tucker says his reviewers' most common complaint about nitro beers is that nitrogen diminishes beer's aroma by trapping it under a layer of fine foam. That claim is unfounded, he says, because the nitrogen bubbles in the head are still very active. Tucker notes that nitrogen can be great for adding a creamy texture to chocolate- and coffee-infused beers such as Dieu du Ciel's Aphrodisiac and Peche Mortel, but he and Berkshire Brewing's Hunter acknowledge that nitrogen can make citrusy beers less acidic. For the IPA-averse, that's not such a bad thing.
"We've actually experimented and run all our beers through nitro and found that some we thought would be great were horrible and some we thought would be horrible turned out to be gems," Hunter says. "With the IPA, people flocked to it because the nitrogenation process and the dispensing process releases a lot of the aromatics and strips some of the perceived bitterness, so it has a different effect and comes out seeming like a different beer."
Even the subtle changes nitrogen produces in a beer have made more brewers consider using it. Hunter and Berkshire brewing are building a tank specifically for nitro beers that will increase the possibility of doing other styles and speed up the nitro process. Longmont, Colo.-based
Left Hand Brewing
recently released a nitrogen version of its flagship Milk Stout and eliminated the need for clunky nitrogen widgets that rattled around in previous bottled incarnations of nitrogen beers.
As is often the case with nitro beers, Left Hand took its cue from Guinness, which eliminated nitrogen widgets from its bottles a few years back but continues to make nitrogen a core part of its packaged goods business. While Guinness doesn't exactly give out the secrets of its nitrogen-adding process to craft competitors, its master brewer seems acutely aware of why other breweries want to have their beers nitro-powered for St. Patrick's Day and whenever else their local bar can spare a nitro tap.
"It's the greatest beer innovation of all time," Guinness' Murray says. "It transformed the brand Guinness and made us the lighthouse beer that you have to craft behind the bar."
-- Written by Jason Notte in Boston.
>To contact the writer of this article, click here:
Jason Notte
.
>To follow the writer on Twitter, go to
.
>To submit a news tip, send an email to:
.
RELATED STORIES:
>>Brewers Invest In Perfect St. Patrick's Day Pints
>>Sierra Nevada Makes East Coast Beer Run
>>Beers That Need A St. Patrick's Day Boost
Follow TheStreet.com on
and become a fan on
Jason Notte is a reporter for TheStreet. His writing has appeared in The New York Times, The Huffington Post, Esquire.com, Time Out New York, the Boston Herald, the Boston Phoenix, the Metro newspaper and the Colorado Springs Independent. He previously served as the political and global affairs editor for Metro U.S., layout editor for Boston Now, assistant news editor for the Herald News of West Paterson, N.J., editor of Go Out! Magazine in Hoboken, N.J., and copy editor and lifestyle editor at the Jersey Journal in Jersey City, N.J.