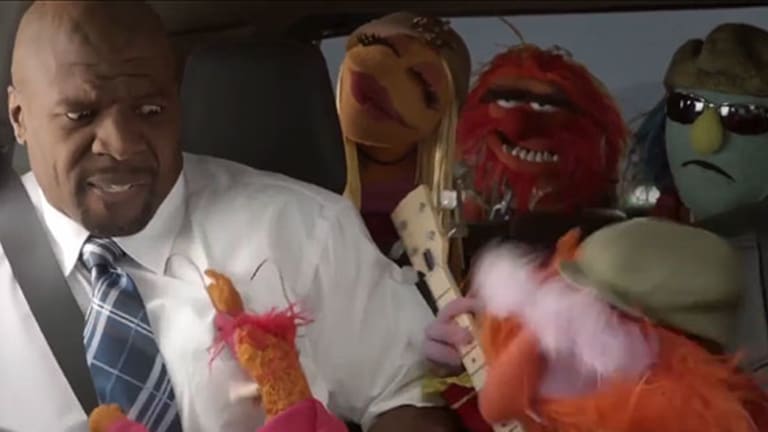 How NFL Sponsors Get Ambushed at the Super Bowl
The NFL isn't big on granting exclusive access to Super Bowl ads, so many of its sponsors end up facing their toughest competitors during the big game.
The Super Bowl makes sponsors who've spent millions for exclusive NFL rights realize that there are no guarantees in this world.
Official sponsors get to put National Football League team logos all over its products, get to tout Super Bowl 51 (and actually use the words "Super Bowl" when doing so) and get access to huge television audiences all year long. It's why the league has an official soup sponsor (Campbell's), a coupon sponsor (News America), a hotel sponsor (Courtyard Marriott), a delivery sponsor (FedEx) and a compute network sponsor. However, it doesn't forbid other companies from buying ad time with 2017 Super Bowl broadcaster Fox, which leaves those official sponsors open for an ambush.
Why? Beacause the NFL doesn't turn down Super Bowl commercial money. According to Kantar Media, the Super Bowl generated $2.59 billion in ad sales between 2006 and 2016. Total ad spending during climbed from $162.5 million to an estimated $369.6 million last year. The cost for a 30-second ad also skyrocketed from $2.5 million to roughly $5 million this year.
Exclusivity comes at a steep price. Anheuser-Busch InBev paid the NFL $1.2 billion in 2011 to wrest the league's official beer sponsorship away from Molson Coors and just paid $1.4 billion to extend that sponsorship through 2022. It also spent nearly $300 million during the last decade to not only air ads for Budweiser and other brands during the Super Bowl, but to buy exclusivity deals from Fox, CBS, NBC and ABC that prevent all other beer companies from buying big-game airtime. It's had a stranglehold on Super Bowl beer ads since 1988 and shows no signs of letting go.
That's how the NFL can increase Super Bowl ad time without actually increasing the number of advertisers. While the amount of Super Bowl commercial time, including NFL and network ads, has increased from 44 minutes and 15 seconds in 2006 to 49 minutes and 35 seconds last year, the number of commercials aired has fallen from 92 to 62 during that same period. With commercials of a minute or more making up 27% of all ad purchases last year, there's far too much cash on the table for a company to risk losing its Super Bowl advantage.
With commercial prices expected to hit $5 million per 30-second ad this year, Fox is counting on a few spoilers ruining NFL sponsors' big day. In fact, here are a few Super Bowl sponsors who'll face some heavy-hitting competitors on Super Bowl Sunday:
Hyundai/Kia
Hyundai Motor America is paying $50 million a year for a four-year sponsorship deal signed in 2015 and knows all too well that the automotive category is Super Bowl Sunday's most competitive. Hyundai's deal came at the expense of General Motors, which spent $86.8 million on Super Bowl ads alone during its time as the league's last auto sponsor. GM ambushed Hyundai last year with a Buick ad -- and will do so again this year -- but other brands are taking on the NFL's auto sponsor as well in 2017.
Lexus, Mercedes-Benz and Audi all play in a luxury sector about a tier above everything on in Hyundai and Kia's lineup that isn't the Genesis, but they're still presenting options other than what the Korean automaker is offering. It also doesn't help that Honda will be touting its redesigned CR-V crossover that continues to put the hurt on Hyundai's Tuscon and Kia's Sportage.
That said, Hyundai/Kia's plan appears to be working. Hyundai saw U.S. sales increase 1.7% last year and has seen its crossover SUV sales rise by a whopping 21.6% from 2015. Kia, meanwhile, saw U.S. sales jump 3.5% in 2016 as its own light-truck sales increased 16%. Currently, Hyundai and Kia's combined 7% share of the U.S. market puts it two to two and a half percentage points behind Nissan and Honda, but nearly doubles the share held by faltering Volkswagen and its Audi luxury brand.
Pepsi
Not only is Pepsi the NFL's soda sponsor, but its Gatorade brand is the league's "isotonic beverage" sponsor. Also, PepsiCo's Frito-Lay division is the league's salty snack purveyor of choice.
In the last decade, PepsiCo has dumped more than $170 million into Super Bowl ads. That hasn't stopped the NFL and its broadcast partners from welcoming Pepsi's biggest rival, Coca-Cola, into the fold whenever possible. For each Britney Spears or Janelle Monae appearance, Coke has a "Mean" Joe Greene or polar bear Super Bowl ad.
In fact, Coca-Cola's has spent more nearly $120 million during the last five years to maintain its status as a Super Bowl regular. But it isn't Pepsi's only threat, as even upstart beverage maker Bai Brands is stepping up, bringing in Justin Timberlake to promote its products and counter the Pepsi Zero Sugar halftime show with Lady Gaga.
Even Pepsi's Frito-Lay is under siege. When PepsiCo did away with the Doritos "Crash The Super Bowl" make-your-own-commercial competition, it withdrew its chips from competition with Super Bowl ad buyer Avocados from Mexico. Now just about any tortilla chip will do, and Frito-Lay faces a whole lot of congestion in that corner of the snack food market.
Mars Snackfood
Talking, anthropomorphized M&M's and Brady Bunch characters who transform into Steve Buscemi when they haven't had a Snickers are as much a part of the Super Bowl landscape as sentimental Clydesdales. It makes Mars and its Snickers and Skittles brands huge targets.
Nestle has been providing competition for the last two years, but laid off of Mars last year to take aim at taking on Hershey's Reese's Peanut Butter Cups line. This year, it seems they're going back to the Butterfinger bar and taking direct aim at the Snickers market share.
Procter & Gamble
Procter & Gamble was so affronted by its Crest toothpaste brand having to share space with Colgate-Palmolive last year that it sprung for ads for both Febreze and Mr. Clean this year.
Yet for the second year in a row, Procter & Gamble's Tide, Ariel and Gain detergents have to suffer Henkel's Persil ProClean stealing their spotlight during the big game. Between this and the NFL giving P&G's Old Spice the brush off for Axe last year, P&G may be wondering if the NFL or its broadcast partners like them all that much.
Microsoft
True, Microsoft isn't airing an ad and has no direct competition to its XBox One, Surface tablets or Windows operating system, but it does produce games and doesn't need casual mobile games continuing to chip away at its business.
There aren't any commercials featuring Arnold Schwarzenegger or Kate Upton pitching game apps, but the relatively low-profile Top Games USA has sneaked in with a celebrity-laden ad for an unnamed strategy game. While Microsoft can write this off and say that it just give people a reason to use its Motorola products and Windows phones, the relatively small minority of U.S. consumers using those phones instead of the Apple iPhone or Google Android phones suggests that this stings a bit.