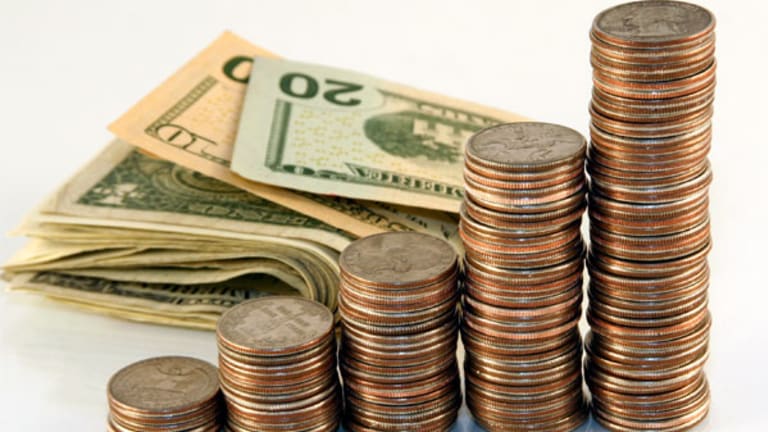 How Much Should Your Bathroom Remodel Cost?
Bathrooms are the No. 2 remodeling project in the U.S., with some spending up to $18,600 on the job.
NEW YORK (
) -- Do you ever wonder what it would cost to create a bathroom you look forward to seeing in the morning?
Nationwide, the average cost of a bathroom remodel or addition, according to Houzz.com survey data from over the past five years, is $11,300. The majority of home purchases in the U.S. are for existing homes, and bathroom renovation is high on the list of projects for new homebuyers and existing homeowners alike.
While bathrooms are a focus, homeowners in the nine major regions of the U.S. are investing at different levels to get the upgrades they want and can afford. Homeowners in the Pacific region are spending the most -- $14,200. Close behind are Mid-Atlantic and New England residents at $13,800 and $13,200 respectively. Homeowner spend on bathroom remodeling in the South Atlantic region, at $10,700, falls short of the national average. Those surveyed in the Mountain region spent an average $8,400, the lowest of all.
The study found even higher budgets for bathroom upgrades in many metropolitan areas. Orange County, Calif., homeowners invested an average of $17,100, even higher than New Yorkers' $16,000 but not as high as San Franciscans' $18,600 for new bathroom plumbing fixtures, vanities, stone, tile and lighting. Renovated kitchens cost significantly less for homeowners in Oklahoma City, Okla., and Dallas, who paid an average of $6,100 and $9,100 to renovate in their respective cities.
How popular are bathroom remodels?
Bathrooms are the second-most popular remodeling project among U.S. homeowners surveyed, behind
. Thirty-seven percent of Houzz homeowners surveyed remodeled their kitchen in the past five years, and another 48% are planning to remodel their kitchen in the next two years. Interestingly,
are the No. 1 project among homeowners in Los Angeles and Miami, where kitchens falling to second position. Houzz also calculates which remodeling projects are most popular among a community of 10 million monthly users by looking at the number and type of images homeowners are saving to their ideabooks. These data also show that bathrooms have the second-largest volume of images saved, just 14% less than kitchen images.
Who's doing the work?
A full three-quarters of all homeowners who renovated a bathroom in the past five years hired a professional to do some or all of the work. From plumbing to electrical to constructing a new footprint, bathroom remodels are significant investments that typically require the help of a licensed professional. Fifty-seven percent of homeowners on Houzz are planning to hire a general contractor; about a third plan to hire a bathroom designer; and another third will be working with an
.
Many homeowners like to leave all the work on a bathroom to a professional, with 41% reporting that they hired a professional to take on every aspect of their bathroom project. East Coast and California homeowners reported the highest rates of outsourcing kitchen renovations in their entirety to a professional: 51% in Boston, 53% in Los Angeles, 54% in San Francisco, 55% in Washington, D.C., and 60% in New York. Meanwhile, Mountain and Midwestern homeowners are more likely to do at least some of the work themselves, as are Seattle and Detroit homeowners.
What do Americans want in a bathroom?
Popular bathroom details saved to ideabooks create a spa-like feel. Freestanding and architectural deep soaking tubs are a favorite indulgence, as are luxurious plumbing fixtures for the bathtub and shower. Coveted color schemes in remodeled bathrooms are neutral in modern and traditional spaces alike, from a palette of browns, to shades of gray, to white on white. People are mixing tiles and creating a focal point with unusual tiles in contrasting colors, tiles with sparkle, and in a different shape or scale than the primary tile choice.
Many homeowners are also opting to build for their specific lifestyle, from incorporating a television, to using only green products, to applying a
that will enable them to more easily age in place.
-- By Liza Hausman, v.p. marketing at Houzz
Follow Liza on Twitter
Liza Hausman leads Houzz's market research initiatives. She has experience spanning advertising, consulting, marketing and social strategy for Fortune 500 brands from Clorox and AT&T to a host of innovative startups. Hausman earned her MBA from the Kellogg Graduate School of Management, co-founding her first Internet startup, a home improvement e-tailer, in 1998. Over the last seven years she's worked with designers, architects and contractors to remodel and decorate nearly every inch of her home in Palo Alto, CA.
Houzz is an online platform for home remodeling and design. From decorating a room to building a custom home, Houzz connects millions of homeowners, home design enthusiasts and home improvement professionals. Houzz has the largest residential design database in the world and a community powered by social media tools.
Follow
Houzz on Twitter and on the
Houzz Facebook page.