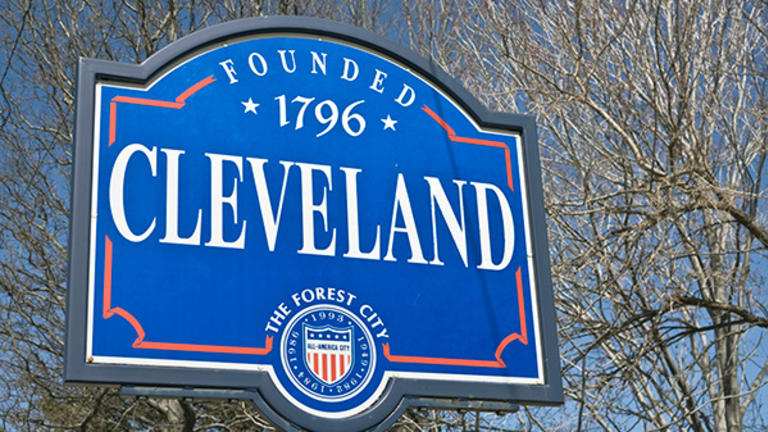 How Much Income Do You Need for a Home? It's Easiest in Cleveland
There are two ways to look at what income homebuyers need, simple and hard. But either way, Cleveland is cheapest out of 27 metro areas.
NEW YORK (TheStreet) -- With the spring home-buying season in full swing, prospective buyers are sure to ask: "How much to I have to earn to buy a decent home?"
There are two ways to look at that: simple and hard. The simple answer is mainly math, covering such things as mortgage interest rate, size of down payment and cost of the home. The harder look adds issues including how secure your job is, how many kids you will put through college and how you are doing on retirement saving.
"Overall, buying a home remained very favorable during the first quarter of 2014," says HSH.com, the mortgage and housing data firm. "In some markets, home prices have declined in recent months, though that saving is offset by a slight rise in mortgage rates."
"It was nearly a 50-50 split between the areas which saw the required salary increase or decrease from the fourth quarter of 2013 to the first quarter of 2014."
Also see: Homeownership Not Always the Path to Prosperity It's Said to Be>>
HSH figured the median income needed to buy the median-priced home in 27 major cities, assuming a 20% down payment and no more than 28% of income to be spent on the monthly payment. Property taxes and homeowner's insurance costs were part of the mix. These factors conform to those used by most lenders, though some will accept lower down payments.
The cheapest place to buy? Cleveland, where the median home costs only $102,100, down nearly 9.5% from the fourth quarter of 2013. To buy that home would take an annual income of $29,789.
Also at the low end, requiring income of less than $35,000, were Pittsburgh, St. Louis, Cincinnati, Detroit and Atlanta.
The most expensive, as in the past, was San Francisco, where the median home price, a whopping $679,800, was almost $200,000 higher than the second highest, San Diego. That median San Francisco home would take an income of $137,130. Other high-cost cities, all requiring more than $75,000 in income, were New York, Los Angeles, Boston and Washington.
Also see: Finally, Homeowners Are Ready to Sell>>
Generally, these are the minimum incomes a lender would require for the loan needed to buy a home of that value. A buyer with exactly the minimum income required would be getting the largest loan for which he or she would qualify. You can find your own limit with the Maximum Mortgage Calculator.
But, as mentioned above, borrowing the maximum is not necessarily a good idea. The HSH list of 27 cities has 16 in which the median home price dropped during the first quarter of this year.  That doesn't mean the value of every home dropped, but it does show that the housing rebound has slowed from last year. If buying a home involves some risk of loss, it may be unwise to borrow every cent you can get.
Money put into a home is, of course, not available for other things, such as saving for college or retirement. So it makes sense to minimize the monthly mortgage payment in order to fund those other needs.
Finally, a borrower should plan for the worst. If you have a two-income household, would you be able to make payments if one of you got a pink slip? Anyone with an undependable income should stop short of getting that maximum mortgage.