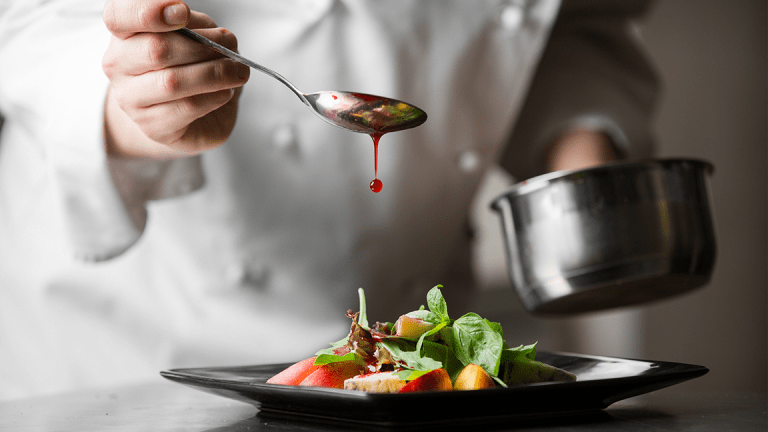 How Much Does a Personal Chef Cost?
Personal chefs are becoming an increasingly popular alternative for people who want home cooking but are short on time. Are they worth it?
We're all looking for freshly made, wholesome meals that cater toward our individual needs, but in the middle of our busy lives, this time can slip away from us as stacks of takeout and pre-packaged prepared foods pile our trash bins.
An increasingly popular answer to this dilemma has been hiring a personal chef. To be clear, we aren't talking about private chefs who work with a single client and will typically set you back around $60,000 a year for their full-time services (not including the cost of ingredients).
A personal chef is a more accessible alternative who still prepares meals catering to a client's needs, but works with multiple people. A personal chef sometimes is balancing personal work with restaurant work, and may cook food for a client on a weekly or monthly basis, leaving an assortment of meals that are either meant to be eaten the same day or refrigerated and reheated for the days between their next appointment.
How Much Does a Personal Chef Cost?
On average, a personal chef will cost you between $100-$400 for meal preparation for every 12 servings of food. Groceries aren't included in this and can run anywhere between $45-$150 depending on where you live and what's cooking.
The higher end of this price range comes up more in dense urban centers like New York, San Francisco, and Chicago where a large pool of highly-experienced and acclaimed chefs offer their services. While not all of the chefs you find in big cities are like this, you're still bound to find cheaper prices away from these metro areas, partly because of the lower volume of high-profile chefs, but also because factors like cheaper groceries, cost of living, and other factors bring down overall prices.
Most personal chefs charge a flat fee based on the number of servings and the type of meal they're making, but a few charge on an hourly basis or have separate policies like an additional fee per person.
What Factors Determine the Cost of a Personal Chef?
Servings
This one's a little flexible depending on what type of pricing you're working with, but the general logic is, more food equals more money. Some personal chefs adhere strictly to this rule, charging on a per-serving basis, while others price based on time and resources. While not always the case, more servings usually means more ingredients, more equipment, more time the chef needs to finish work and with that, more money for the job.
Location
This touches on prices in more ways than one. Given that all personal chefs are going to factor in grocery costs, it makes sense that you'll find cheaper rates from a chef in the middle of Indiana than one working in the heart of Manhattan. One way of getting around this might be to ask for ingredients from lower-cost grocery stores like Trader Joe's or Aldi. What you can't get around is the cost of living in a geographic area.
Experience
An experienced chef who has developed a distinguished resume will expect a larger paycheck than someone just breaking into the industry. How much you'd have to pay for this depends on how important a proven history of customer satisfaction is to you. You can always shop around among newer personal chefs until you find one that clicks.
Work Space
A chef needs a space to work. If you don't have a kitchen that'll work for the job, then personal chefs will have to use their commercial space, typically lumping an extra $25-$50 to the end cost.
Delivery
If a personal chef has to work from their own commercial kitchen, this also means that they'll have to transport the food over from their place to yours. This can mean an extra delivery fee of around $25-$40 a month.
Diet
Certain diets tend to be more expensive than others. The ingredients behind gluten-free, vegan, organic, or locally-sourced meals, for example, are usually going to cost a little more than the average hamburger. Along with that, having to plan around the different dietary restrictions and allergies among a group of people will mean more time for the chef, possibly adding to the final bill.
Storage
Personal chefs will store most of the food they make into containers for future use. Occasionally, you'll have to pay a bit extra if the chefs are providing their own storage containers for the job.
Frequency
Personal chefs tend to work on a monthly, weekly, or bi-weekly schedule. The more frequently you ask the chef to come in, the more time it's going to take out of the chef's schedule, the more it's going to cost you. Having monthly dates set up will cost you a lot less than visits once or twice a week. But, more visits also mean fresher meals.
What's Included in the Price of a Personal Chef?
Meal Planning
One of the best parts of having a personal chef is that it's exactly that, personal. Whatever you or your family's specific needs are, whether it's allergies, dietary restrictions, or just specific tastes, you'll get the chance to sit down and discuss what exactly you're looking for and the chef will carry it out to the letter. It's definitely more convenient than hoping that a restaurant will have a vegan, nut-free option on the menu.
Grocery Shopping
Instead of stressing about what you should or shouldn't buy, second-guessing whether or not you'll actually use that red bell pepper before it rots, a personal chef will know exactly what to look for and exactly what to do with it. You save yourself from both the anxiety of figuring out what to buy and the hassle of going out to buy it. The chef will go do all the shopping for you based on whatever dietary parameters were agreed on and sometimes, if you want, pick up a few extra items on your regular shopping list.
Food Preparation
The meat of the job is when the chef, either coming to your home or using a commercial kitchen, takes the ingredients and spends somewhere between 2-5 hours on average getting your meals ready (if it's your home, some will bring their own equipment, others will use yours). The time it'll take will vary depending on the number of meals, their complexity, and the chef's style. And don't worry about staying out of the house while the work's being done. Personal chefs are ready for and often enjoy having their clients come in and chat as they finish up their meals.
Storage
Once the food is done, the chef will store all the meals (except anything meant to be eaten that day) and place it in glass or plastic ware before storing it in the fridge. Once they've done that, you'll be free to take it out anytime and reheat it according to the detailed instructions left behind.
Cleaning
Another perk of having a personal chef working from your kitchen is that they'll save you from the frustrations of cleaning up after all the work of cooking. Once they're done storing your meals, they'll get to work washing any equipment they used, wiping down messes, and generally making sure your kitchen looks like they were never there. Other than all the delicious food, of course.
It's never too late - or too early - to plan and invest for the retirement you deserve. Get more information and a free trial subscription toTheStreet's Retirement Dailyto learn more about saving for and living in retirement. Got questions about money, retirement and/or investments? We've got answers