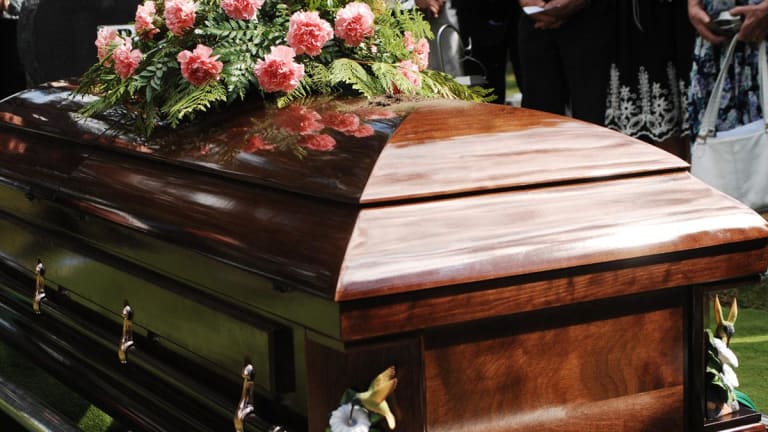 How Much Does a Funeral Cost?
Funerals can cost up to $10,000, so it's best to plan ahead, even if you prefer not to touch such a taboo subject.
Learning how much a funeral costs and then budgeting the money to cover that cost usually isn't high on the list of a household's financial checklist.
After all, funerals mean death and who wants to discuss a subject which is and has been largely taboo among polite society for centuries?
But turning your back on saving for funeral costs can make a tough situation that much worse, at least from a financial point of view.
The upside is that once a funeral is budgeted and paid for, at least one big problem goes away in the event of a loved one's death - the cost of giving him or her a proper burial and a dignified sendoff, with plenty of family and friends on hand.
And there's definitely something to be said for that.
How Much Does a Funeral Cost?
The average funeral today costs between $7,000 and $15,000, depending on whose industry figures you use and the amount of money a family designates for a funeral.
For example, the National Funeral Directors Association pegs the average cost of a funeral at $8,500, but that figure doesn't include the cost of a burial plot, flowers or transportation for the family and the deceased to the funeral and to the burial site, if applicable. Those costs, of course, would inflate that $8,500 by at least several thousand dollars.
While you can go lower and spend even more on a funeral, expect the cost of a decent (but not lavish) funeral to clock in at about $9,000 in 2019 - that's the number most often cited by life insurance companies and funeral parlors this year.
As with any commodity, a funeral's cost varies depending on the services provided.
For example, a $9,000 funeral, with burial, falls to $6,000 if the family foregoes the burial and opts for cremation instead.
Presuming the family decides not to purchase a marker, monument or another form of honor that needs to be embedded into the ground, the family can save several thousands of dollars by opting for a cremation ceremony over a burial ceremony.
Breaking Down the Costs of a Funeral
That's not the only way you can save on funeral costs, which is usually the outcome when you actually break down the various costs involved in a funeral service. Let's do that right here.
The Cost of the Funeral Home
Funeral homes will usually start with a basic "platform" cost of around $2,500.
This charge is for services that the family can't decline, like the fee for the death certificate and handling the funeral arrangements. While this is the starting point for any funeral service, start checking around various funeral homes for their funeral service entry point costs, and compare those costs accordingly.
Cremation Costs
If you do decide to opt for a cremation service over a traditional burial service, expect the bottom-level costs to start at about $1,000 - that's for a no-frills service.
With higher-end services, which include funeral home fees for handling the cremation, clearing the paperwork and providing the urn, the costs for cremation can rise significantly - as high as $8,000 for the highest-level cremation service.
Embalming Costs
While embalming isn't mandatory with most funerals, a family likely wants the deceased to look his or her best for the service, and will likely spend the $1,000 or so needed. Families can turn to funeral home refrigeration services for the deceased, which can work as well as embalming and usually costs several hundred dollars less.
Floral Arrangements
A good floral display adds more dignity and respect to the deceased in an otherwise somber event. While friends, family and co-workers may well pay for their own flowers for the funeral, which does cut down on the overall cost of the funeral, the family may want to have flowers of their own to honor the deceased.
A decent arrangement shouldn't cost more than $700, or less, if the funeral home offers a floral arrangement as part of a package deal, which should cut flower costs by 10% to 15%, if not more.
(Note that wreaths that cover the casket usually aren't considered a floral arrangement, and will add to the cost - likely by about $500) Save money by using the same florist, who will again offer a flower and wreath package deal at a lower cost.)
The Burial Plot
While not technically a cost directly linked to a funeral, if the deceased isn't going to be cremated, then the cost of a burial plot will need to be covered, too.
In that sense, the cost of a funeral rises significantly, even if a burial is a separate cost.
Depending on the state or city where you reside, a good, scenic burial plot can cost up to $4,000 - or more if the deceased is buried in a high-cost region like San Francisco or New York City, where burial land is scarce, and where the price is generally high across the board to live in the area.
Note the above price doesn't include the labor needed to dig a burial plot and cover it after the service is over. That adds, on average, another $1,000 to the cost of a funeral.
The Headstone
A good, solid (and engraved) headstone costs up to $5,000, again depending on the quality of the handiwork and the size of the headstone. You can pay several thousand dollars less but the quality and size of the headstone will likely be diminished.
You may instead opt for a grave marker (which lies flat on the ground) and costs about $1,000. Markers and headstones may be purchased directly from the cemetery or from a local stonemason who handcrafts them, and you may even save money on the deal.
The Casket 
Lastly, the casket is one of the more expensive items a family or an individual must cover for a funeral and burial service. Depending on whether or not the casket is made of wood (which is less expensive) or metal (which costs more), a casket can cost between $1,500 and $5,000.
Like any item in a funeral service, the higher the quality the more the cost of the casket. With high-end caskets, the costs can easily soar to $15,000 or more.
Tips to Cut Costs on a Funeral
There are several efficient ways to curb the cost of a funeral, without sacrificing the quality service a family wants for their loved one.
Check With the U.S. Veteran's Administration on the Costs of the Burial
The VA offers families a reimbursement for the cost of not only a veteran's burial (plus the cost of the body transport to the burial site), but also for the veteran's spouse and children.
The remains must be interred in a VA-approved cemetery, but the cost savings can be significant. Note that this program does not cover the cost of the funeral - only the burial.
Don't Buy Caskets From the Funeral Home
It may be easier to have the funeral home handle the casket, too, but you don't have to do so.
In all likelihood, the funeral home will try to upsell you on a premium-cost casket, but you can get a quality model casket from a non-funeral home provider. Even the big box retailers will sell you a casket and deliver it for a price that's generally much lower than what you'd pay to buy one from a funeral home.
Shop Around
Yes, it's difficult at such an emotional time to view the costs of a funeral as another commodity where value is prioritized, but that's still the case.
Consequently, when you're in the need for quality funeral home services, dig deep emotionally and shop around.
Friends and family will be more than happy in your family's time of need to recommend a good funeral home, and funeral homes (like any business) will be glad to provide a price estimate and will try to beat a competitor on costs.
Be Aware of FTC Rules on Funeral Home Costs
 The U.S. Federal Trade Commission has some strict rules that limit what a funeral home can say or do to potential consumers - it's a good idea to get to know them.
For instance, a funeral home cannot pressure you to buy services or items (like embalming) that you don't need or want.
The same goes for caskets or cremation urns - you don't have to buy them directly from the funeral home and they're obliged by Uncle Sam to use the caskets and urns you have purchased outside the funeral home of choice. No questions asked.
Get Funeral Insurance
Having a good funeral insurance plan can significantly cut the cost of a funeral service.
Also known as "final expense" insurance, or "burial policies", funeral insurance can save the day in the event of an untimely passing.
You can purchase funeral insurance for up to $10,000 in most cases, and pay less than $50 a month in premiums, depending on the policy terms linked to the insurance.
Your Best Bet With Funeral Costs
It's not fun to tackle the issue of funeral costs, but if you act ahead of the issue, and prepay for some of the more needed elements, like a burial plot, headstone, or casket, you can significantly defray the total cost of a funeral (and burial) service.
Having the extra time to shop around and get the best value on a funeral will get you a better deal financially, and on your unique terms.
That will leave your loved ones less to worry about - and less to pay for when time is of the essence.
Introducing TheStreet Courses:Financial titans Jim Cramer and Robert Powell are bringing their market savvy and investing strategies to you. Learn how to create tax-efficient income, avoid mistakes, reduce risk and more. With our courses, you will have the tools and knowledge needed to achieve your financial goals. Learn more about TheStreet Courses on investing and personal finance here.