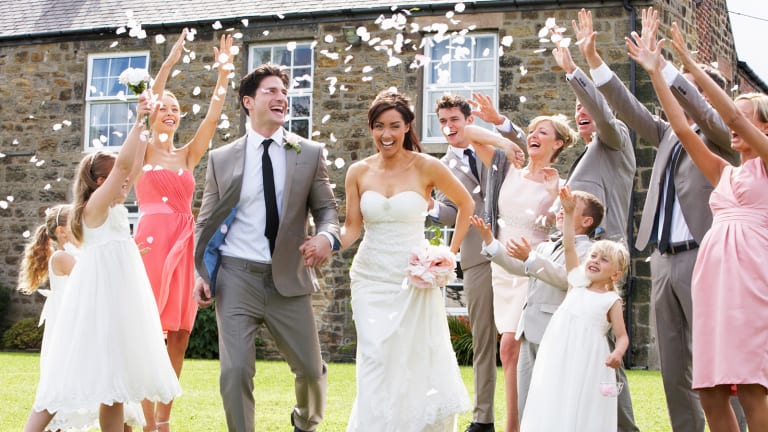 How Much Do Wedding Invitations Cost?
Wedding invitations don't come cheap, but with a little knowledge, you can shave a few bucks off the cost, without sacrificing quality.
How much do wedding invitations cost?
It really depends on a variety of factors, including quantity, quality, and any special nuptial themes or designs that can alter the cost of a wedding invitation.
By and large, however, expect to pay between $300 and $600 for good, quality wedding invitations. While that's a fairly broad range, dollar-wise, it only makes sense to set a target price you want to pay for wedding invitations and work within the parameters of that budget, whether that means paying $300 or $600 - or more - for your wedding invitations.
It also may help to understand wedding invitation costs on a per-guest basis. At $600 for a wedding with 100 guests, for example, you're paying $6 per guest for wedding invitations.
When you think about it, $600 or so isn't a huge chunk of the wedding budget, which on average, is in the $33,000 range, according to The Knot. But as the adage goes, you get what you pay for, and that's certainly the case with wedding invitations.
Wedding Invitation Cost Factors
To get a real world view of how to budget and pay for wedding invitations, let's break down those cost factors so you'll have a better grip on the process going forward.
Start with also breaking down the individual costs that go into the wedding invitation, so you also know where your budget money is going. For the purposes of this example, let's assume you're hosting a wedding with 125 guests.
Wedding invitations and RSVP cards - $200
Save the date mailings - $75
Thank you cards after the wedding - $100
That puts you wedding invitation costs in the $400 range or just over $4 per guest, and that doesn't account for other wedding day "printables" like ceremony programs, table names and reception menus, which can add another several hundred dollars to your wedding costs.
That's why it's so important to account for cost factors, which will wind up influencing the total costs of your wedding invitations. These factors should be your primary focus:
Paper Quality

Any bride and groom will want their invitations to go out on quality paper. After all, your wedding invitation has your name on it. The upper echelon of wedding paper includes several options:
 Cotton Fiber - Among the priciest paper options for wedding invitations is cotton fiber. It offers a bride and groom an upscale, elegant style, but you'll pay more for the high quality - about $7 or more per envelope for the real deal.
 Recycled Paper - If you're into a green wedding, as more and more couples are these days, recycled paper is a popular option these days. Crafting a wedding invite from renewable paper gives your wedding an environmentally friendly vibe and you'll about 30% less than you would for cotton fiber paper.
 Vellum - Vellum paper is of high quality, too, and it comes from calfskin, which could be a turnoff for meatless aficionados. Fortunately, there is a vegetarian option for vellum for a few dollars more.
 Glassine Style - Glassine is a popular option for wedding invitation envelopes, and is reasonably priced. You can get 100 glassine envelopes for about $30 on Amazon, thus saving you a few bucks on your wedding invitation budget.
 Parchment Paper - For a classic and old-school wedding invitation, put it on parchment paper. You can even shape parchment into a scroll and wrap a red ribbon around it. Expect to pay $120 or so for 60 parchment wedding invitations.
Matte (Glossy) Paper - Matte is the most popular choice for wedding invitations. It's efficient, looks good to the eye, and is at the lower end of the price scale, at between $2 and $5 per envelope.
When you're factoring in printing costs, account for the printing process and any inserts, like maps to the ceremony and wax seals, as well.
Wedding Invitation Designer Costs

On the printing front, you'll pay about twice as much for engraved wedding invitations as opposed to non-engraved invites.
Also, be prepared to pay for a minimum amount of wedding invitations, especially if you're hiring a designer. Chances are, they won't take the job if you're having a smaller ceremony with 10 or 20 people. If they do take a small wedding gig, a designer may charge you a special premium for the trouble of designing a high-quality wedding invitation for a wedding with minimal guests.
Overall, wedding designers who'll actually create your invite and steer it through the printing process may charge an entire process cost of, say, $750 for a wedding with 100 guests. They may also opt to charge by the hour (expect to pay $40 or $50 per hour for a quality wedding invitation designer), or charge per guest at a rate around $6-to-$8 to do the job for you.
Make sure you know going in how a designer wants to be paid and understand how that fee adds to your overall wedding invitation costs.
Adding RSVP Cards and "Save-the-Dates"

A bride and groom who want to add RSVP cards to a wedding invitation can do so for a reasonable cost, but again, it does add to your overall wedding invitation costs.
If you're looking to add an RSVP card to your invites expect to pay an additional $100 or so for 100 wedding invitations.
For "save-the-date" cards, expect to pay a similar amount, and add an extra $50 or so on stamps, as save-the-date cards are sent separately from actual wedding invitations.
Printing Costs

You'll want to factor in the costs of printing your wedding invitations, which usually come in the following varieties:
Digital Printing - Printing your wedding invitations digitally, even if you pay a specialist to do the job (you can also easily handle a digital print job yourself) is actually quite affordable. For 100 wedding invitations, for example, expect to pay about $300 to print your invites digitally. You do, however, lose some quality in the "look and feel" department with digital printing, so you might want to upgrade the quality of paper to compensate.
Engraved Printing - At the high end of the wedding invitation printing process, engraved printing places the invitation template between an ink plate and an engraved metal plate, boosting the actual text higher on the paper. It's a great look, but will likely cost more than double the amount you'd pay for traditional paper invitation printing. One lower-cost option to engraved invitation printing is to use thermography, which applies heat with an ink and powder combination which looks like an engraved print, but isn't. Even so, the thermographic look creates an engraved vibe at a 30% or so discount over engraved printing.
Tips on Saving Money With Your Wedding Invitations

There is no shortage of ways to save money on wedding invitations, while still creating a quality invite. These tips can pave the way:
Do It Yourself 

Forget the expensive designer and the pricey printer and design and produce your wedding invitations on your own, or with the help of friends and family. Check out web sites like Papersource.com, Etsy.com or even YouTube and get some valuable - and cost-effective tips on handling your own wedding invitations, and save hundreds of dollars in the process.
Purchase Lower-Cost Cardstock

Buying less expensive cardstock at a discount outlet or online can save $200 or so on paper costs. Or, opt for a balanced approach and have a professional handle the actual wedding invitation using higher-quality paper and then use your own cardstock on items like RSVPs.
Opt For Thermography

We've already noted the cost advantages of using thermography over engrave invitations. It's less expensive and your guests really won't notice the difference. Go the thermo route and save about one-third off your total printing costs via engraving.
Give Yourself Some Time

If you start your wedding invitation one year before your wedding date instead of, say, six months, you're giving yourself more opportunities to find good deals and save more money in the process. Spend the extra time scouring Amazon, eBay, Craigslist, and Groupon for quality deals on paper and printing. You'll save a bundle doing so, and you'll experience less stress, as well.
Go Online

Yes, it's not exactly a state secret that going the digital route can save you time and money, but that doesn't make it any less true, especially for wedding invitations. By emailing your own self-designed wedding invitations or using a site like Evite to do the job for you (at pennies on the dollar), you'll save hundreds of dollars and, in this day or age, sending and receiving digitally-based wedding invites is perfectly acceptable.