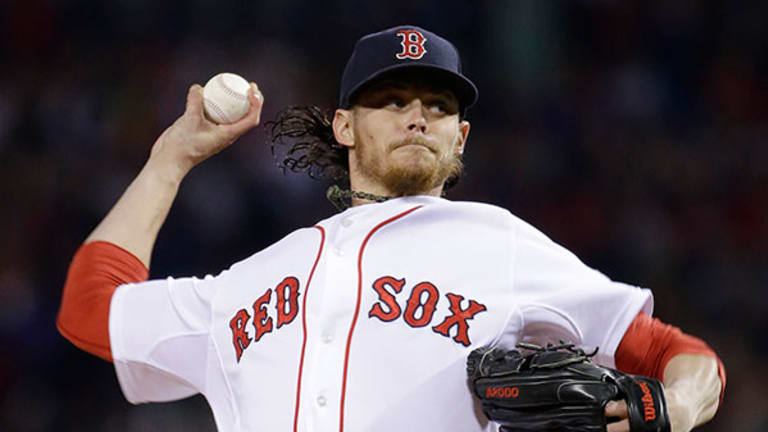 How MLB's Move Back to October Worked Out
Well, Major League Baseball fans, your brief "national pastime" nightmare is over: No more November for you.
PORTLAND, Ore. (TheStreet) -- Well, Major League Baseball fans, your brief "national pastime" nightmare is over. The World Series will never again take place in November, and baseball's old guard and broadcast partners couldn't be happier.
At least not under Commissioner Bud Selig's watch. He experimented with holding Opening Day on March 31 in 2011 and was instantly repaid when that year's dramatic seven-game World Series between the Texas Rangers and eventual champion St. Louis Cardinals ended on Oct. 28. After a brief return to an early April Opening Day in 2012, which had little impact thanks to the San Francisco Giants making quick work of the Detroit Tigers in that year's championship matchup, the league returned Opening Day to March 31 this year.
"Anything we could do to finish in October is what I wanted to do," Selig said back in 2010.
He did it, but what real difference does it make? The World Series has reached November only three times during the modern era. In 2001, the aftermath of the Sept. 11, 2001, terrorist attacks pushed that year's World Series Game 7 to Nov. 4. In that case, we assure you, having people gathered in large public places under tightened security and interrupting playoff games to show addresses from the White House on stadium screens was far more jarring than brisk November temperatures in the Bronx.
In 2010, the World Series again ended on Nov. 4 thanks to the World Baseball Classic pushing back the start of the season. It didn't help, however, that the following year saw the World Series end Nov. 1 just because the league wanted to start the season April 4. This year, however, Game 7 is slated for Oct. 31 -- which could still push the series into November if the Boston Red Sox and St. Louis Cardinals go into extra innings and extend the game past midnight.
Also see: 10 Crazy Prices Paid for Sports Memorabilia>>
It's a similar scenario that got us to this point in the first place. Game 4 of the 2001 World Series drifted into the 10th inning and past midnight on the East Coast, prompting the folks running the Yankee Stadium scoreboard to post the message "Welcome to November Baseball." When New York Yankees shortstop Derek Jeter hit a game-winning solo home run off of Arizona Diamondbacks reliever Byung-Hyun Kim to end the game, the scoreboard crew came through once again by dubbing Jeter "Mr. November" -- referring to former Yankee Reggie Jackson's playoff heroics as "Mr. October."
Purists really didn't like that at all, but the 2001 World Series was an anomaly on many levels and typically escapes scrutiny for going so late. Those back-to-back November World Series were, apparently, too much to bear.
ESPN.com
(DIS)
writer Rob Neyer summed up the hard-line position on November World Series dates perfectly in 2010, acknowledging that "the difference between the weather on Nov. 4 and the weather on Oct. 27 is not, generally speaking, going to be a whole lot different," but doggedly arguing that "baseball's not meant to played in November, in the snow and the sleet and everything else that letter carriers don't notice but baseball players do."
We'd just like to mention that neither of the three World Series played in November experienced anything close to sleet and snow during their games. In fact, the October-confined 2008 World Series still had games postponed because of weather thanks to downpours in Philadelphia.
Still, the league would likely agree that it's been enjoying its new October-only slate. Matchups and circumstance have a lot of influence on World Series popularity, but Selig was likely encouraged by a 2011 title matchup that not only ended with some October to spare, but featured a Game 7 that drew the World Series' highest single-game rating for
Fox
(FOXA)
since the Red Sox's World Series-clinching Game 4 in 2004. Granted, the 2009 Game 6 between the Yankees and Philadelphia Phillies on Nov. 4 drew more viewers than the epic, 11-inning 2011 Game 6 on Oct. 27, but there is still a lot of upside to ending the season on Halloween or before.
Also see: Did The NFL's New Blackout Policy Work?>>
The 3.9 million viewers that
Time Warner's
(TWX)
TBS averaged for this postseason's division series is a marked improvement from 3.6 million last year and but still shy of the 4.3 million viewers it drew in 2008 -- the last year the New York market didn't make the playoffs. Still, the 5 million viewers TBS averaged for the Cardinals' National League Championship Series with the Los Angeles Dodgers was better that the 4.6 million viewers who watched the Cardinals' last NLCS appearance on the network in 2011. Meanwhile, the 7.7 million viewers Fox averaged for this year's American League Championship Series between Boston and Detroit was its best showing since it aired the National League Championship series 2010 and outdrew three of its last seven LCS broadcasts.
This year's Cardinals/Red Sox World Series matchup would put up big numbers if it was played in mid-December, but even those teams' fervent fan bases may not be enough to achieve the true goal of an all-October fall classic. Assuming baseball and its World Series can dominate fall and October again may be as presumptuous as continuing to refer to the game as the "national pastime."
The Red Sox provided a depressing reminder of this Oct. 14, when a regular-season matchup between the Washington Redskins and Dallas Cowboys televised on
NBC
(CMCSA)
beat a Fox broadcast of the ALDS Game 2 against the Tigers. The 19.6 million viewers drawn by the NFL doubled the 8.3 million who tuned in for playoff baseball. Granted, there's nothing pivotal or especially riveting about a Game 2, but it should warrant enough attention in Boston to be the day's marquee sporting event, shouldn't it. Nope, that title went to a New England Patriots-New Orleans Saints game, which drew a 35.1 rating in the Boston market compared to 20.6 for the Sox.
Major League Baseball has restored chronological order to its postseason, but any hope of using that favorable fall schedule to help restore its place in the U.S. sports hierarchy may have already passed it by.
-- Written by Jason Notte in Portland, Ore.
>To contact the writer of this article, click here:
Jason Notte
.
>To follow the writer on Twitter, go to
.
>To submit a news tip, send an email to:
.
RELATED STORIES:
>>Why Tampa Bay Bucked NFL Blackouts
>>Hip-Hop's Golden Age Is A Moving Target
>>The United Playlist Of America
Jason Notte is a reporter for TheStreet. His writing has appeared in The New York Times, The Huffington Post, Esquire.com, Time Out New York, the Boston Herald, the Boston Phoenix, the Metro newspaper and the Colorado Springs Independent. He previously served as the political and global affairs editor for Metro U.S., layout editor for Boston Now, assistant news editor for the Herald News of West Paterson, N.J., editor of Go Out! Magazine in Hoboken, N.J., and copy editor and lifestyle editor at the Jersey Journal in Jersey City, N.J.