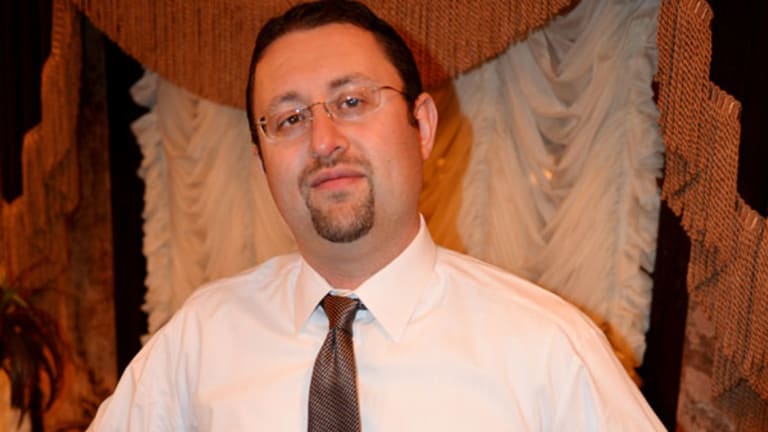 How MeetAdvisors Beats LinkedIn for Entrepreneurs Needing Help
This online, less intimidating version of networking for advice aims to head soon into holding live events.
CHICAGO (
) --
was founded after Adam Fridman attended a networking event where he spotted an expert -- an intellectual property lawyer -- go unapproached and unused, despite charging $400 an hour to be on hand to dispense advice.
It was all the inspiration Fridman needed to found and become CEO of MeetAdvisors -- an online, less intimidating version of networking and advice seeking that plans to soon marry the digital and real worlds with live networking events.
MeetAdvisors competitors include
LinkedIn
(LNKD)
and
. But LinkedIn charges to connect you with a person you do not know, and it's not advisable to start a relationship by asking for advice; OneLeap hosts high-profile advisers and requires you to pay a fee that goes to a charity of choice for 10 minutes of access. It's not for everyday Joes, and especially not for entrepreneurs without a buck to spare.
MeetAdvisors, though, offers entrepreneurs an easy way to solicit professional advice from their homes or offices whenever the need arises. I had a chance to interview Fridman about it:
What is MeetAdvisors?
Fridman:
MeetAdvisors is a start-up. The goal is to give entrepreneurs a way to get their questions answered by experts. The site is available online 24/7 with reviews. Let's say you have an intellectual property question. Go to MeetAdvisors and find an expert. Advisors are registered and profiles appear like LinkedIn. Each adviser is confirmed to be a real person. The company also confirms their LinkedIn and social media.
Lawyers should have a line of individuals waiting for their service, but they often don't know how to reach them. That struck me as terribly inefficient. In addition, an entrepreneur has a limited budget. This is a platform where the adviser's main mission is to give free advice, rather than asking for it.
What is the format? How does MeetAdvisors operate?
Fridman:
Advisers are listed on the site and you can pick your criteria, location and
needed expertise. If an entrepreneur has 10 to 20 years of experience in Chicago, you simply click on his profile to get advice. Ideally, you want to find an adviser with the highest review. Advisers can be elevated by the number of good reviews and how quickly the entrepreneur gets business.
How does MeetAdvisors make money?
Fridman: MeetAdvisors generates revenue from Google (GOOG) - Get Alphabet Inc. Report Ads; the vision is to create events in main cities across the U.S. When we go to a networking event, it is common to despise going up to a stranger and ask, "What do you do?" Advisers at networking events will wear an "A" that stands for "adviser," with their expertise listed below. If you are an entrepreneur looking for advice from a lawyer, look for "A" with a lawyer expertise. These events will be a place where digital meets the real world. The first event will be held in Chicago, and there will be a guest speaker.
While LinkedIn does a great job connecting business professionals, MeetAdvisors identifies a subset of a subset. LinkedIn doesn't allow you to connect with someone you don't know unless you pay. It is also awkward to approach 20 advisers and ask for free advice.
Why is MeetAdvisors the biggest idea you ever had?
Fridman:
MeetAdvisors is an efficient solution for a big audience. There are millions of entrepreneurs in the USA alone, and I hope MeetAdvisors makes connecting with advisers fast and simple. Eventually, I hope MeetAdvisors, like
Yelp
, will allow community reviews to promote knowledgeable advisers to the top, and will be the starting point for entrepreneurs to make decisions related to hiring experts.
What is your favorite start-up?
Fridman:
As cliche as it sounds,
Facebook
(FB) - Get Meta Platforms Inc. Report
. Facebook answered a need we didn't know was there -- being connected. A debate can be made that we are now too plugged in, but my admiration for the concept is the simplicity of an idea with remarkable global impact.
What advice do you have for other entrepreneurs?
Fridman:
Never underestimate the importance of planning and executing a strategy after launch. "Build it and they will come" is a dream, mostly, and companies flooded with users and media are an exception to the rule. A rigorous and disciplined launch is required to understand the audience and pivot until finding the right approach.
What is the biggest mistake entrepreneurs make?
Fridman:
Marginalizing the value of advice from the right professional at every milestone from idea incubation. We -- I am including myself on purpose -- get excited about an idea and we fire. Pausing to listen to advice seems a waste of time. We only want to hear what supports our often euphoric feeling that only allows praise through, and we push forward.
You had experience in the real world. How has that helped you? Should all entrepreneurs have real-world experience?
Fridman:
Hard question. On one hand, I believe my experience in corporate finance provided lessons in structure and discipline as well as a very strong toolkit in analytics. On the other hand, it can get hard to see the forest for the trees. Corporate structure can hinder creativity and innovation. In my case, I am happy to have had corporate experience to help me move forward with my entrepreneurial career.
What do you see for the future of LinkedIn and other networking sites?
Fridman:
I am a very big fan of LinkedIn and the value their platform offers. It is quite remarkable to be able to connect and start a dialog with professionals across the globe. In terms of the future, outside of the obvious continued facilitation of connecting professionals both virtually and in person, networking sites are ideally positioned, almost scarily so, to observe our behavior and tailor solutions to make us more efficient.
This commentary comes from an independent investor or market observer as part of TheStreet guest contributor program. The views expressed are those of the author and do not necessarily represent the views of TheStreet or its management.