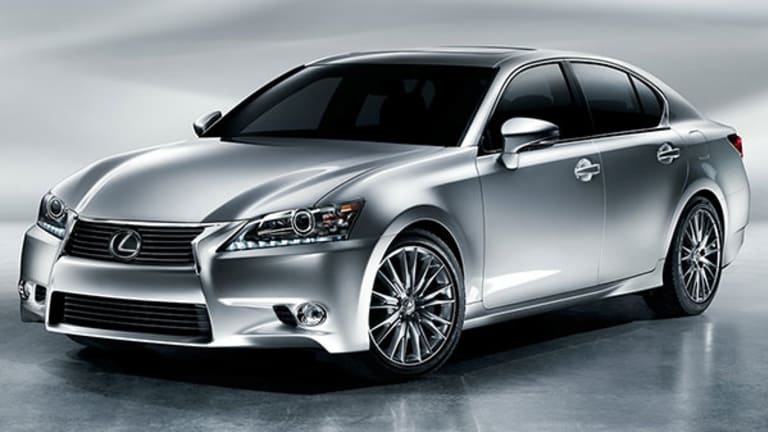 How Lexus Is Beating the Germans With the IS350
If you're ready to move up to a midrange luxury sports car, Lexus gives you more for your $40,000.
SAN DIEGO (
) -- It's probably best that I had to return my shiny red
Lexus
(TM)
IS350 after just one week.
My growing obsession with being in the car, driving fast, with the radio cranked loud, was probably not healthy. Nor was my growing penchant for weaving in and out of traffic on the highway, driving with a saucy, catch-me-if-you-can attitude that surprised even me.
The cost of traffic tickets would likely have bankrupted me.
Having so much fun driving fast, however, was just one part of the problem with my test vehicle. My growing obsession with simply driving the car all the time was the other.
Not only does the 2014 Lexus IS350 go from zero to 60 in 5.6 seconds, it's also a luxurious and well-designed vehicle that's fun and very accessible for first-time sports car drivers.
It hugs the road and speeds powerfully up hills while spoiling you with leather seats, an incredibly cool multimedia entertainment system that includes a big, high-resolution screen on the dashboard, a
Sirius XM
(SIRI)
radio receiver, and (if you choose the upgrade) an 835-watt
Mark Levinson
premium surround sound audio system with 15 speakers.
My test vehicle also included Bluetooth, dual-zone climate control, an industry-first subscription-free real-time traffic and weather information package and a drive mode select system that allows you to switch between "Normal" and "Sport S" drive options depending on your mood.
With all these cool toys to play with, my mornings became an exercise in a whole new form of creativity: wracking my brain trying to find excuses to drive places I would otherwise probably not have gone.
Also see: How Lexus Is Selling Lexus Without Having to Sell Cars>>
"It's all about being fun to drive and that emotional appeal to the consumer," says Owen Peacock, a national product manager for Lexus. "And the other part we see as being important about this car, is that it's a young, fun, useful car."
Bingo! Lexus has certainly achieved that with the IS350.
I was never really a sports car driver. I've been a
Honda
(HMC)
owner most of my life, and now I drive an even less sporty Prius. The IS350 is my first experience behind the wheel of a sporty, luxury car. But in many ways that's exactly who Lexus is aiming for with this new model.
"We see a couple of entry points with this car," Peacock says. "The 'move-ups' -- these are people buying a luxury vehicle for the first time, who are moving up. And then we see some people moving over or moving down -- and these are people who are already established luxury car owners who want a smaller vehicle or a sportier vehicle. Or a big SUV owner who doesn't want an SUV anymore."
Lexus wants IS350 drivers with an average household income of $120,000 annually who are less than 45 years old. The sales price ranges from $40,375 for rear wheel drive to $42,610 for all-wheel drive.
The vehicle is designed to compete with the
Audi
A4,
Mercedes
C class and
BMW
3 series. Automotive industry analysts say Lexus does well holding its own in this automotive segment.
"The IS350 is perfect for a luxury lifestyle person. That's really what it's more about," says Nelson Ireson, senior editor at
MotorAuthority.com
. "It's very comfortable. It's sporty enough and has some great features, especially for the value."
The Lexus IS350 comes in a few thousand dollars cheaper then its target competition, Ireson says. And the car's interior has been improved dramatically from previous generations.
Also see: Bentley Buyers Can Get Ready for Their SUV>>
"In terms of design and feel, and aesthetically, it's much more pleasing," Ireson says. "It doesn't look like bargain luxury anymore. The materials look and feel more substantial then they used to."
No discussion about the car would be complete without touching upon its exterior. Ireson says Lexus is charting its own course in terms of luxury sedan design.
The overall look is very aggressive, and very angular. The car's front spindle grill is also unique to Lexus, and has been controversial. People either love the big spindle grill or hate it -- which is just fine with Lexus.
"It is polarizing," says Peacock of the spindle grill. "But that means it is eliciting an emotional response, and that's something we feel is important with our design. When you push the edges of design and go for a new look, sometimes people fall in love with it and sometimes they don't."
My week with the Lexus IS350 fell squarely into the love category. And life is definitely a lot less exciting, less luxurious and less glamorous now that I've given the car back to Lexus.
Driving my Prius will probably never feel quite the same. At the very least I may need to get a shiny red one.