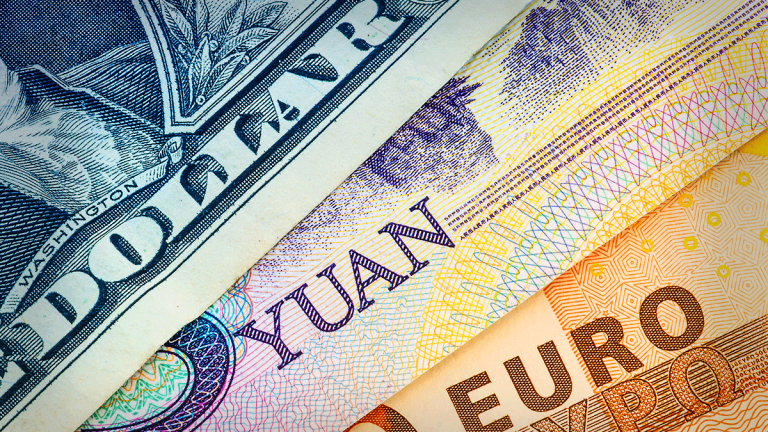 Publish date:
How to Invest in Foreign Currency: 3 Keys to Remember
Owning foreign stock may not be enough diversity for your portfolio.
Owning foreign stock may not be enough diversity for your portfolio.
Investing in currencies is an endeavor that is foreign to many individual investors. However, a little homework on the topic can go a long way towards building a diversified portfolio and reaping the benefits that accompany it.
There are just a few things you should keep in mind when looking into foreign currencies. Here are some points to consider if you find yourself wanting to venture into the space.
1. Risk Diversification
For investors who have significant cash positions in their portfolios, adding foreign currency exposure may make sense. "A lot of people perhaps are sitting on the sidelines in light of the current market environment and they're probably sitting in cash that's earning little or nothing," said Bill Belden, managing director and head of product development at Guggenheim Investments. "When you're concentrated in a single type of currency, you're taking on a degree of risk that you probably don't fully understand and certainly wouldn't feel comfortable with should you understand it."
Belden notes that foreign currencies can be an ideal way to put that idle cash to work. "You're probably better served in terms of the performance of your cash to take advantage of the diversification elements associated with currency, he said. "You can also play a more speculative role with currencies and make calls on the future value of any given pair of currencies."
Gaining exposure to foreign currencies may be easier than some investors realize. Guggenheim's CurrencyShares lineup enables investors to invest in currencies through traditional brokerage accounts. "We feel that exchange traded currency products are the best way to participate in the currency market," Belden said. "The ease with which you can get access to the currencies is very attractive relative to having futures accounts."
2. Currencies v. Stocks
Investors who have shied away from currencies may believe that owning international stocks is enough. "Most investors think they are being diversified when they invest in international stocks," said Axel Merk, president and chief investment officer of Merk Investments. "The only thing they are getting is additional beta. International stock markets are very highly correlated to U.S. stock markets."
Merk emphasizes that investor fears of volatility may be overdone. "Currencies are actually much less volatile than either equities or bonds are," he said. "When the Euro moves a full cent from $1.33 to $1.34, it makes the headlines because it's a major move affecting economies, but when you are dealing with a stock that moves from $1.33 to $1.34, nobody even blinks."
Shareholders of the Merk Currency Enhanced U.S. Equity Fund (MUSFX), which Merk manages, have recently witnessed the return potential of a more sophisticated currency play. "We have a strategy where we have a currency overlay on top of the S&P 500 and that's all packaged into a mutual fund," he said. "Basically what you're doing is you're optimistic of the S&P 500, but rather than buying international stocks, we use an absolute return methodology and put that on top of the S&P 500."
3. Suitability
Investors eyeing a foray into currencies should consider the inherent risks involved. "Investing in currencies is a totally different ballgame," said Tony Welch, president of Sarasota Capital Strategies in Osprey, Fla. "Investors must realize that currencies are relative plays. Every stock in the S&P 500 could go up or down in one day, but currencies are one currency versus another one. That's a big distinction."
Welch explains that foreign currencies may not be suitable for some individual investors. "There are professional currency traders and they make money, but it is a very different game than investing in stocks and bonds," he said. "The average do-it-yourself investor would probably be more well-rewarded by spending their time analyzing equity and fixed income markets than they would currency markets."
When it comes to playing foreign currencies, the amount of time investors have to devote to managing their investments may be the deciding factor. "I don't think everybody should avoid them, but if you have a fixed amount of time to spend on your portfolio, I would spend the time in places other than currencies," Welch said.
--Written by Billy Fisher for MainStreet